Woot!  Woot!  Great sales this week – and not just on cereal! Here's a suggested menu plan based upon the deals that await you!
This last week, I picked up some Brautwurst that were about to expire (and thus were 50% off).  They're in our freezer and I think as soon as I have a somewhat decent day, I'll fire up the grill.  But it just isn't close to warm enough for me yet!
(I haven't forgotten about the good cereal deals this week; I'll be back later with a post all about cereal!)
Main Dishes
And all that fruit on sale – especially at Aldis!  What a great pick-me-up for these cold winter days.  Make some smoothies!  Fruit salad!  Chocolate fondue with fruit dippers (wouldn't kids love that!) Here's a great smoothie in a bag recipe for the freezer using bananas and strawberries that are on sale this week!
Here's a recipe similar to the Baked Spaghetti up above.  I made this a couple of weeks ago.  Last time, I made it with ½ Italian sausage and ½ ground beef since I had some hamburger to use up.  Either way, it was g-o-o-d!  It's definitely not a fancy recipe, but it's easy to prepare, warm, filling and feeds us quite well.
Here's a pumpkin bar recipe that I made the other day.  Yes, pumpkin is a fall flavor, but there ain't no reason you can't enjoy it in March.  I topped it with Cream Cheese Frosting (from a can!)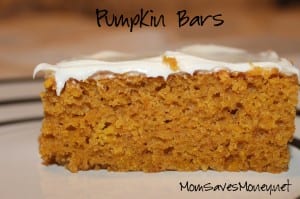 Pumpkin Bars
Ingredients:
4 eggs, beaten
1 cup oil
1 1/2 cups sugar
15 ounce can of pumpkin
2 cups flour
2 teaspoons baking powder
1 tsp. baking soda
2 tsp cinnamon
1/2 tsp salt
1/2 tsp ginger
1/2 tsp nutmeg
Directions:
1. Mix the eggs, oil, sugar and pumpkin.
2. Add flour, baking soda, baking powder, cinnamon, salt, ginger, nutmeg.
3. Pour into greased jelly roll pan and bake at 350° for 25 -30 minutes.
4. Let cool before frosting.
Jayme is a wife to 1 and, so far, a mother to two little boys. She coupons, but isn't super extreme about it. She price matches and loves it! While she likes to cook, she's in the stage of life where simple is usually better! She never knows how many hands she'll have free at dinner time! You can find her at No Regrets Living.