I've heard this dish called many things: Party Potatoes, Funeral Potatoes, Hashbrown Casserole.  In my family, we call it Cheesy Hashbrowns, although Party Potatoes sounds pretty fun too!
Some people use shredded hashbrowns, but my favorite has always been the southern style (the little square ones).  Some people like putting a layer of cornflakes on top, but I prefer them without.  But you do what you like!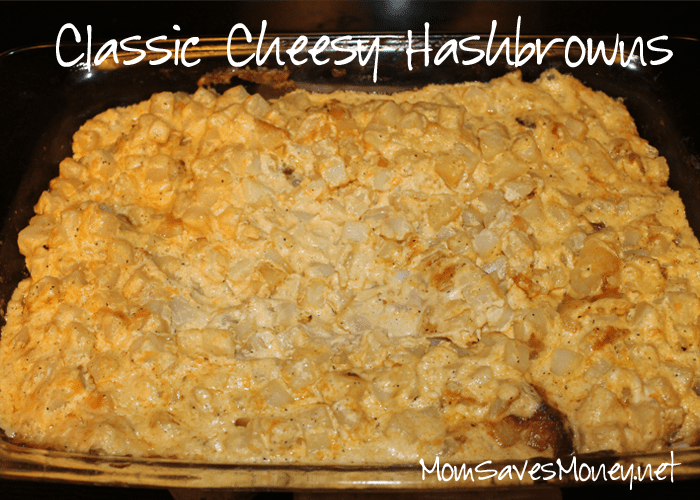 Below is the classic recipe, but you also change it up a bit and add one of the following:
½ cup parmesan cheese
5-6 slices of cooked bacon, chopped
A few handful of sliced mushrooms
Cheesy Hashbrowns
Ingredients:
1 bag hashbrowns (any style, but I'm partial to southern style)
16 oz. sour cream
4 tablespoons butter
¼ tsp salt
1 can cream of chicken soup
½ onion (optional)
½ lb sharp cheddar cheese (shredded)
½ tsp pepper
Directions:
1. Mix all ingredients together and pour into greased 9×13 inch pan.
2. Bake for 1 hour at 400.  When baking, I do stir it a couple of times.
Jayme is a wife to 1 and, so far, a mother to two little boys. She coupons, but isn't super extreme about it. She price matches and loves it! While she likes to cook, she's in the stage of life where simple is usually better! She never knows how many hands she'll have free at dinner time! You can find her at No Regrets Living.