Happy Birthday to you!
Happy Birthday to you!
Happy Birthday dear Money Saver!
Happy Birthday to you!
Maybe it isn't your birthday.  Maybe it isn't a birthday at all.  Maybe your good friends are returning from living a year in China.  Maybe it's a holiday and you want to p-a-r-t-y with your family.  Maybe it's a family reunion and you want to wow all your relatives.  Maybe it's just a Monday and you want to eat something special.
Whatever the case, you can make this homemade ice cream cake for a fraction of the price that it would take to buy one.  Sure it won't come with a picture of My Little Pony decorated on it (unless, of course, you have the ability to draw one on).  But it will save you some serious cash!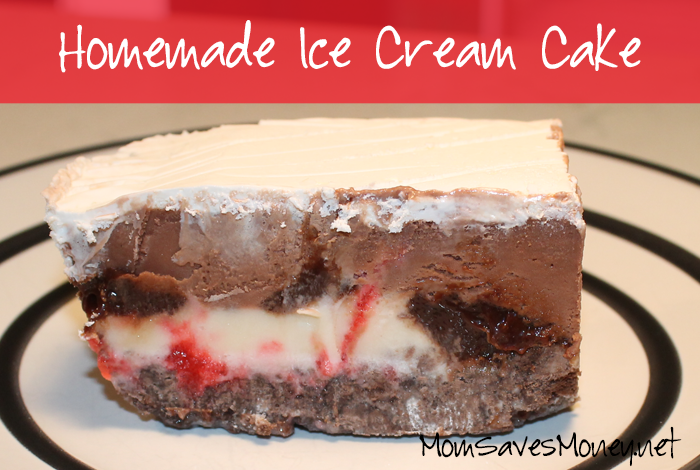 And besides saving money, when you make this cake yourself, you get to control the flavor.  Pick any flavor that you want!  Pick strawberry to kick off a Pretty, Pretty Princess party!  Pick a Mint Chocolate Chip to celebrate Christmas or St. Patrick's Day!  Or pick whatever flavors just tickle your taste buds.  Anything works!

My instructions below are to make a 9×13 pan, which feeds quite a crowd.  If you're just feeding a few people or have multiple desserts, just divide the recipe in half for a 9×9 or an 8×8 pan.  If you want to do a round ice cream cake, you can do that too!  You'll need about 1/3 of the crust and it will fit great in a 8 or 9-inch springform pan.  You can also make it in a regular pie pan, but I like the springform pan because it's a lot taller, so it makes for bigger slices!  Not to mention a pretty presentation when you take off the sides.
Ingredients:
For the crust:
For a 9×13 pan:
2 packages graham crackers (or appx 2 cups graham cracker crumbs) – I use chocolate
1 stick butter, melted
1/4 cup sugar
For the "cake":
Ice cream (1/2 gallon total for a 9×13 pan – either 1 flavor or up to 3 different flavors)
Hot fudge ice cream topping (optional)
For the top:
Cool Whip (optional)
Chocolate syrup (optional)
Crushed candy bars (optional)
Directions:
Make the crust.

Crush the graham crackers.  You can use a food processor, but I just put them in a closed ziploc bag and roll a rolling pin over it.  You don't need them super fine – just crushed.
Combine with the sugar and melted butter.
Press against the bottom of the container to form a crust.  If you have alot, you can put some on the sides as well

Make the "cake".

Take spoonfuls of ice cream and place onto the crust.  I like to do 2 layers, each of a different kind.  Use a spoon to flatten the ice cream to prevent any major gaps.
In between layers, I put a layer of hot fudge topping, but that's optional.

Top the "cake".

This is optional, but I like having a white top, so depending on the color of ice cream that I put on the top, I just put a small layer of Cool Whip.  Having a clean white top makes it easy to write on it, if desired.
Also optional is putting a drizzle of chocolate syrup on top.  This also looks nice if you do a layer of white Cool Whip.
And you can also top it with crushed candy bars – Reeses Peanut Butter Cups would be awesome!  This is totally optional as the cake is delicious without it, but also adds more fun to this dessert!

Freeze!  You can freeze up to a month and it'll still be great!
Jayme is a wife to 1 and to four little boys. She coupons, but isn't super extreme about it. She price matches and loves it! While she likes to cook, she's in the stage of life where simple is usually better. She never knows how many hands she'll have free at dinner time. You can find her at No Regrets Living.