Disclosure: Contains affiliate link. All opinions are mine.
Prime members rejoice! July 11 is Amazon's 3rd annual Prime Day, an annual deals event exclusive to Prime members. There will be hundreds of thousands of deals with new deals as often as every 5 minutes. Plus, many special offers.
The first Prime day in 2015 was hit and miss, but last year was great. One consistent is that you will find great deals on Amazon products and services. With the release of Echo Show and Prime exclusive phones, expect some great deals on new technology. Prime Day 2017 promises to have something for everyone with deals in every department. It's definitely an online shopping event you won't want to miss.
Here's a quick rundown of what you need to know to shop Prime Day & some great deals that are available NOW!
How to shop Amazon Prime Day:
Become a Prime Member – This sale is exclusive to Prime members. Don't worry, you can start a 30-day free trial if you're not already a Prime member.
Download the Amazon App – Download the Amazon app for more savings and to add items to your list. I've also noticed there are several giveaways you can enter on the app!
Use Amazon Assistant – If you are shopping on a PC, download the Amazon Assistant browser extension so you can watch deals and stay up-to-date on your deliveries.
Choose No-Rush Shipping – If you don't need your items quickly, select no-rush shipping at checkout for a free reward or discount.
Prime Day Details – Prime Day officially begins 6 pm PT/ 9pm ET on July 10. Start watching for deals on July 9 (24 hours before they are live). This is 30 hours of deals!!
Shop Early Deals – The week leading up to Prime Day will be themed deals days including,  July 5 (Voice Shopping), July 6 (Amazon Music), July 7 (Prime Video), July 8 (Everyday Essentials), July 9 (Reading with Prime).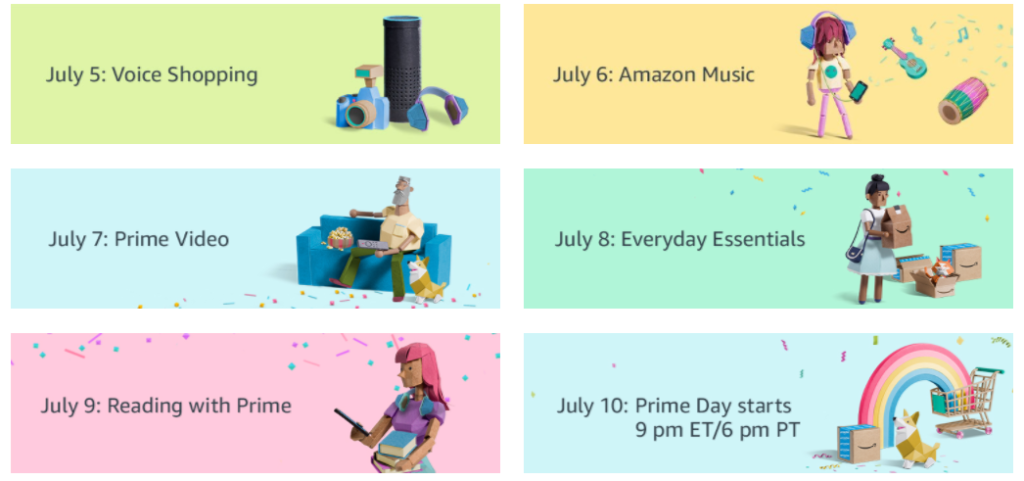 Amazing Prime Deals Available NOW:
Kindle Unlimited – Save up to 40% on a Kindle Unlimited membership with more than 1 million titles available. I subscribed to Kindle Unlimited last year on Prime day and have already saved several hundred dollars on ebooks.
Audible – Save 40% off your first 6 months of Audible.
Amazon Music Unlimited – If you haven't tried Amazon Music Unlimited, get four months for only $0.99. This is on-demand music service with tens of millions on songs!
Prime Pantry – Save up to 35% with coupons on select food and household items.
Prime Video – Get $10 to spend by Prime Day when you stream a Prime video for the FIRST time on your TV on or before July 7.
These Amazon Prime deals are available now through Prime Day, July 11.
Are you excited for Prime Day? What's on your wish list this year?