Note: All deals considered stock up prices after coupon and store savings will be highlighted in red. Here is a full list of stockpile prices.
NEW to Couponing: Check out my book 'The Extraordinary Art of Couponing', attend a class or order the Omaha World Herald Sunday newspaper.
Abbreviations:
P&G = Proctor & Gamble insert
SS = Smartsource insert
RP = RedPlum insert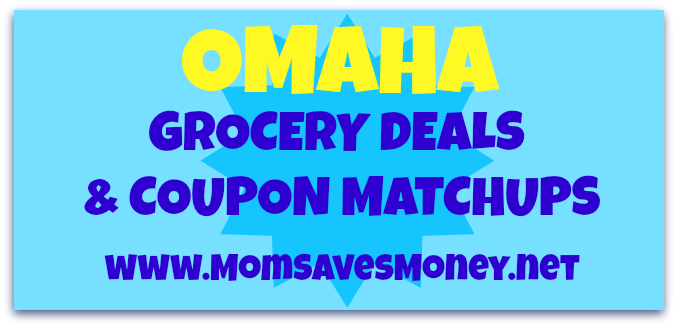 NOTE: Due to the 4th of July holiday, next week's matchups will not be available until Wednesday July 5. Have a safe and fun holiday!
ALDI
73% lean ground beef, sold in 5 lb package $1.79/lb
Parkview bratwurst original or beer 19 oz $1.99
Top sirloin steak usda choice $4.99/lb
Cantaloupe $0.99 each
Red cherries $1.69/lb
Strawberries 1 lb package $0.99
Sweet corn 4 pack $0.99
Watermelon, large seedless $2.99 each
Burman's BBQ sauce 18 oz $0.99
Benton's honey graham crackers 14.4 oz $1.29
Burman's yellow mustard 20 oz $0.59
Clancy's potato chips 9.5-10 oz $1.09
Clancy's white round tortilla chips 13 oz $1.19
Friendly Farms french onion dip 116 oz $1.29
Great Gherkins sweet relish 16 oz $0.99
Great Gherkins hamburger dill pickle chips 32 oz $1.29
Happy Farms feta or blue cheese crumbles 4-5 oz $1.49
L'oven fresh hot dogs or hamburger buns 12 oz $0.85
Pop-ice freezer bars 24 ct 60 oz $1.99
Prianna fresh mozzarella ball 8 oz $1.99
PurAqua purified water 24 16.9 oz bottles $1.99
Sundae shoppe cream bars 30 oz $1.99
Sundae Shoppe ice cream 144 oz frozen $4.29
Sundae shoppe ice cream bars 18 oz $1.49
Sundae shoppe ice cream bars or sandwiches 30-42 oz $1.99
BAKER'S
Boneless beef brisket, sold whole in bag $3.49/lb
Boneless beef flat iron steak usda choice $4.99/lb
Oscar Mayer wieners, 14-16 oz, limit 5 $0.98 ($0.55 coupon from 6/18/17 SS and 5/21/17 SS = $0.43)
Strawberries 2 lb $2.49
Watermelon, seedless whole, limit 2 $1.99
Gatorade or G2 32 oz or Propel 24 oz $0.69 each when you buy 10
Lay's family size potato chips 9.5-10 oz or Lay's kettle cooked 6.5-8 oz or Fritos or Cheetos 7-9.25 oz or Dinamitas or sunchips 7-9.25 oz $1.49 each when you buy 3
Pepsi, Coca-Cola, Dr Pepper or 7-Up, 12 pack 12 oz cans or 8 pack 12 oz bottles $2.22 each when you buy 4
Big K soda, 2 liter bottles $0.77
Kroger party pail ice cream 128 oz $3.49
Kroger sour cream, dip or cottage cheese 16 oz $1.00
***Baker's Mix & Match Sale***
Buy 6 participating mix & match item, save $3 instantly at checkout. Participating deals include (Note – price listed is after discount):
Ben & Jerry's ice cream 16 oz $3.49 ($0.50/2 Baker's digital coupon = $3.24 each)
Coffee-mate creamer 32 oz $2.49
Country Crock 45 oz $2.49
General Mills cereal 10.7-13 oz $1.79 ($1 Very Berry printable coupon, $0.50 Lucky Charms printable coupon, $0.50 Chex printable coupon, $0.50 Multi grain cheerios printable coupon, $0.50 Cheerios printable coupon, $1/2 printable coupon, $1/3 coupon from 6/18/17 SS or $1/2 Baker's digital coupon = as low as $0.79 plus $1/2 SavingStar rebate)
Hillshire Farms smoked sausage 12-14 oz $1.99
Huggies wipes 56-72 ct $1.49 ($1/2 coupon from 6/25/17 SS = $0.99 each)
Kool-aid, country time or tang canisters 6-10 quarts $1.49
Kroger jumbo biscuits, cinnamon or crescent rolls 8 ct $0.97
Lean Cuisine entree or Stouffer's entree 6-12.875 oz $1.78 ($1/3 Lean Cuisine Ibotta rebate)
Minute maid fruit drink or ade 59 oz $1.49
Quaker instant oatmeal 9.8-15.1 oz $1.99
Simply Ade 1.75 liter $1.99
Sweet baby rays bbq sauce 18 oz or dipping sauce 14 oz $0.99
Tombstone pizza 17-27.7 oz $1.99
Viva paper towels 6 big rolls $4.99 ($1.50/2 Ibotta rebate)
FAMILY FARE SUPERMARKETS
80% lean ground beef, value pack, limit 2 $1.99/lb
Aqua Star raw shrimp 26-30 ct 16 oz $5.99
Blueberries pint $1.67
Dole classic coleslaw 14 oz $1.29
Honeydew $1.99 each
Creamette pasta 12-16 oz or ronzoni pasta 12-16 oz $1.00 ($1 Creamette printable coupon = as low as free)
Frito lay potato chips 9-10 oz $1.49 each when you buy 3
Gatorade sports drinks 32 oz or prime chews 1 oz $0.79 each when you buy 10
Hiland half and half 16 oz $1.33
Open Acres American or mustard potato salad 48 oz or macaroni salad or cole slaw 40 oz $3.99
Our Family buns 8 ct $0.77
Our Family butter quarters 16 oz $3.00 ($1/2 Yes digital coupon = $2.50 each)
Our Family pasta sauce 23.75-24 oz $1.50
Our Family peanut butter 16 oz $1.67
Our Family whipped topping 8 oz $0.86
***Family Fare Mix & Match Sale***
Buy 5 participating mix & match items, save $5 instantly. Participating deals include (Note – price listed is after discount):
Annie's grabbit sandwich cookies 8.-6 oz or popcorn 4-4.4 oz $1.99
Cheez whiz 15 oz $2.47
Crystal light on the go or pure 6-10 ct or crystal light 12 quart $1.47
General mills cereal honey nut cheerios 12.25 oz, lucky charms 11.5 oz, multigrain cheerios 12 oz, chocolate cheerios 11.25 oz, fruity cheerios 12 oz, apple cinnamon cheerios 12.9 oz, apple cinnamon toast crunch 11.1 oz, blueberry chex 12 oz $1.49 ($0.50 multigrain cheerios printable coupon, $0.50 cheerios printable coupon, $0.50 Honey nut cheerios printable coupon, $1/2 printable coupon, $1/3 coupon from 6/18/17 SS or $1/2 coupon from 6/4/17 SS = as low as $0.99 each)
Gevalia coffee 10-12 oz bag or k-cups 6-12 ct $5.99
Jell-o pudding or gelatin 4 pack $0.99
International cafe coffee 4-9 oz $2.49
Kool-aid or country time makes 8 quart $1.47
Kool-aid or tang liquids 1.62 oz $1.49
Kraft BBQ sauce 17.5-18 oz $0.89
Kraft cheese chunks or shreds 5-8 oz or cracker barrel chunk cheese 8 oz $1.79
Kraft cheese singles 10-12 oz or deli sliced 7-8 oz $1.99
Kraft salad dressing 14-16 oz $1.48
Kraft string cheese 9-12 oz $2.49
Nature valley or fiber one granola bars 5-12 pack $1.49 ($0.50/2 Nature Valley coupon from 6/11/17 SS = as low as $1.24 each)
Maxwell house coffee 10.4-11.5 oz $2.49
McCafe coffee 12 oz bag or maxwell house or mccafe kcups 12 ct $5.99
McCafe ground coffee 30 oz $8.99
Mio or crystal light liquid 1.62 oz $1.99
Oscar Mayer deli fresh lunchmeat 7-9 oz $2.49
Oscar Mayer lunchables 4.15-4.5 oz $0.99
Oscar Mayer P3's 2-2.7 oz $0.99 ($1/2 coupon from 6/11/17 SS = $0.49 each)
Philadelphia cream cheese box 8 oz $1.49
Planters dry roasted peanuts 16 oz $2.49
Totino's pizza rolls 40 ct $1.99 ($0.50/2 coupon from 6/11/17 SS = $1.74 each)
Trios 3 ct $2.48
Velveeta dip cups 10 oz $2.49
Yuban coffee 12 oz $2.49
FAREWAY
85% lean ground beef, sold in 10 lb tubes, limit 1 $1.98/lb
Beef brisket, whole, usda choice $3.49/lb
Breakfast or Italian sausage $1.99/lb
Farmland bacon 12-16 oz $2.99
Iowa chops $1.88/lb
Pork butts, whole $1.99/lb
Pork steak $1.99/lb
Sirloin tip steak usda choice $3.99/lb
Nathan's beef franks 12-14 oz $2.99
Asparagus $1.88/lb
Betty Crocker russet potatoes 5 lb bag $1.28
Gala apples $0.97/lb
Green onions $0.33/bunch
Red radishes 1 lb bag $0.99
Red, green or romaine lettuce $0.99 each
7Up or Dr Pepper products 12 pack cans or 8 pack 12 oz bottles, limit 4 $2.50 each when you buy 4
Blue Bunny bomb pops 12 ct box, limit 2 $0.98 ($0.75/2 coupon from 6/25/17 SS = $0.60 each)
Coke products 12 pack cans or 6 pack 1/2 liter bottles, limit 4 $2.50 each when you buy 4
Gatorade 8 pack 20 oz bottles, limit 2 $3.48
Heinz ketchup 38 oz or simply or easy squeeze 31-32 oz $1.88
Frito Lay potato chips, 9.5-10 oz, excludes kettle, baked and simply, limit 2 $1.68
Keebler townhouse crackers 9.5-13.8 oz $1.78 ($1 printable coupon with 850 Kellogg's family rewards points = $0.78)
Kool-aid jammers 10 pack box $1.69
Kraft miracle whip 30 oz jar $2.48 ($1/2 coupon from 6/18/17 SS = $1.98 each)
Nabisco snack crackers 5-10 oz box or Ritz 7-12 oz $1.78 ($0.75/2 coupon from 6/25/17 SS = $1.40 each)
Old orchard lemonade, 12 oz frozen $0.88 ($0.50 printable coupon = $0.38)
Pepsi products 12 pack cans, limit 3 $1.98
Fareway apple, cherry or lemon pie filling, 20-22 oz can $2.00
Fareway hamburger or hot dog buns 8 ct, excludes wheat $0.88
Fareway mandarin oranges 15 oz can, regular or no sugar added $0.99
Fareway purified water 24 pack 1/2 liter bottles, limit 2 $1.88
Fareway whipped topping 8 oz $0.88
FRESH THYME
80% lean grass fed ground beef $3.77/lb
Baby peeled carrots 1 lb $0.99
Celery $0.99 each
Green cabbage $0.50/lb
Organic romaine hearts 3 pack $2.50
Red cherries $1.88/lb
Tomatoes on the vine cluster $0.77/lb
Amish valley cream cheese 8 oz $1.25
HY-VEE
Boneless pork shoulder roast, Hormel $1.98/lb
Hy-Vee Angus reserve boneless beef sirloin steak $3.99/lb
Johnsonville flame grilled chicken 9-10.5 oz $5.99 and buy one get one free
Cucumber $0.88 each
Green bell pepper $0.88 each
Blue Ribbons classics by blue bunny ice cream 4 quart pail $3.77
Dawn dishwashing liquid 18-21.6 oz $2.67 ($0.05/gallon Fuel Saver)
Huggies diapers, pull-ups or goodnites 34-132 ct giga pack $24.94 ($0.50/gallon Fuel Saver, $2 printable coupon, $3/2 coupon from 6/25/17 SS = as low as $22.94)
Klondike ice cream bars or novelties 4-6 ct $2.99 ($0.50 Ibotta rebate)
Lay's or kettle cooked potato chips 8-10 oz, limit 2 $1.48
Pepsi 12 pack or 8 pack 12 oz bottles or cans, limit 4 $2.22
Pringles 4.9-5.9 oz $1.25 ($1/4 coupon from 6/25/17 RP = $1.00 each)
Sabra hummus 8.5-10 oz $2.00 ($0.50 coupon from 5/14/17 RP = $1.50)
Simply Done clear elegance cutlery 12 ct $1.00
Simply Done trash bags 10-30 ct $1.99 ($0.01/gallon Fuel Saver)
Simply lemonade or Simply drink 1.75 liter $2.00 ($0.01/gallon Fuel Saver)
Sweet Baby Ray's BBQ sauce $0.99
Vlasic pickles 16-24 oz $1.67 ($1/2 coupon from 6/18/17 SS or 5/14/17 SS = $1.17 each)
Hy-Vee cookies 9.2-13 oz $0.99
Hy-Vee fruit 14.5-15.25 oz can $0.88
Hy-Vee galaxy or fudge bars 12 ct $2.00 ($0.05/gallon Fuel Saver)
Hy-Vee pasta 12-16 oz $0.80
Hy-Vee peanut butter or spread 12-16 oz $1.50 ($0.01/gallon Fuel Saver)
Hy-Vee salad, potato, spring pasta, macaroni salad, coleslaw or baked beans 3 lb $3.99
Hy-Vee salad dressing 16 oz $0.99
Hy-Vee sandwich bread white or wheat 24 oz $1.18
Hy-Vee tomato juice 46 oz can $1.38
Hy-Vee tomato ketchup 38 oz $0.99
Hy-Vee tortillas 14-17 oz $1.28
Hy-Vee tortilla chips 11-13 oz $1.67 ($0.03/gallon Fuel Saver)
Hy-Vee vegetables, green beans or corn 14.25-15.25 oz can $0.50
Hy-Vee white burger or hot dog buns 8 ct $0.68 
***Hy-Vee 3-Day Sale, Friday, Saturday & Sunday Only***
Earn $0.20/gallon Fuel Saver with every $30 purchase of meat items
80% ground beef 16 oz roll, limit 2 $1.48
Hy-Vee hickory house ribs full slab 24 oz $10.00
Pork loin back ribs Hormel $2.88/lb
Sweet corn $0.25 each
Whole seedless watermelon, limit 2 $1.88 each 
SUPER SAVER
Bar-S franks 16 oz $0.77 ($0.55/2 coupon from 6/11/17 RP = $0.50 each)
Boneless angus beef top sirloin steak or top sirloin roast value pack $3.98/lb
Bone-in pork butt roast $1.68/lb
Bone-in country style pork ribs $1.98/lb
Sanderson Farms split chicken breast value pack $1.48/lb
Tyson breaded chicken 20.5-29 oz $4.98
Fresh Express cole slaw 10-14 oz $1.19
Fresh Express salad mix 4.5-12 oz $0.97
Red or green seedless grapes $0.97/lb
Russet potatoes 10 lb bag, limit 1 $1.97
Whole seedless watermelon, limit 2 $2.44
Betty Crocker suddenly pasta salad 7.25-7.75 oz $0.95 ($0.50/2 coupon from 6/4/17 SS = $0.70 each)
Blue ribbon classics ice cream 4 quart pail, limit 2 $3.98
Bush's best baked beans or grillin' beans 22-28 oz $1.45
Coca-cola, 7up or pepsi products 24 pack cans, limit 2 $4.98 each when you buy 2
Freschetta pizza 20.28-30.88 oz $3.88
Fritos or Cheetos 7.5-9.25 oz $1.68
Kraft jet-puffed marshmallows 10 oz $0.78 ($0.20/2 coupon from 6/25/17 SS = $0.68 each)
Kraft mayo 12-30 oz $1.48
Mission tortillas 10 ct $1.25
Ro-tel diced tomatoes 10 oz $0.88
Sweet baby ray's barbecue sauce 18 oz $0.98
Best Choice granulated sugar 4 lb, limit 2 $1.48
Best Choice water 24 pack 1/2 liter bottles, limit 3 $1.87
Super Saver hamburger or hot dog buns 8 ct $0.77