Disclosure: I am an independent contractor for the OWH and make commission on sales.
I teach coupon classes locally in Omaha and the Omaha World Herald has partnered with me to provide my readers with exclusive discounts on newspaper subscriptions. Yay for coupons! I currently have three amazing Omaha World Herald subscription offers that you can now order ONLINE!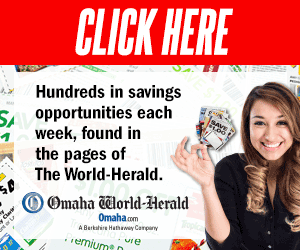 OFFER 1: New subscribers can get the Sunday only paper for just $58.76 a year. That's only $1.13 a week and a 55% savings off the newsstand price. Order now to start your subscription.
OFFER 2: New subscribers can get 7-Day delivery for only $2.23 a week ($28.99 for 13 weeks). This includes OWH Platinum Rewards with exclusive savings offers from 250+ local restaurants, entertainment & service businesses. You will also have full digital access to Momaha.com, Omaha.com, LiveWellNebraska.com & more. If you are an existing Sunday or weekend only subscriber, you can upgrade to the 1/2 price 7-Day rate. Order securely online now.
Questions or need more assistance? Just email me at nicole@momsavesmoney.net.