I'm hoping to start a mini-bathroom remodel soon, so I'm looking to spend less at the grocery store.  It's just a small powder room, so nothing too major, but every penny I save in one place is a penny I can save or spend in a different place!  Because of that, I'm looking to use a lot of items from my stockpile this week – one of the reasons that I love having a stockpile!
Check out this week's sales and start thinking about where YOU can save some cash!
Main Dishes 
Roasted Pork Butt – I make pulled pork sandwiches in the crockpot, but the idea of roasting the pork sounds great too.  This would make it more of a meat-and-potatoes kind of comfort meal.
BBQ Chicken Kabobs – Plenty of great grilling weather left!  This recipe calls for a homemade BBQ sauce, but there's no reason you couldn't use the BBQ sauce that's on sale this week at Bag N Save and No Frills.
Spicy Chicken Rigatoni – Pasta's on sale this week.  Spaghetti sauce is on sale this week.  Alfredo sauces are on sale this week.  Add some chicken and you have this wonderful meal!  (I personally leave out the peas in this meal, but to each her own!)
Chicken Pot Pie – I love chicken pot pie, but I haven't yet found an easy, but still really good recipe.  I normally use this one, but it's a little more involved than I like.  But this recipe here looks quite do-able!
Taco Salad – I don't really have a recipe for this one.  Okay, I guess I do.  I throw a bunch of stuff in a bowl and mix.  Stuff like tortilla chips and taco meat and lettuce and cheese and tomato.  Then I add ranch salad dressing on top of mine and my husband add salsa to his.  I guess that qualifies as a recipe, right?
I bake a lot.  I enjoy it.  I like eating it. I like giving it away.  One of my favorites is Scotcheroos, which is a pretty typical dessert bar.  But I confess that I usually double the chocolate-y, butterscotch-y topping as I find a normal recipe doesn't have enough.
But you do what you want – if you like just a little chocolate, go ahead and make this as directed.  But if you're like me and think chocolate is a key ingredient to happiness, double the chocolate & butterscotch chips!  Now, I've heard there are people out there that don't use butterscotch in the topping.  That's fine, I guess.  But if you do that, then 1) don't tell me about it (I love butterscotch) and 2) don't call them scotcheroos.  Call them chocolate-roos or something.
You can easily halve this recipe too to make an 8×8 or a 9×9 pan.  These are great to take to potlucks, baby & wedding showers, or the office.  They're even great to smuggle some into the bathroom while you take a break from the world.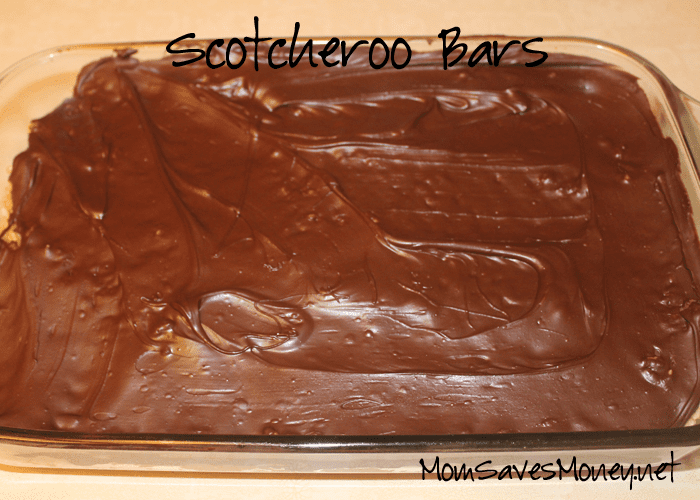 Scotcheroos
Ingredients
Bars:
1

cup

light corn syrup

1

cup

sugar

1 1/2

cup

peanut butter

6

cups

Rice Krispies
Topping:
1

cup

chocolate chips (a little more than ½ the bag, or, like me, double it!)

1 2/3

cup

butterscotch chips (a whole bag)
Instructions
Coat 9×13 pan with cooking spray.

Combine corn syrup, sugar and peanut butter in sauce pan on stove. Stir frequently.

When melted, pour over Rice Krispies. Stir until well coated. (Most times, I just use a pan big enough and dump the cereal into the pan – only 1 thing to clean up!)

Press onto the 9 x 13 pan.

Melt chocolate and butterscotch chips together. If doing in the microwave, be careful to not overdo. It burns quite easily. In the microwave, melt for about 20-30 seconds at a time, stir it to see how melt-y it is.

Spread evenly over cereal mixture.

Refrigerate for about 20 minutes, then cut into bars. Cut them small – a little scotcheroo goes a long way!
Jayme is a wife to 1 and, so far, a mother to two little boys. She coupons, but isn't super extreme about it. She price matches and loves it! While she likes to cook, she's in the stage of life where simple is usually better! She never knows how many hands she'll have free at dinner time! You can find her at No Regrets Living.