Disclosure: Complimentary review copy provided. Contains affiliate link. All opinions are mine.
Do you have a Captain Jake fan in your house? Disney Junior just released Captain Jake and the Never Land Pirates: The Great Never Sea Conquest and it's full of adventure.
In this DVD, evil mer-witch Ezmeralda tries to take over Never Land by awakening Strake, a three-headed sea serpent. Jake and his crew come to the rescue and the situation becomes more complicated when Lord Fathom and his sidekick Sinker appear. This feature is full of action as Captain Jack unites Never Land's greatest pirates to take back Never Land from these notorious villians!
Check out this video clip from the movie:

Also included in this DVD are six episodes (110 minutes total) of this Disney Junior series including:
The Great Never Sea Conquest
Into the Heart of Coldness/The Remarkable Beardini!
Escape from Ghost Island/The Island of Doctor Undergear
Rise of the Pirate Pharaoh/The Golden Hook
The Mystery of the Mighty Colossus/The Doubloon Monsoon
Shark Attack!/Captain Hook's Colossal Collision
Plus, every DVD includes FREE exclusive 3D Colossus puzzle ship. We put ours together and it was a fun project with my little Captain Jake fan.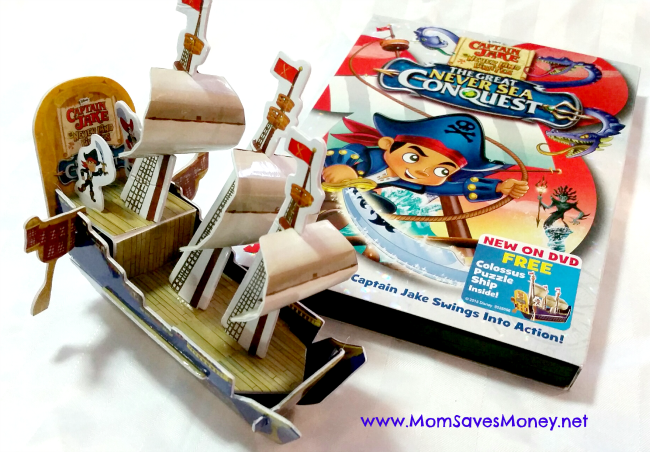 Want some Captain Jake fun right now? Download the free 8-page coloring book and activity sheets.
Giveaway
One lucky reader will win a DVD copy of Captain Jake and the Never Land Pirate: The Great Never Sea Conquest. Simply use the Rafflecopter form below to enter.