Here we are – staring down the barrel at the end of the year!  Which means it'll be time to think about New Year's Resolutions soon (if you're into that kind of thing).  If this year is like last year, I'll likely have 1 resolution: de-clutter!  There's just something about the craziness of the holidays that make me want to simplify my life.  There's just something about all the gifts we (including our 4 boys) get that makes me want to start getting rid of stuff.  #firstworldproblems
So, I tend to keep my menu planning simple.  Well, I do that anyway cause I don't like complicated.  Not in relationships and not on my dinner table!  If you can do complicated, then more power to you!  But, as for me and my house, we'll do simple!  (Tasty and simple, of course.  But still simple!)
Take this menu plan – it's pretty straight forward.  All meals planned out for you and the links included.  Use it!  It'll save you time and money – both great things to save this time of year!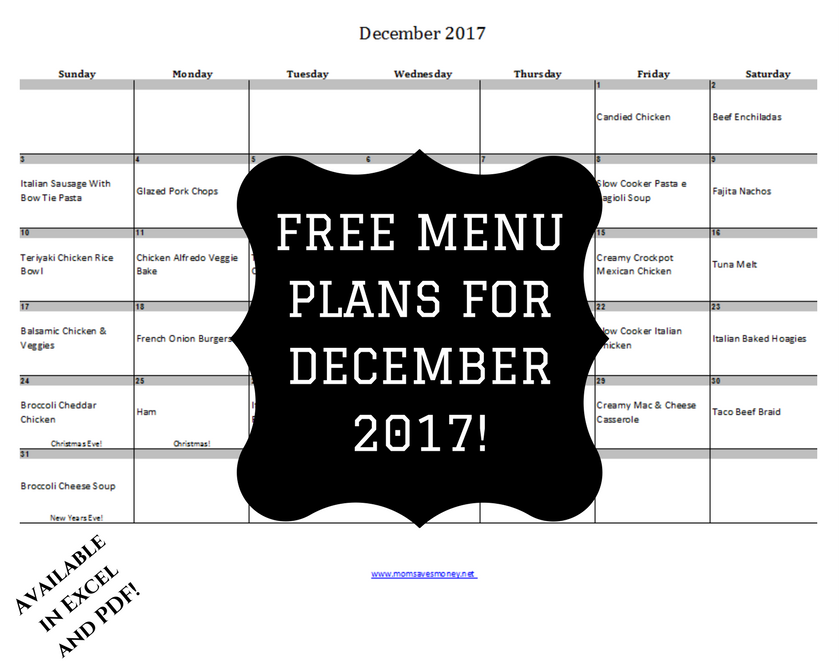 The Breakfast, Lunch & Dinner Menu:
Available formats: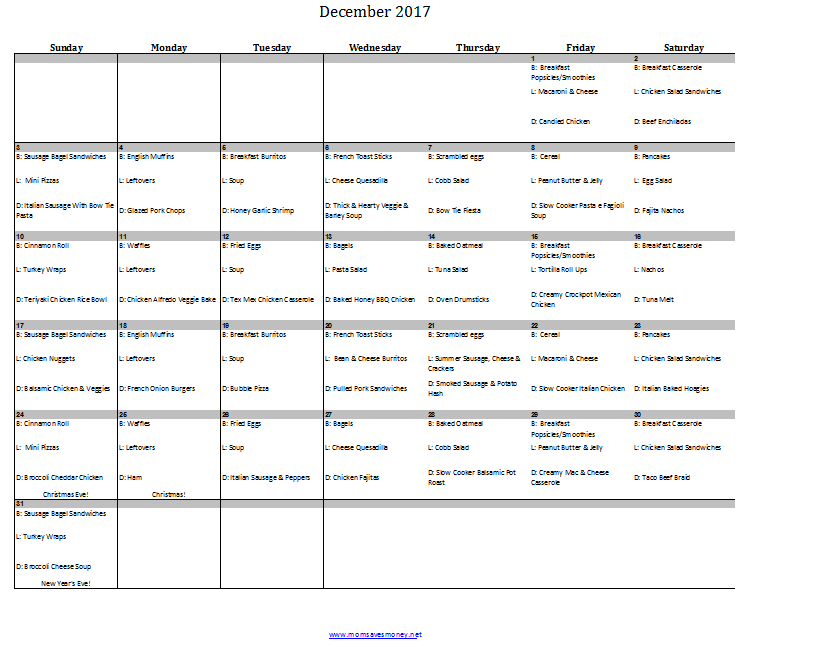 The Dinner Only Menu:
Available formats:
Its okay if you don't like these recipes or these ideas – make your own!  Just open the Excel version, delete what you don't want and keep what you do want!  I have a menu plan that works for my family – you should have one that works for yours!
What if I don't cook every night?
Awesome!  I don't either – we often have leftovers 2-3 night/week.  Just take this basic plan, cut out some meals and make leftovers part of your plan!
What if I don't want a particular meal on a specific night?
Awesome!  Just take this basic plan and swap meals around.
What if I don't eat beef?  Or chicken?  Or pork?
Awesome!  Just take this basic plan, remove the foods you won't eat and put in foods you will eat.
What if I don't know how to make that meal?
Awesome!  Included are the links for the recipe that I usually use.
What if we always have pizza on Friday nights?
Awesome!  (Can I come over?)  Just remove my Friday meals and put in pizza.
What if I don't like your recipe?
Awesome!  Use whichever recipe you normally use and just use this basic plan as a suggestion.
What if I have my own monthly menu plan?
Awesome!  Care to share it?  Share it down below in the comments so that we all can see it and be inspired!
What's cool about this menu plan?
Breakfast & lunch are simple and repetitive while still providing variety.  For dinners, I try to have a lot more variety each week – some beef, some chicken, and some pastas.  That way you won't get too bored.  There are also plenty of ways to save time when using this menu plan.
Examples:  When prepping chicken at the beginning of the month, make enough for the other recipes and freeze it for future use.  When making ground beef, brown 2-3 times the normal amount and freeze that. Check out these easy crockpot instructions for bulk cooking chicken and bulk cooking ground beef. It makes it super quick to pull meals together!
Recipes in this menu plan:
Breakfast Recipes:
Breakfast Popsicles
Sausage Breakfast Casserole
Sausage Bagel Sandwiches
English Muffins (top with butter, cream cheese, peanut butter or jelly)
Breakfast Burritos
French Toast Sticks
Scrambled eggs
Cereal
Pancakes
Cinnamon Rolls
Waffles
Fried Eggs
Bagels (top with butter, cream cheese, peanut butter or jelly)
Baked Oatmeal
Lunch Recipes:
Tortilla Roll Ups
Easy Skillet Nachos
Chicken Nuggets
Soup Ideas: Baked Potato Soup, Slow Cooker Ham & Bean Soup, Slow Cooker Ham & Potato Soup, Cheesy Veggie Chowder, Chicken Noodle Soup, Chicken Tortilla Soup, Ham & Bean Soup, Slow Cooker Chili, Taco Soup, Vegetable Soup, Broccoli Cheese Soup
Bean & Cheese Burritos
Summer Sausage, Cheese & Crackers
Macaroni & Cheese
Chicken Salad Sandwiches
Mini Pizzas
Cheese Quesadillas
Cobb Salad
Peanut Butter & Jelly
Egg Salad
Dinner Recipes:
Candied Chicken
Beef Enchiladas
Italian Sausage With Bow Tie Pasta
Glazed Pork Chops
Honey Garlic Shrimp
Thick & Hearty Veggie & Barley Soup
Bow Tie Fiesta
Slow Cooker Pasta e Fagioli Soup
Fajita Nachos
Teriyaki Chicken Rice Bowl
Chicken Alfredo Veggie Bake
Tex Mex Chicken Casserole
Baked Honey BBQ Popcorn Chicken
Oven Drumsticks
Creamy Crockpot Mexican Chicken
Tuna Melt
Balsamic Chicken & Veggies
French Onion Burgers
Bubble Pizza
Pulled Pork Sandwiches
Smoked Sausage & Potato Hash
Slow Cooker Italian Chicken
Italian Baked Hoagies
Broccoli Cheddar Chicken
Slow Cooker Ham
Italian Sausage & Peppers
Oven Baked Chicken Fajitas
Slow Cooker Balsamic Pot Roast
Creamy Mac & Cheese Casserole
Taco Beef Braid
Broccoli Cheese Soup
Jayme is a wife to 1 and to four little boys. She coupons, but isn't super extreme about it. She price matches and loves it! While she likes to cook, she's in the stage of life where simple is usually better. She never knows how many hands she'll have free at dinner time. You can find her at No Regrets Living.