Disclosure: Contains affiliate link. All opinions are mine.
Do you need to purchase a White Elephant gift but not sure what to buy? Simple solution! Purchase a pre-made White Elephant gift from That Daily Deal.
Choose from a $10 or $20 White Elephant mystery box option. This mystery box could contain 1 or more items and value of items will exceed the purchase price. The mystery box will arrive by December 15 and will be labeled White Elephant. You can decide if you want to open ahead of time or not.
You can order as many of these mystery boxes as you want and only pay shipping costs of $4.99 once no matter how many you order. That's an awesome deal!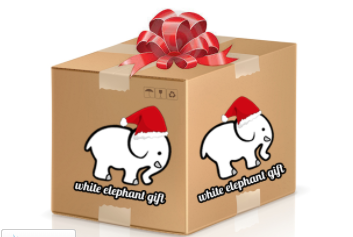 Order the White Elephant Mystery Box for yourself or for gifts! But, hurry these do sell out fast!
Bonus – When you order this White Elephant Mystery you get early access to Mystery Santa's Christmas Bag of Awesome! The Christmas Mystery Box is my favorite every year and is always full of amazing items, but those sell out crazy fast. It is their most popular item of the year. Get your Mystery Boxes now!
Are you excited for this year's Mystery Box?