Hello February!  Glad to see you!  We've had such a strange January with really cold weather one day and pretty darn mild weather the next.  I don't know what February will bring weather wise, but I hope it isn't any more of the -40 degree wind chill days.  I can certainly do without those!
But I don't want to do without a menu plan!  I've been buckling down and trying to get more serious about sticking with mine.  Those holiday months of November and December were rough on me.  I'd do some baking and cooking, then get sick of being in the kitchen around dinner time.  There were too many fast food meals and take n bake pizza!  I did much better in January, but I know that I can do even better in February.
Won't you join me in menu planning?  You'll be glad you did!  I've never heard anyone say "I just hate having a menu plan!"  They might not like creating the plan, but most people love having a plan!  If you don't already menu plan, you should!  You can do almost anything you want – but try this one if you need a place to start. You can get more information and tips with the new meal planning book 'The Extraordinary Art of Meal Planning'.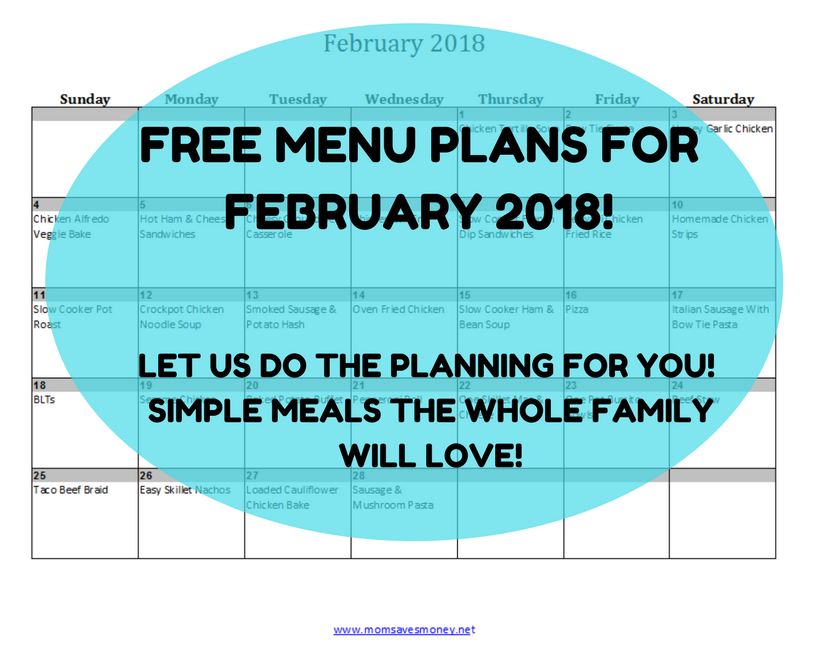 Available Formats: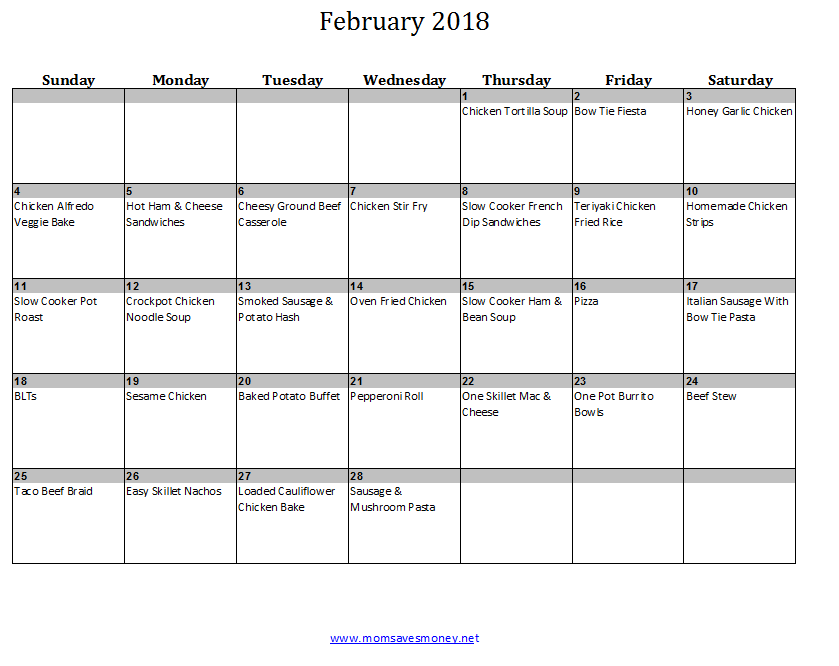 Recipes in this menu plan:
Chicken Tortilla Soup
Bow Tie Fiesta
Honey Garlic Chicken
Chicken Alfredo Veggie Bake
Hot Ham & Cheese
Cheesy Ground Beef Casserole
Chicken Stir Fry
Slow Cooker French Dip Sandwiches
Teriyaki Chicken Fried Rice
Homemade Chicken Strips
Slow Cooker Pot Roast
Crockpot Chicken Noodle Soup
Smoked Sausage & Potato Hash
Oven Fried Chicken
Slow Cooker Ham & Bean Soup
Pizza
Italian Sausage With Bow Tie Pasta
BLTs
Sesame Chicken
Baked Potato Buffet
Pepperoni Roll
One Skillet Mac & Cheese
One Pot Burrito Bowls
Beef Stew
Taco Beef Braid
Easy Skillet Nachos
Loaded Cauliflower Chicken Bake
Sausage & Mushroom Pasta
Its okay if you don't like these recipes or these ideas – make your own!  Just open the Excel version, delete what you don't want and keep what you do want!  I have a menu plan that works for my family – you should have one that works for yours!
How can I make this even easier?
To make things easier, when prepping chicken at the beginning of the month, make enough for the other recipes and freeze it for future use.  When making ground beef, brown 2-3 times the normal amount and freeze that. Check out these easy crockpot instructions for bulk cooking chicken and bulk cooking ground beef. It makes it super quick to pull meals together!
Jayme is a wife to 1 and a mother to four little boys. She tries to coupon, builds a smart stockpile, and always meal plans. While she likes to cook, she's in the stage of life where simple is usually better – she never knows how many hands she'll have free at dinner time! You can find her at No Regrets Living.