April is almost here!  No fooling about that.  I ain't joking — April IS almost here.  Time to plan for it!  For us, April is where I start notice that our schedule is starting to ramp up in activity level.  It's looking to be calmer than May will be, but busier than March was.  Two of our boys have birthday in April, so we'll be celebrating a 6-year-old and a 3-year-old!  April also has Easter (which I'm hosting).
But May?  May has end of school year activities with Field Days.  And field trips.  And graduation parties.  And Mother's Day.  For us, it also has both my father-in-law's birthday and my mother-in-law's birthday.  It'll be full of fun!
I also want to make sure it isn't full of stress.  Now, it's not possible to remove EVERY stressor from our life, but I can minimize it.  For me, a big area that I attack is in the kitchen – having a plan for our food. It makes grocery shopping easier.  It makes dinner prep easier too.  Can't argue with that!
Don't want to take the time to plan?  Use this one!  Want to come up with your own?  That's okay too — there's a blank calendar included.  Check out the new meal planning book 'The Extraordinary Art of Meal Planning' for tips on how to meal plan.  But just do it!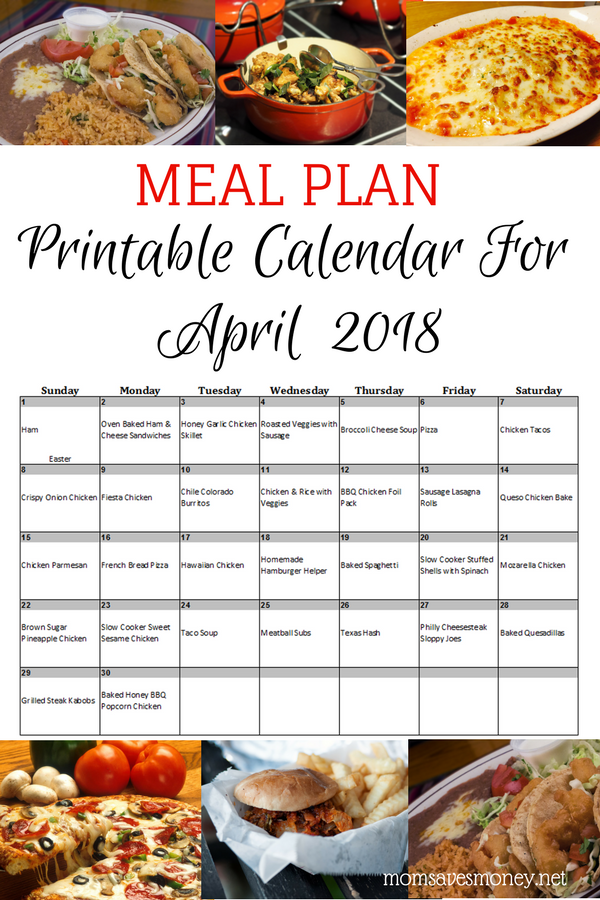 Available Formats: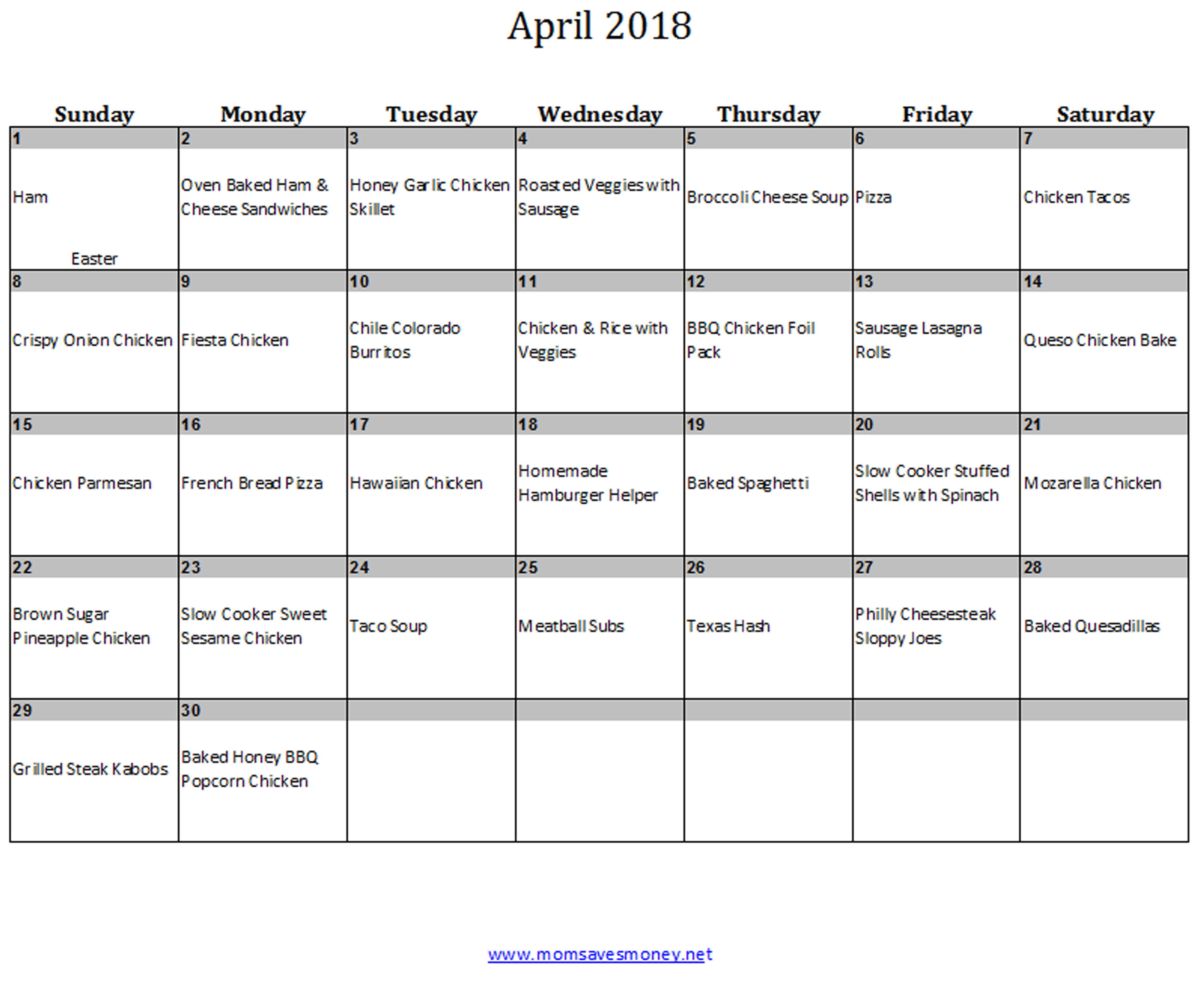 Recipes in this menu plan:
Slow Cooker Ham
Oven Baked Ham & Cheese
Honey Garlic Chicken Skillet
Roasted Veggies with Sausage
Broccoli Cheese Soup
Pizza
Chicken Tacos
Crispy Onion Chicken
Fiesta Chicken
Chile Colorado Burritos
BBQ Chicken Foil Pack
Sausage Lasagna Rolls
Queso Chicken Bake
Chicken Parmesan
French Bread Pizza
Hawaiian Chicken
Homemade Hamburger Helper
Baked Spaghetti
Slow Cooker Stuffed Shells with Spinach
Mozzarella Chicken
Brown Sugar Pineapple Chicken
Slow Cooker Sweet Sesame Chicken
Taco Soup
Meatball Subs
Texas Hash
Philly Cheesesteak Sloppy Joes
Baked Quesadillas
Grilled Steak Kabobs
Baked Honey BBQ Popcorn Chicken
It's okay if you don't like these recipes or these ideas – make your own!  Just open the Excel version, delete what you don't want and keep what you do want!  I have a menu plan that works for my family – you should have one that works for yours!
How can I make this even easier?
To make things easier, when prepping chicken at the beginning of the month, make enough for the other recipes and freeze it for future use.  When making ground beef, brown 2-3 times the normal amount and freeze that. Check out these easy crockpot instructions for bulk cooking chicken and bulk cooking ground beef. It makes it super quick to pull meals together!
Jayme is a wife to 1 and a mother to four little boys. She tries to coupon, builds a smart stockpile, and always meal plans. While she likes to cook, she's in the stage of life where simple is usually better – she never knows how many hands she'll have free at dinner time! You can find her at No Regrets Living.