Summer is in full swing!  Rhythms have probably developed into your days.  Sunburns have been experienced.  Gardens are growing.  Produce stands are open.  Summer is going strong!  In fact, this is the last full month of summer before kids start school again.  Are you getting everything you wanted to done?  How's it going for you?
Are the days getting away from you, causing you to lean on fast food for dinner?  Or maybe you've done quite a few "it's cereal for dinner" nights!  I've been there.  Menu planning will help with that – it really will!  Use this one!  Need more tips?  Be sure to check out the new meal planning book 'The Extraordinary Art of Meal Planning' for tips on how to meal plan.  But just do it!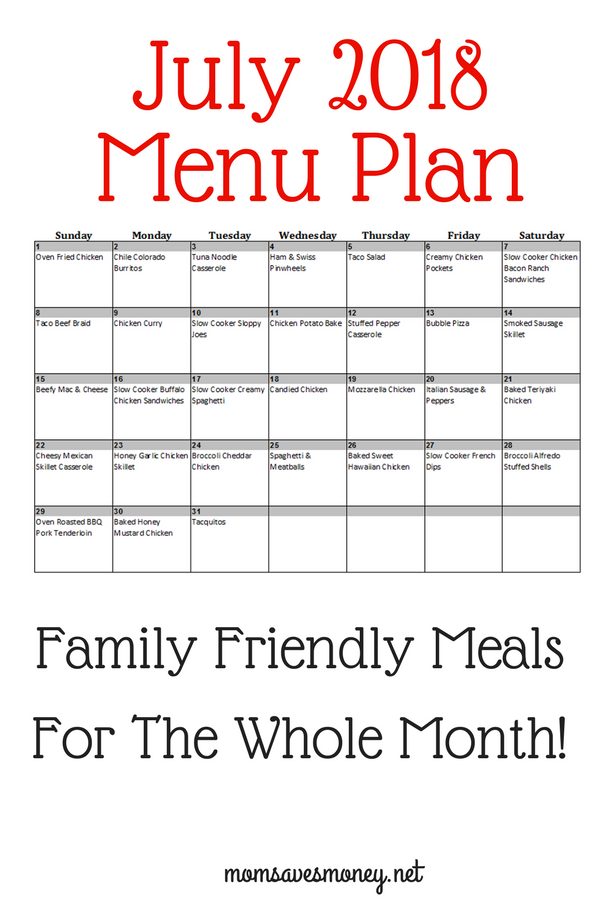 Available Formats: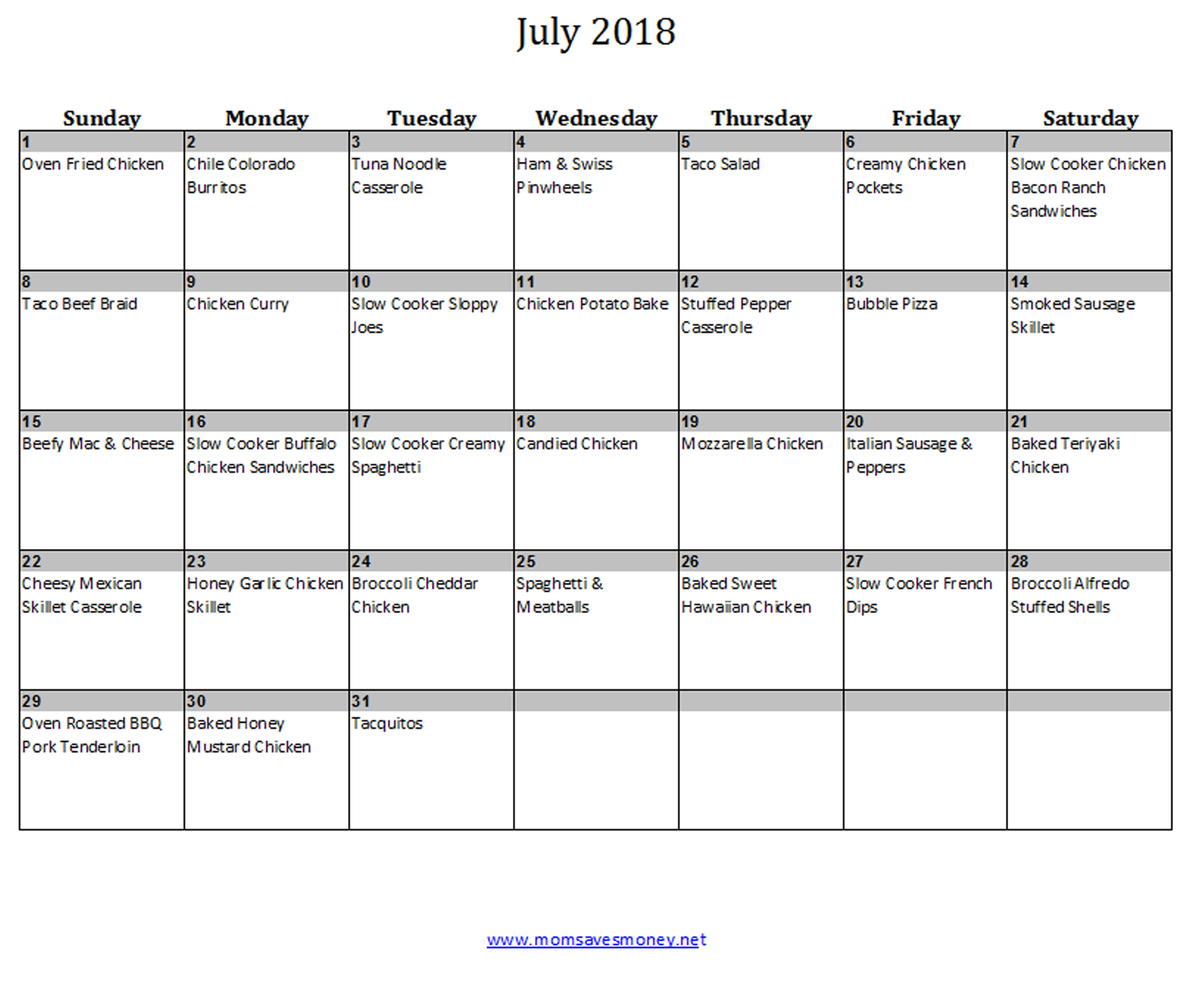 Recipes in this menu plan:
Oven Fried Chicken
Chile Colorado Burritos
Tuna Noodle Casserole
Ham & Swiss Pinwheels
Taco Salad
Creamy Chicken Pockets
Slow Cooker Chicken Bacon Ranch Sandwiches
Taco Beef Braid
Chicken Curry
Slow Cooker Sloppy Joes
Chicken Potato Bake
Stuffed Pepper Casserole
Bubble Pizza
Smoked Sausage Skillet
Beefy Mac & Cheese
Slow Cooker Buffalo Chicken Sandwiches
Slow Cooker Creamy Spaghetti
Candied Chicken
Mozzarella Chicken
Italian Sausage & Peppers
Baked Teriyaki Chicken
Cheesy Mexican Skillet Casserole
Honey Garlic Chicken Skillet
Broccoli Cheddar Chicken
Spaghetti & Meatballs
Baked Sweet Hawaiian Chicken
Slow Cooker French Dips
Broccoli Alfredo Stuffed Shells
Oven Roasted BBQ Pork Tenderloin
Baked Honey Mustard Chicken
Tacquitos
It's okay if you don't like these recipes or these ideas – make your own!  Just open the Excel version, delete what you don't want and keep what you do want!  I have a menu plan that works for my family – you should have one that works for yours!
How can I make this even easier?
To make things easier, when prepping chicken at the beginning of the month, make enough for the other recipes and freeze it for future use.  When making ground beef, brown 2-3 times the normal amount and freeze that. Check out these easy crockpot instructions for bulk cooking chicken and bulk cooking ground beef. It makes it super quick to pull meals together!
Jayme is a wife to 1 and a mother to four little boys. She tries to coupon, builds a smart stockpile, and always meal plans. While she likes to cook, she's in the stage of life where simple is usually better – she never knows how many hands she'll have free at dinner time! You can find her at No Regrets Living.