It's the 2nd week of back to school deals and there are some great deals with prices starting at just $0.19 with many items only a quarter! Hopefully we will get some school supply coupons soon to make these deals even sweeter.
How to use this list: The stock up and best deals are highlighted in red, so you can easily spot the best bargains!  Check out more tips to save on back to school shopping. If you pack lunches every day for kids, here is a guide for lunchbox essentials.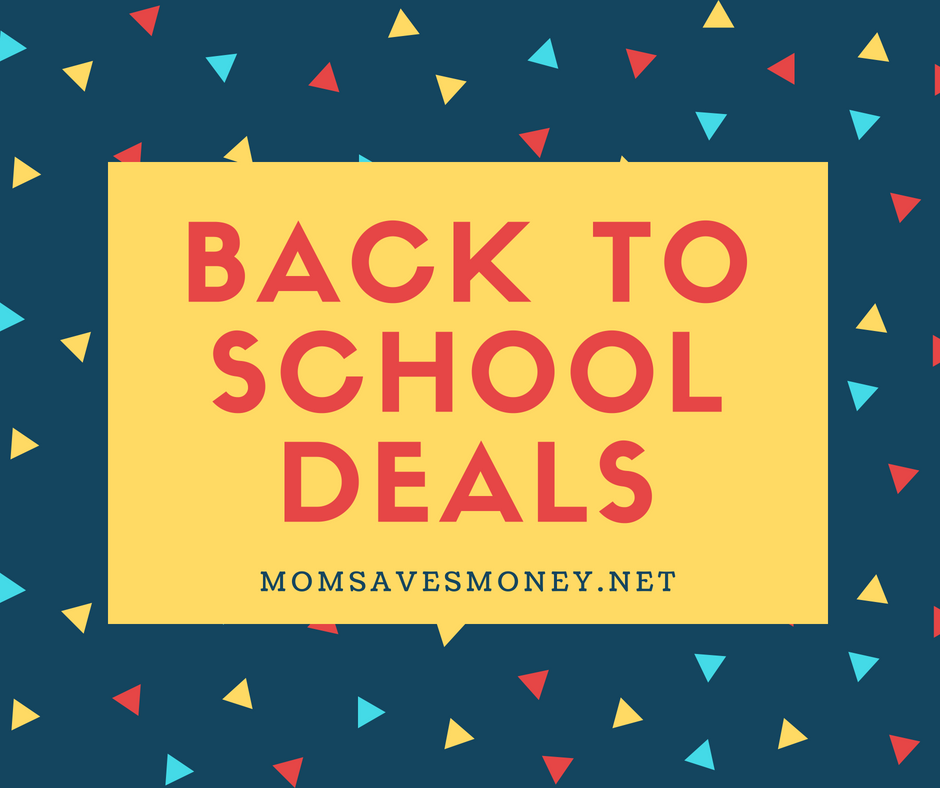 AMAZON
Stock up prices on school supplies – bookmark my Amazon shopping page for regularly updated deals.
DOLLAR TREE
Yellow pencils No 2 24 ct $1.00
Glue sticks 8 pack $1.00
Bic round stic ball pens blue or black 10 pack $1.00
Crayons 64 ct $1.00
Highlighters 8 ct $1.00
Germ-X hand sanitizer 10 oz $1.00
Binder, 1″ clear pocket cover $1.00
Mead 3-subject notebooks $1.00
OFFICE DEPOT/OFFICE MAX
Teachers save 30% off $30 or more purchase with in-ad coupon (reward member offer)
Office depot 12′ rulers, limit 12 $0.25
Scholastic crayons 24 pack limit 12 $0.45
Office depot kid's scissors, blunt or pointed tip $0.50
Office depot composition books, limit 12 $0.50
Scholastic school glue 4 oz, limit 12 $0.50
Office depot wood pencils 12 pack $0.75
Scholastic colored pencils 12 ct, limit 12 $0.89
Scholastic art markers 10 pack, limit 12 $0.89
Office depot beveled erasers 3 pack $1.25
Office depot 3×5 index cards 300 pack $1.25
Bic round stic grip xtra-comfort ballpoint pens 12 pack, limit 12 $1.50
Office depot dry erase markers 4 or 5 pack, limit 12 $2.00
Sharpie permanent fine point markers 24 pack $10.00
Dixon ticonderoga #2 pencils 72 pack $12.00
Office depot retractable ballpoint pens with grips 50 pack $12.00
Backpacks and lunch accessories 25% off
SHOPKO
Filler paper 150 ct, limit 4 $0.74
Crayola 10 ct markers, limit 4 $0.94
Scotch kid's scissors, limit 4 $0.94
Dixon #2 pencils 20 ct, limit 4 $0.94
Expo dry erase fine or chisel tip markers 4 pack $3.97
STAPLES
Staples 1 subject notebook, limit 30 $0.25
Staples wedge pack erasers 3 pack $0.50
Staples arrowhead cap erasers 12 pack $0.50
Staples #2 yellow pencils 12 pack, limit 30 $0.50
Staples school glue 4 oz $0.50
Bic round stic grip ballpoint pens 12 pack, limit 5 $0.50
Staples dual pencil sharpener, limit 5 $0.50
Crayola classic markers, broad or fine-tip 10 pack, limit 30 $0.97
Crayola colored pencils 12 pack, limit 30 $0.97
Staples poly composition book $1.00
Backpacks starting at $9.99
TARGET
Up & Up pronged folder $0.50
Mead spiral notebook $0.50
Elmer's liquid glue 4 oz $0.50
Elmer's glue stick 2 pack $0.50
Up & Up pink erasers 2 pack $0.50
Up & Up 3×5 unruled index cards 100 ct $0.50
Up & Up wood pencils 8 ct $0.50
Up & Up colored pencils 12 ct $0.50
Up & Up pencil sharpener $0.50
Crayola crayons 24 ct $0.50
Crayola classic markers 10 ct $0.99
Texas Instruments TI-30XIIS scientific calculator $10.99
Novelty backpacks $12.99 and up
Double Dutch club or iPack backpacks $17.00
WALGREENS
Wexford 2 pocket folder $0.19
Wexford scissor $0.49
Wexford pencil case $0.49
Wexford composition or memo books $0.49
Wexford sticky notes $0.49
Wexford pencil sharpener $0.49
Wexford filler paper $0.99
Wexford backpack $3.00