Disclosure: Contains affiliate links. Read full disclosure policy here.
I can not believe it's time to shop for back to school already. It seems like summer just started, but the school supply deals have begun. There are some decent prices on school supplies now, but the prices usually get better in a few weeks. However, if you are an early planner, the back to school sales have official started.
How to use this list: The stock up and best deals are highlighted in red, so you can easily spot the best bargains!  Check out more tips to save on back to school shopping.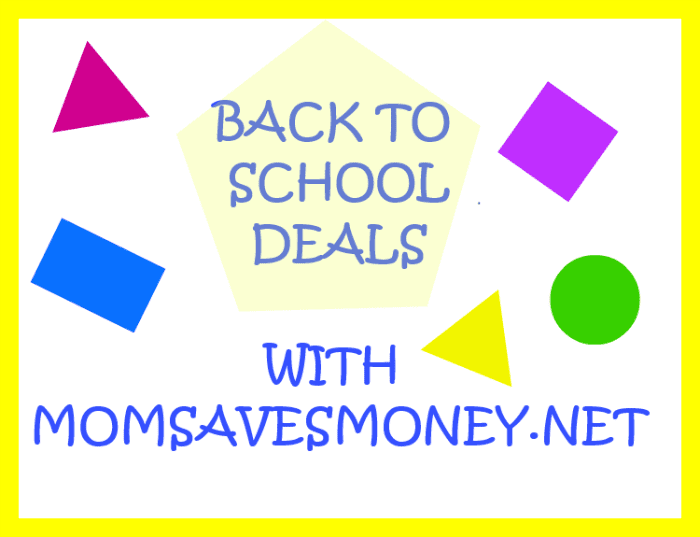 OFFICE DEPOT/OFFICE MAX
Office depot spiral 1 subject notebooks 70 sheets, limit 12 $0.25
Office depot 2-pocket poly portfolios $0.35
Crayola crayons 24 pack, limit 6 $0.50
Office depot index cards 3×5 100 pack $0.50
Office depot red eraser caps 12 pack $0.60
Office depot filler paper wide or college ruled $0.85
Scholastic glue sticks 4 pack, limit 12 $1.00
Clear pencil box $1.00
Office depot highlighters 6 pack, limit 12 $2.00
Dixon Ticonderoga woodcase pencils 12 pack $2.00
Office depot wood pencils 72 pack $6.00
Duracell coppertop batteries 16 pack AA or AAA, limit 2 rewards per members 100% back in rewards (no price listed)
STAPLES
Staples 2-pocket poly report cover and folder limit 30 $0.35
Bic xtra fun pencils 8 pack limit 5 $0.50
Staples school glue 4 oz $0.50
Staples ballpoint stick pens 12 pack, limit 5 $0.50
Staples #2 gripped mechanical pencils 12 pack limit 5 $0.50
Crayola crayons 24 pack, limit 30 $0.50
Staples composition book 100 sheets wide or college ruled limit 30 $0.50
Sharpie permanent marker 5 pack, limit 5 $1.92
TARGET
Notebook, 70 sheet 1 subject, wide or college ruled $0.25
Up & up 24 ct crayons $0.25
Up & up wood 12″ wood ruler $0.25
Up & up index cards, ruled or unruled 100 ct 3×5 $0.49
Up & up pencil sharpener $0.50
Up & up pronged folder $0.50
Up & up 25 ct cap erasers $0.50
Up & up colored pencils 12 ct $0.50
Elmer's glue sticks 2 ct $0.50
Up & up sharpie chisel tip highlighters 2 ct $1.19
Up & up wood pencils 24 ct $1.19
Up & up printer paper 500 ct letter $3.69
WALGREENS
Wexford highlighters 6/$1.00
Wexford 2-pocket folder 6/$1.00