I can't believe my kids go back to school in just 10 days! Now is the time to get serious about stocking up on school supplies and luckily, there are plenty of deals. Make sure to grab some extra school supplies to get through the whole year since these next few weeks will be the lowest prices we see until the next year.
How to use this list: This is a compilation of the best deals with coupon matchups. The stock up and best deals are highlighted in red, so you can easily spot the best bargains!  Check out some DIY School Supply projects to make ordinary school supplies extraordinary and  more tips to save on back to school shopping. If you pack lunches every day for kids, here is a guide for lunchbox essentials.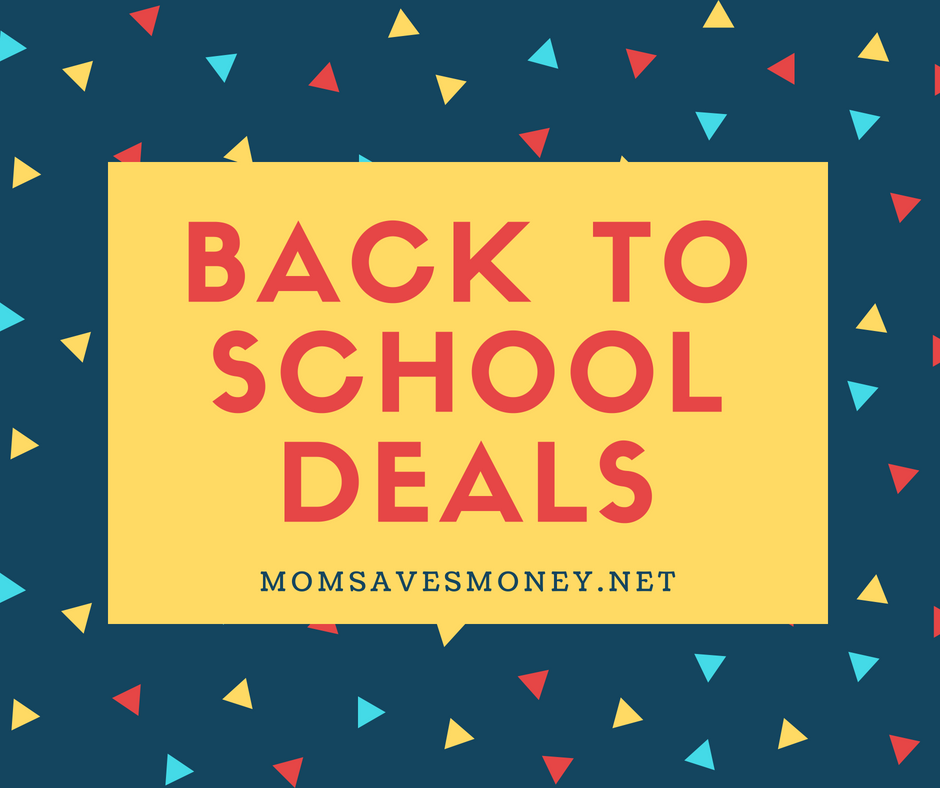 AMAZON
Stock up prices on school supplies – bookmark my Amazon shopping page for regularly updated deals.
HY-VEE
Check out the weekly grocery deals to see how you can score a FREE backpack and lunchbox this week!
MENARDS – Available only while supplies last
Menards Rebate tip – You can mail the rebates with the same address in one envelope. The rebate will arrive in 4-6 weeks as in-store Menards credit.
Thumb tacks $0.39
Push pins $0.39
Pink wedge erasers 3 pack $0.39
Pencil cap erasers 40 ct $0.39
3-pack glue sticks $0.39
Pencil case $0.39
12″ flexible ruler $0.39
Claw staple remover $0.39
Twin pocket folder $0.39
3″x5″ index cards $0.39
5″ scissors $0.39
Crayons 24 pack $0.39
Student scissors 7″ $0.59
Plastic utility box $0.59
Mini stapler and staples $0.59
Index card case $0.59
Mesh pencil pouch $0.59
Jumbo paper clips 100 ct $0.59
Binder clips 12 ct $0.59
Permanent markers 4 ct $0.59
Dry erase markers 3 pack $0.59
Highlighters 4 pack $0.59
Retractable pens 3 ct $0.59
#2 mechanical pencils 8 pack $0.59
#2 pencils 10 ct $0.59
Pencil sharpener $0.59
Compass & protractor set $0.59
3 pack vinyl report covers $0.59
Plastic twin pocket folder $0.59
5-tab dividers $0.59
Sheet protectors 10 ct $0.59
Stretchable book cover $0.59
12 ct manilla folders $0.59
Watercolor paint set $0.59
Correction tape $0.59
Calculator $0.79
Dry erase markers 2 pack $0.79
Kid's washable markers 8 pack $0.79
Jumbo highlighters 3 pack $0.79
Permanent markers 3 pack $0.79
Colored pencils 12 ct $0.79
Mechanical pencil refill $0.79
Post-it notes $0.79
1″ 3 ring binder $0.79
Loose leaf paper 150 sheets $0.79
3-subject notebook $0.79
Composition notebook $0.79
Plastic folder with prongs $0.79
Single subject notebook $0.97 ($0.97 mail in rebate, limit 10 = FREE)
10-pack pens, blue or black $0.97 ($0.97 mail in rebate, limit 10 = FREE)
Rubber bands, 1/2 lb $1.99 ($1.99 mail in rebate, limit 6 = FREE)
Mr sketch scented twistable gel crayons $7.99 ($7.99 mail in rebate, limit 6 = FREE)
OFFICE DEPOT/OFFICE MAX
Office depot 12″ wooden ruler, limit 12 $0.25
Scholastic crayons 24 pack $0.45
Office depot brand eraser caps 12 pack $0.60
Office depot wood pencils 12 pack $0.75
Scholastic colored pencils 12 pack, limit 12 $0.89
Paper mate pink pearl erasers 3 pack $1.50
Bic round stick grip xtra-comfort ballpoint pens 12 pack, limit 12 $1.50 ($1 coupon from 7/22/18 SS = $0.50)
Office depot low odor dry erase markers 4 pack, limit 12 $2.00
Sharpie fine/ultra fine permanent markers 12 pack $6.00
SHOPKO
2 pocket folder, limit 25 $0.17
Notebook 70 ct college or wide ruled, limit 18 $0.19
Crayola crayons 24 pack, limit 4 $0.50
Composition book, limit 4 $0.50
Filler paper 150 ct, limit 4 $0.79
Crayola markers 10 ct, bold, broad or thin, limit 4 $0.99
Scotch kid's scissors, blunt or pointed $0.99
Dixon 20 ct pencils #2, limit 4 $0.99
Bic cristal 10 pack pens, blue black or red, limit 4 $0.99
Sharpie highlighters 2 pack $0.99
Crayola colored pencils 12 ct $1.49
Five star 2-pocket folder $1.49 ($1/2 coupon from 7/29/18 SS = $0.99 each)
STAPLES
*Save 20% on school supplies when you buy a backpack
Staples 1 subject notebook, limit 30 $0.25
Staples #2 yellow pencils 12 pack, limit 30 $0.50
Staples school glue 4 oz $0.50
Staples wedge and arrowhead cap eraser $0.50
Staples composition book 100 sheets, limit 30 $0.50
Crayola 24 pack crayons, limit 30 $0.50
Bostitch twist-n-sharp pencil sharpener, limit 5 $0.50
Staples graph ruled composition book $1.29
Bic brite linter grip highlighters 5 pack $2.00 ($1 coupon from 7/22/18 SS = $1.00)
Crayola crayons 64 pack $3.00
Bic mechanical pencils 24 pack $4.00 ($1 coupon from 7/22/18 SS = $3.00)
Expo dry erase markers 8 pack $7.00
TARGET
Up & up index card 100 ct 3×5 $0.49
Crayola 24 ct crayons $0.50
Crayola 12 ct colored pencils $0.99
Post it 3×3 super sticky notes $0.99
Crayola 10 ct fine line markers $0.99
Five Star paper folders $0.99 ($1/2 coupon from 7/29/18 SS = $0.49 each)
School supply box $0.99
Norcom 175 ct filler paper $0.99
Bic 4 ct brite liner highlighters $1.59 ($1 coupon from 7/22/18 SS = $0.59)
Up&Up 1″ clear cover binder $1.89
Expo 4 ct chisel tip dry erase markers $3.49
Up & up printer paper 500 ct $3.69
Fulton lunch bag $9.00
Character 7 piece backpack $17.00
WALGREENS
Wexfor 2 pocket folder $0.29
Wexford wooden ruler $0.49
Wexford scissors $0.49
Wexford pencil case $0.49
Wexford composition or memo book $0.49
Wexford sticky notes $0.49
Wexford pencil sharpener $0.49
Paper mate pens 10 pack $0.69
Crayola classic markers classic or thin 10 ct $0.99
Sharpie highlighters $1.99
Five star notebooks $2.50 ($1/2 coupon from 7/29/18 SS = $2.00 each)
Wexford backpack $3.00
WALMART
Pen+Gear folder with 2 pockets or prongs $0.15
Cra-z-art crayons 24 pack $0.25
Notebook 1-subject 70 sheets $0.25
Pen+Gear pink erasers 2 pack $0.48
Cra-z-art colored pencils 12 pack $0.50
Cra-z-art broadline markers 10 ct $0.50
Pen+Gear notebook or composition book 80 shets $0.50
Crayola crayons 24 pack $0.50
Elmers school glue 4 oz $0.50
Elmers glue sticks 2 ct $0.50
Filler paper 150 sheets $0.82
Pen+Gear 1″ economy binder $0.87
Crayola colored pencils or markers 10-12 ct $0.97
Bic cristal pens 12 pack $1.17 ($1 coupon from 7/22/18 SS = $0.17)
Pen+Gear sheet protectors 25 pack $1.92
Filler paper 500 sheets $2.47
Five star composition book $2.47 ($1/2 coupon from 7/29/18 SS = $1.97 each)
Georgia pacific copy paper 500 sheets $2.97
Expo dry erase markers 6 pack $3.74
Wonder nation backpack $9.88