<insert cliche here about time going by so fast>
Now that we got that out of the way, man, is it time for pumpkin flavored stuff yet?  No.  No, it isn't.  I like pumpkin stuff.  But I also like Apple stuff and that's what September is for me.  Well, that and Nebraska Football.  And it no longer being hot enough to fry an egg on the sidewalk.  Good stuff happens in September.  Even if it just feels like it was New Year's Eve.  Time passes so quickly, doesn't it?
Now that I'm entering Fall as a working-outside-the-home-mom, menu planning has become even more important for me. There's times when my babysitter will throw the casserole that I've made into the oven for me.  That's an AMAZING help – assuming that I've made the casserole.  There's times when my husband will start the pizza if he beats me home.  That's AMAZING too – assuming the pizza is there to be put into the oven.
Menu plan helps me to know what I need to do TODAY to have a good TOMORROW.  I love that.  Don't you love that?  You should love that.  Plan your menus people!!!
Available Formats: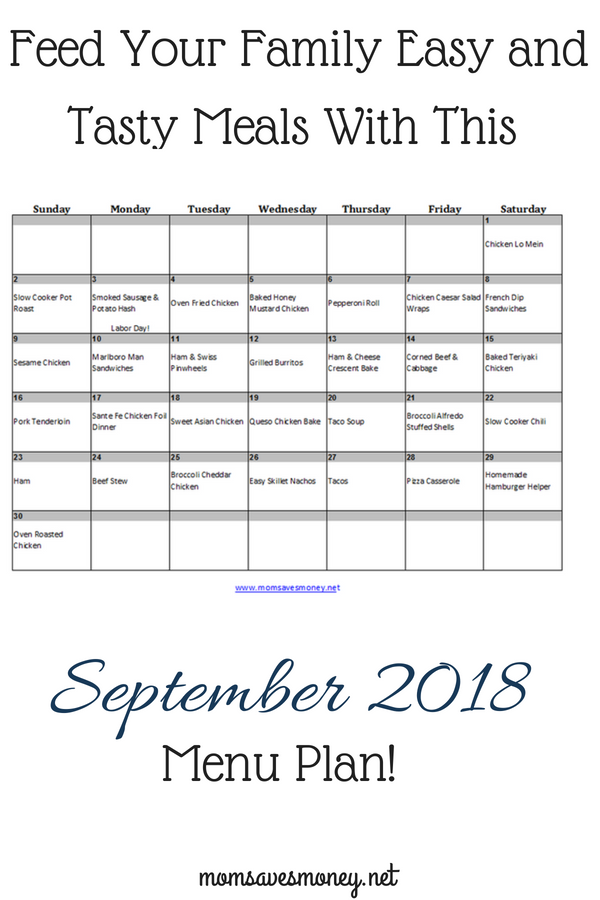 Recipes in this menu plan:
Chicken Lo Mein
Slow Cooker Pot Roast
Smoked Sausage & Potato Hash
Oven Fried Chicken
Baked Honey Mustard Chicken
Pepperoni Roll
Chicken Caesar Salad Wraps
French Dip Sandwiches
Sesame Chicken
Marlboro Man Sandwiches
Ham & Swiss Pinwheels
Grilled Burritos
Ham & Cheese Crescent Bake
Corned Beef & Cabbage
Baked Teriyaki Chicken
Pork Tenderloin
Santa Fe Chicken Foil Dinners
Sweet Asian Chicken
Queso Chicken Bake
Taco Soup
Broccoli Alfredo Stuffed Shells
Slow Cooker Chili
Slow Cooker Ham
Beef & Barley Stew
Broccoli Cheddar Chicken
Easy Skillet Nachos
Tacos
Pizza Casserole
One Pot Homemade Hamburger Helper
Oven Roasted Chicken
It's okay if you don't like these recipes or these ideas – make your own!  Just open the Excel version, delete what you don't want and keep what you do want!  I have a menu plan that works for my family – you should have one that works for yours!
How can I make this even easier?
To make things easier, when prepping chicken at the beginning of the month, make enough for the other recipes and freeze it for future use.  When making ground beef, brown 2-3 times the normal amount and freeze that. Check out these easy crockpot instructions for bulk cooking chicken and bulk cooking ground beef. It makes it super quick to pull meals together!
Jayme is a wife to 1 and a mother to four little boys. She tries to coupon, builds a smart stockpile, and always meal plans. While she likes to cook, she's in the stage of life where simple is usually better – she never knows how many hands she'll have free at dinner time! You can find her at No Regrets Living.
Like this? Also try these:
If you love this, check out more posts: