It's officially Fall!  The weather is changing.  The leaves will start turning colors.  It can't be denied: Fall is here.  Yay for cozy sweaters and apple picking and pumpkin decorating and football games.
We're settling into a good routine with school and life and that is oh so nice!  It's nice when you can wake up and generally know what will happen that day.  That's what I like about fall.  Predictability.  And nice weather!
Menu planning also helps me have a predictable day.  When I have a plan for dinner, life is less stressful.  And less stress is always a good thing!  Here's a menu plan that will help you – use ours as it is or use it just as a starting point!
Available Formats: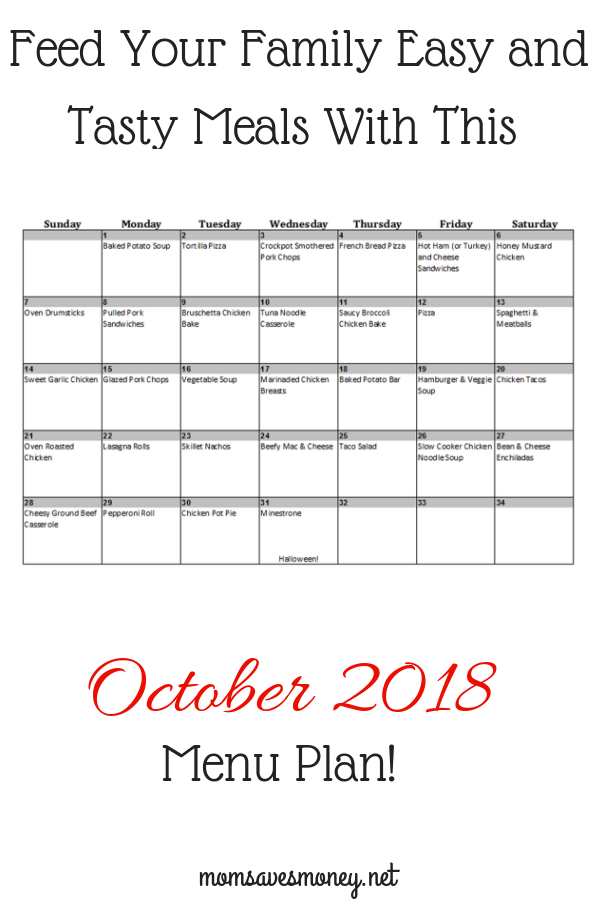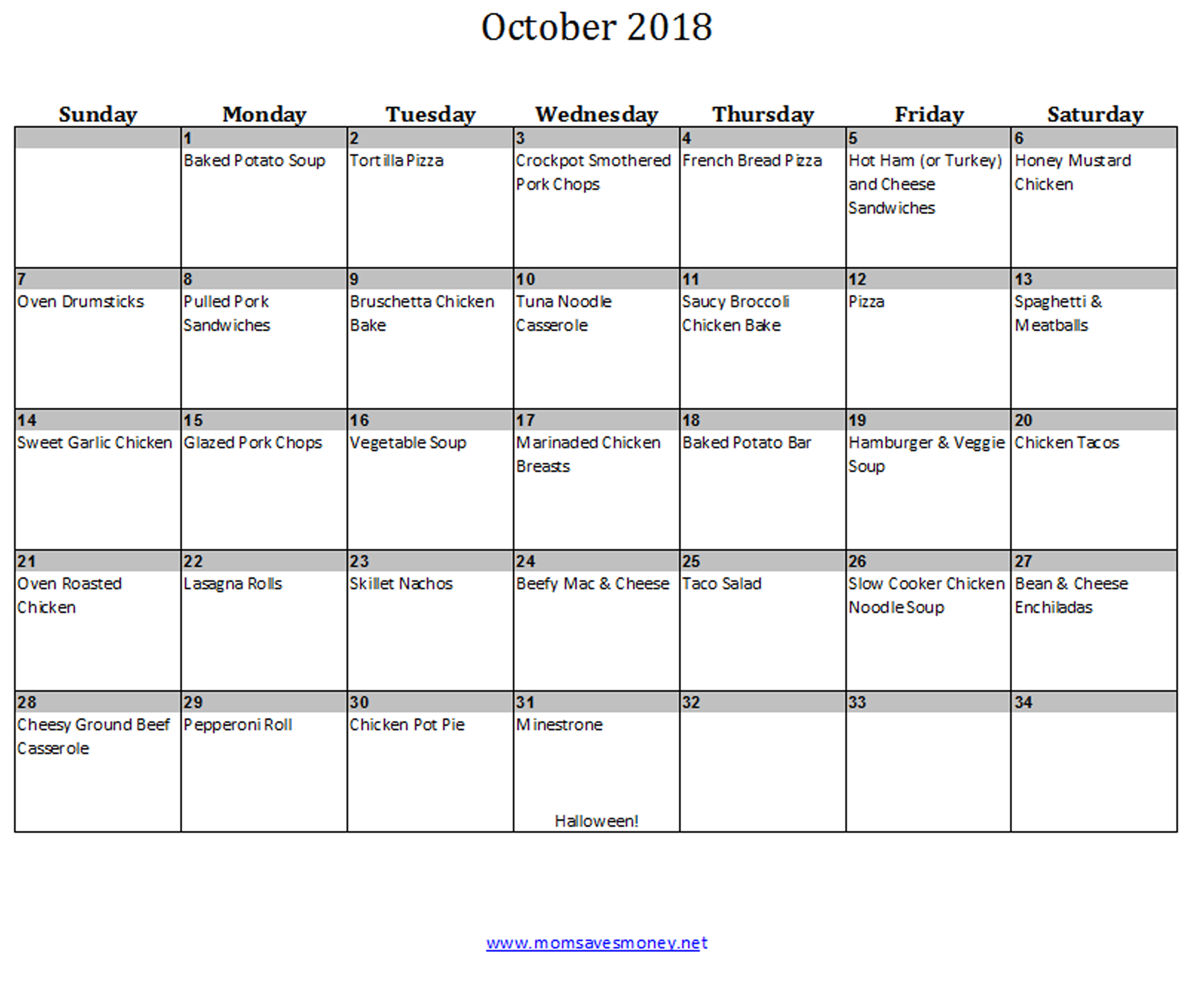 Recipes in this menu plan:
Baked Potato Soup
Tortilla Pizza
Crock Pot Smothered Pork Chops
French Bread Pizza
Hot Ham & Cheese
Honey Mustard Chicken
Oven Drumsticks
Pulled Pork Sandwiches
Bruschetta Chicken Bake
Tuna Noodle Casserole
Saucy Chicken Broccoli Bake
Pizza – Order out or make your own pizzas
Spaghetti & Meatballs
Sweet Garlic Chicken
Glazed Pork Chops
Vegetable Soup
Marinaded Chicken Breasts
Baked Potato Bar
Hamburger & Veggie Soup
Chicken Tacos
Oven Roasted Chicken
Sausage Lasagna Rolls
Skillet Nachos
Beefy Mac & Cheese
Taco Salad
Chicken Noodle Soup
Bean & Cheese Enchiladas
Cheesy Ground Beef Casserole
Pepperoni Roll
Chicken Pot Pie
Slow Cooker Minestrone
It's okay if you don't like these recipes or these ideas – make your own!  Just open the Excel version, delete what you don't want and keep what you do want!  I have a menu plan that works for my family – you should have one that works for yours!
How can I make this even easier?
To make things easier, when prepping chicken at the beginning of the month, make enough for the other recipes and freeze it for future use.  When making ground beef, brown 2-3 times the normal amount and freeze that. Check out these easy crockpot instructions for bulk cooking chicken and bulk cooking ground beef. It makes it super quick to pull meals together!
Jayme is a wife to 1 and a mother to four little boys. She tries to coupon, builds a smart stockpile, and always meal plans. While she likes to cook, she's in the stage of life where simple is usually better – she never knows how many hands she'll have free at dinner time! You can find her at No Regrets Living.