Furnishing your home can be an expensive endeavor, making it tempting to cut corners wherever you possibly can. While it's often acceptable to scrimp of some items in your home, there are a few essential pieces of furniture that are worth the splurge. These five pieces are usually the most-used furnishings in your home, making it a good idea to invest a little extra money into them to ensure they last well into the future.
There are still plenty of ways to furnish your home on a budget or use low cost decor to create a certain look, including a rustic looking home.  However, you should consider splurging on these 5 major furniture purchases.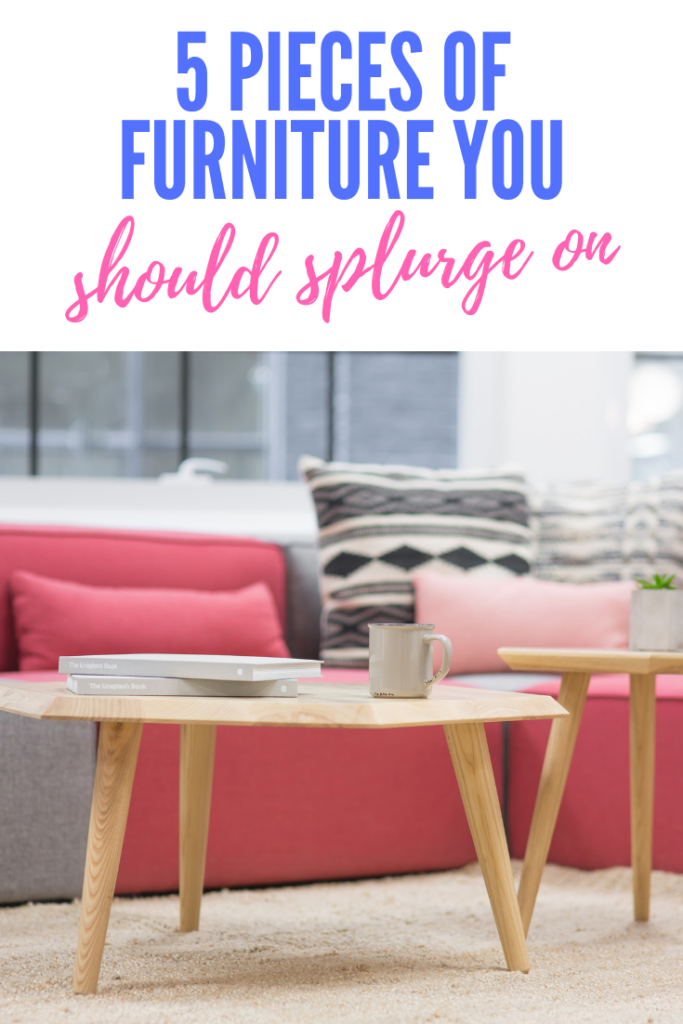 Couch
Your family will spend a lot of time together on your couch, so investing some money into your living room's centerpiece is a good idea. Making sure your couch is functional, durable, and stylish may cost a little extra, but it will be worth it in the long-run. To ensure your couch lasts the test of time, choose a neutral sofa that can be adapted as your style changes. Additionally, cotton or wool couches are more durable, making them a great option for families. Make sure you also invest in a fabric and upholstery protection, especially if you have kids or pets. 
Mattress
Splurging on a well-made, comfortable mattress is a no-brainer. You'll spend almost a third of your life sleeping, which means you'll probably spend more time on your mattress than any other piece of furniture in your home. In addition to spending the extra money to buy a great mattress, it's also essential to spend some extra time finding the perfect one. Test a mattress by laying on your back, side, and front for 10 minutes each to get good feel for the softness (or firmness) before buying. Keep in mind most mattresses need to be replaced within 7-10 years or when it's no longer comfortable or supportive. 
Office Chair
Your office chair is one of the most-used seats in your house, especially if you work from home. Spending a little extra money and time to find the best chair will make a huge difference in your productivity and comfort as you work. Finding a chair that is comfortable, while also providing the proper lumbar support, will also ensure that you maintain the proper posture as you work – saving you from back pain and long-term damage.
Rugs
Area rugs placed in high-traffic areas, like the living room, should be another area where you invest a little extra cash. Choose a wool rug, which is more durable (and more expensive) than cheaper rugs made of synthetic material. Wool rugs often last a lifetime, compared to synthetic rungs, which can easily unravel after a short time.
Dining Table
As the centerpiece of your dining room, your dining table is often the focal point of the room. It's where your family will gather each evening to eat, meaning that your table will probably need to endure some extra wear and tear. Spending a little extra on your dining room table ensures you'll get a more durable piece of furniture made of solid wood, instead of cheap veneer, which means your family can enjoy it for years to come.
These are 5 pieces of furniture you should splurge on! Do you agree? What tips do you have for finding great furniture on a budget?