Disclosure: Contains affiliate links. Full disclosure policy here.
Note: All deals considered stock up prices after coupon and store savings will be highlighted in red. Here is a full list of stockpile prices.
NEW to Couponing: Check out my book 'The Extraordinary Art of Couponing', attend a class or order the Omaha World Herald Sunday newspaper.
Take savings to the next level with meal planning! Check out my NEW book 'The Extraordinary Art of Meal Planning'.
Abbreviations:
P&G = Proctor & Gamble insert
SS = Smartsource insert
RMN = Retail Me Not insert (previously known as Redplum)
RP = RedPlum insert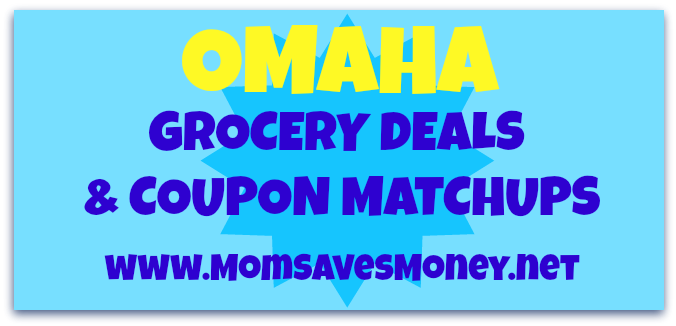 ALDI
Appleton Farms spiral sliced double glazed brown sugar ham $1.89/lb
Appleton Farms spiral sliced half ham $1.69/lb
Black Angus USDA choice beef chuck roast $2.99/lb
Lamb leg roast $5.99/lb
Blackberries 6 oz $0.99
Grape tomatoes pint $1.29
Honeycrisp apples 2 lb bag $1.79
Little salad bar flat leaf spinach 8 oz $0.99
Navel oranges 4 lb bag $1.99
Pomegranates $0.59 each
Bakers corner evaporated milk 12 oz $0.59
Bakers corner powdered or brown sugar 32 oz $0.95
Bakers corner semi sweet chocolate morsels 12 oz $1.29
Bake house creations crescent rolls 8 oz $0.89
Chef's cupboard homestyle turkey gravy 12 oz $0.89
Coca-Cola 2 liter bottles $0.99
Friendly Farms sour cream regular or light 16 oz $0.89
Goldhen grade A large eggs dozen, limit 3 $0.79
Happy Farms cream cheese or Fit & Active neufchatel cheese 8 oz $0.89
BAKERS
80% lean ground beef sold in 3 lb roll $1.88/lb
Chicken whole, drumsticks or thighs bone-in $0.99/lb
Smithfield pork riblets sold in 5 lb box $0.99/lb
T-bone steaks $4.99/lb
Avocadoes $0.50 each
Clementines 3 lb $3.99
Idaho Russet potatoes 5 lb $0.99
Mangoes $0.50 each
Yellow onions 3 lb $0.99
Campbell's chunky soup 18.6-19 oz $0.99 each when you buy 8
Pepsi, 7Up or Coca-Cola 20-24 pack 12 oz cans $4.99 each when you buy 2
Pepsi or 7Up 2 liter bottles $1.00 each when you buy 5
Private Selection ice cream 16 oz $1.67
***Baker's Mix & Match Sale***
Buy 5 participating items, save $5 instantly at checkout. Participating deals include (Note – price listed is after discount):
All laundry detergent 32-50 oz or Mighty pacs 18-24 ct $1.99 ($1 all detergent Baker's digital coupon = as low as $0.99)
Ben & Jerry's ice cream 16 oz $2.49
Doritos, fritos or cheetos 7-11.25 oz $1.88
Dunkin' donuts coffee 11-12 oz bag $4.99
Eckrich sausage 10-14 oz $1.99
Eggo waffle 24 ct $3.99 ($1 printable coupon with 850 Kellogg's Family Rewards points = $2.99)
Entenmann's donuts 6-12 ct $1.99
Fiber one bars 5-12 ct $1.79
Folgers coffee 22.6-25.4 oz $4.99
General Mills cereal 10.5-12 oz $1.99 ($1/2 printable coupon or Baker's digital coupon, $1/3 coupon from 11/18/18 SS = as low as $1.49 each)
International Delight coffee creamer 32 oz $1.99
Kellogg's cereal 10.5-12 oz $1.99 ($1/2 Mini wheats printable coupon, $1 printable coupon with 850 Kellogg's Family Rewards points = as low as $0.99 each)
Kraft salad dressing 14-16 oz $0.99
Kroger purified drinking water 32 pack 16.9 oz bottles $1.99
Nabisco family size cookies or crackers 10-20.6 oz $2.99
Nature Valley bars 5-12 ct $1.79 ($0.50/2 coupon from 10/21/18 SS or 11/18/18 SS or Baker's digital coupon = $1.54 each)
Philadelphia cream cheese 8 oz bar $0.99 ($1/2 Ibotta offer)
Puffs facial tissue 72-180 ct $0.99
Snuggle fabric softener 14-32 oz or 70-80 ct $1.99 ($0.50 Baker's digital coupon = $1.49)
Turkey hill ice cream 48 oz $2.49
Tyson frozen chicken 25.5-32 oz $3.99
Ziploc storage bags 10-24 ct $1.99 ($1/2 printable coupon or from 11/4/18 SS = $1.49 each)
***Baker's 3-Day Sale, Thurs, Fri & Sat Only***
Gold medal flour 5 lb $1.49 (with Baker's digital coupon – use up to 5x in one transaction)
Hershey's baking chips 8-12 oz $0.99 (with Baker's digital coupon – use up to 5x in one transaction)
Kroger peanut butter 16 oz $0.99 (with Baker's digital coupon – use up to 5x in one transaction)
Simple truth cage free eggs brown 12 ct $1.99 (with Baker's digital coupon – use up to 5x in one transaction)
Smidge and spoon sugar 4 lb or Kroger sugar 32 oz $0.99 (with Baker's digital coupon – use up to 5x in one transaction)
Wesson canola or vegetable oil 48 oz $1.49 (with Baker's digital coupon – use up to 5x in one transaction)
FAMILY FARE SUPERMARKETS
*Check ad and store for buy 2, get 3 free promotion
Land O frost deli shaved lunch meat 8-9 oz $2.00
Braeburn apples $0.98/lb
Dole celery $0.98 each
Dole greener selection or spinach 8-12 oz $2.00
Luvs diapers 21-48 ct $6.99 ($1 coupon from 11/25/18 P&G – expires 12/8 or $1 Yes digital coupon = $5.99)
Pillsbury cake mix 15.25 oz $1.00
Pillsbury frosting 12-16 oz $1.25
Our Family cookie dough, ready to bake 16-16.5 oz $1.99
Our Family corn or green beasn 14.5-15.25 oz $0.50
Our Family cream cheese 8 oz box $1.00
Our Family ice cream 56 oz $2.50
Our Family shredded cheese 6-8 oz $1.67
FAREWAY
93% lean ground beef sold in 10 lb tubes, limit 2 tubes $2.99/lb (with in-ad coupon)
Boneless ribeye roast $9.99/lb
Boneless sirloin tip roast $2.99/lb
Boneless skinless chicken breast sold in 10 lb packages $1.49/lb
Smithfield spiral sliced ham half or whole $1.99/lb
T-bone steak $6.99/lb
Cuties mandarins 5 lb box $3.99
Dole iceberg head lettuce $0.98 each
Jonagold apples $0.99/lb
Red potatoes 5 lb bag $1.99
Coca-cola products 24 pack 12 oz can, limit 2 $5.99
Del Monte vegetables french or cut green beans, whole or cream corn, sweet peas 14.5-15.25 oz can $0.88 ($0.40/4 coupon from 11/4/18 SS = $0.78 each)
Fiora bath tissue 24 double rolls or paper towels 12 rolls $6.99
Gold medal all purpose flour 5 lb bag, limit 1 $0.99 (with in-ad coupon)
Kraft cheese 5-8 oz, limit 3 3/$5.00 (with in-ad coupon)
Mrs Grimes chili beans 30 oz can $1.50 ($0.50/2 Fareway digital coupon = $1.25 each)
Pillsbury cake mix 15.25 oz $1.00
Fareway butter regular or unsalted quarters or solid 1 lb $2.50
Fareway cream cheese regular or light 8 oz $0.99
Fareway pasta 12-16 oz $0.88
Fareway split top bread white or wheat 24 oz loaf $1.49
Fareway vegetables steamables 12 oz $0.88
FRESH THYME FARMERS MARKET
85% lean grass feed ground beef $3.99/lb
Chicken split or cut up $0.99/lb
Easy peel raw shrimp 41-50 ct $4.99
New York strip steak, bone-in $6.99/lb
Apples, gala, fuji, jonathan, mcintosh, gold or red delicious 3 lb bag $1.99
Bananas $0.39/lb
Bok choy or napa cabbage $0.99/lb
Blueberries, raspberries or blackberries 6 oz $1.49
Kiwi $0.20 each
Limes $0.20 each
Navel oranges 4 lb bag $1.99
Organic acorn, butternut or spaghetti squash $0.99/lb
Organic gala apples $1.49/lb
***Fresh Thyme 4-Day Sale, Thurs, Fri, Sat & Sun Only***
Whole chickens, limit 3 $0.77/lb
HY-VEE
*Earn $0.50/gallon Fuel Saver with grocery purchase of $50 or more with in-ad coupon*
Bone-in pork shoulder roast $1.98/lb
Cook's skinless shankless whole bone-in ham $1.68/lb
Hickory country bacon 16 oz, limit 2 $1.99 (with in-ad coupon)
Ocean eclipse salmon portions 4 oz each, limit 4 $1.25 (with in-ad coupon)
Oscar mayer deli fresh lunchmeat or chicken breast strips 5.5-9 oz, limit 4 $2.50 (with in-ad coupon)
Pilgrim's pride boneless skinless chicken breast value pack $1.49/lb
Apples, braeburn or gala $0.77/lb
Blackberries 6 oz $0.88
Green peppers, limit 3 3/$2.00 (with in-ad coupon)
Grimmway farms baby carrots 16 oz, limit 2 $0.69 (with in-ad coupon)
Red seedless grapes $0.77/lb
Betty Crocker fruit snacks 4.5-8 oz $2.00 ($0.02/gallon Fuel Saver)
Blue bonnet sticks 16 oz, limit 2 $0.48 (with in-ad coupon)
Brew pub lottza motzza pizza 22.75-30.75 oz, limit 2 2/$10.00 (with in-ad coupon)
Duncan Hines cake mix 15.25 oz, limit 1 $0.77 (with in-ad coupon)
General mills cereal Reese's puffs, cinnamon toast crunch, lucky charms, honey nut cheerios, cocoa puffs or cheerios 8.9-12 oz, limit 3 $1.67 (with in-ad coupon, $1/2 printable coupon or Hy-Vee digital coupon or $1/3 coupon from 11/18/18 SS = as low as $1.17 each)
Hiland milk skim, 1%, 2% or Vit d half gallon limit 1 $0.98 (with in-ad coupon)
Kraft salad dressing 14-16 oz $1.67
Mission soft taco flour tortillas 10 ct, limit 2 $0.98 (with in-ad coupon)
Ritz crackers 7.5-13.7 oz $1.88
Rotella's Vienna bread 17 oz, limit 2 $0.78 (with in-ad coupon)
Skippy peanut butter 15-16.3 oz, limit 2 $1.48 ($0.75/2 coupon 16.3 oz only from 11/11/18 SS = as low as $1.10 each)
That's smart pineapple 20 oz can $0.79
That's smart spices .3-4.5 oz $1.00
That's smart sugar 4 lb, limit 1 $0.99 (with in-ad coupon)
Tombstone pizza 14.8-18.4 oz $2.96
Hy-Vee bagels 12-16 oz $1.67 ($0.02/gallon Fuel Saver)
Hy-Vee baking chips 10-12 oz, limit 2 $0.99
Hy-Vee brownie mix 18.3 oz $1.28
Hy-Vee canned pasta 15 oz $0.88
Hy-Vee chicken noodle or tomato soup 10.5-10.75 oz $0.39
Hy-Vee chips premium or kettle 8-8.5 oz or tortilla 11-13 oz $1.67
Hy-Vee eggs, grade A large 12 ct, limit 1 $0.77 (with in-ad coupon)
Hy-Vee ketchup 24 oz $1.18
Hy-Vee marshmallows 10-10.5 oz, limit 2 $0.48 (with in-ad coupon)
Hy-Vee pasta 12-16 oz $1.00 ($0.01/gallon Fuel Saver)
Hy-Vee pie crust 2 ct 15 oz, limit 1 $1.49 (with in-ad coupon)
Hy-Vee smooth and cheesy cheese loaf 2 lb $5.69
Hy-Vee split top bread white or wheat 20 oz $1.28
Hy-Vee tomatoes or sauce 28-29 oz $1.28
Hy-Vee tortillas 16-19 oz $1.28
Hy-Vee whipped topping 8 oz, limit 2 $0.48 (with in-ad coupon)
***Hy-Vee 3-Day Sale, Fri, Sat & Sun Only***
85% lean ground beef 16 oz roll $2.50
7up products or canada dry sparkling water 6 pack 16.9 oz bottles 7/$10.00
Fritos or cheetos 7.5-9.25 oz $1.77
Hy-Vee cooked shrimp 51-60 ct or EZ peel raw shrimp 41-50 ct 12 oz package $4.99
Hy-Vee ice cream or sherbet 56 oz $1.77
That's smart bananas $0.29/lb
That's smart flour, 5 lb limit 1 $0.99
Whole boneless pork loin $1.48/lb
SUPER SAVER
Boneless chicken breasts $0.98/lb
Cook's butt portion ham $1.28/lb
Cook's shank portion ham $0.98/lb
Split chicken breasts value pack $1.18/lb
The great fish co salmon fillet 1.25 lb package $5.98
Cucumbers $0.58 each
Green giant baby carrots 2 lb package $1.88
Mangoes $0.58 each
Red delicious apples $0.58/lb
Squash, spaghetti, turks turban, acorn or sweet dumpling $0.78/lb
American beauty pasta 12-16 oz $0.87
Bounty essentials paper towels 6 big rolls $3.98 ($1 coupon from 11/25/18 P&G – expires 12/8 = $2.98)
Charmin essentials bath tissue 12 giant rolls $3.98 ($1 coupon from 11/25/18 P&G – expires 12/8 = $2.98)
General mills chex cereal 12-14 oz $1.67 ($1/2 printable coupon or $1/3 coupon from 11/18/18 SS = as low as $1.17 each)
Hiland cottage cheese 24 oz $1.58
Jack's pizza 14.5-17.7 oz $2.50
Libby's vegetables 14.5-15 oz can $0.50 ($1/4 coupon from 11/11/18 RMN = $0.25 each)
Nestle toll house baking morsels 10-12 oz $1.98
Best Choice all purpose flour 5 lb or sugar light or dark brown or powdered sugar 2 lb, limit 4 $0.98
Best Choice granulated sugar 4 lb, limit 1 $1.38
Best Choice shredded or chunk cheese 6-8 oz $1.50
Best Choice vegetables frozen 16 oz $0.78
Super Saver chocolate milk half gallon $1.58
***Super Saver 3-Day Sale, Fri, Sat & Sun Only***
Betty crocker brownie or cake mix 15.25-20.5 oz $0.85
Dole whole pineapple $1.98 each
Fritos, cheetos or frito dips 7.5-9.2 oz $1.67
Sunny D tangy citrus punch 64 oz $0.77