March is here! I desperately want it to get rid of this snow and ice. I really hope it's true that "March is in like a Loin, out like a Lamb". I want the Lamb Days to be here!
These snowy days aren't so bad, if I'm honest. My family loves playing out in the snow. Sure, we've had some chaos when schools close and schedules get re-arranged. Sure, we get a little stir crazy when it's too cold to go outside. Sure, we are eager for the activities you can do when it's warm out. Okay, yeah, I'm ready for it to get warmer. Come on March – bring in the warmer weather!
Anyway, here's a Menu Plan for this upcoming month of March. Having a plan just keeps me sane! If you want to use this one as a template, I'd love it!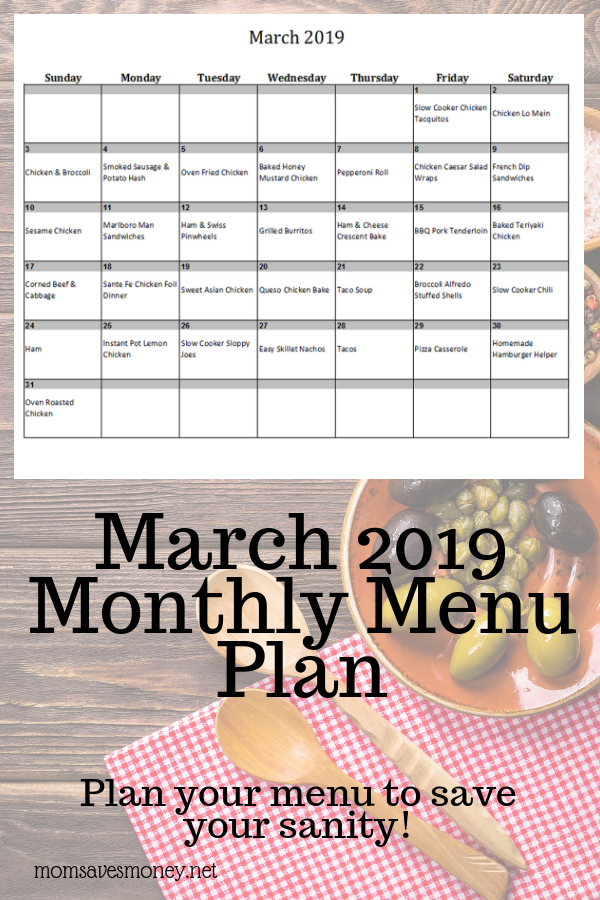 Available Formats:
Recipes in this menu plan:
Slow Cooker Chicken Tacquitos
Chicken Lo Mein
Chicken & Broccoli
Smoked Sausage & Potato Hash
Oven Fried Chicken
Baked Honey Mustard Chicken
Pepperoni Roll
Chicken Caesar Salad Wraps
French Dip Sandwiches
Sesame Chicken
Marlboro Man Sandwiches
Ham & Swiss Pinwheels
Grilled Burritos
Ham & Cheese Crescent Bake
BBQ Pork Tenderloin
Baked Teriyaki Chicken
Corned Beef & Cabbage
Santa Fe Chicken Foil Dinners
Sweet Asian Chicken
Queso Chicken Bake
Taco Soup
Broccoli Alfredo Stuffed Shells
Slow Cooker Chili
Slow Cooker Ham
Instant Pot Lemon Chicken
Sloppy Joes – Slow Cooker or Instant Pot
Broccoli Cheddar Chicken
Easy Skillet Nachos
Tacos
Pizza Casserole
One Pot Homemade Hamburger Helper
Oven Roasted Chicken
Jayme is a wife to 1 and a mother to four little boys. She tries to coupon, builds a smart stockpile, and always meal plans. While she likes to cook, she's in the stage of life where simple is usually better – she never knows how many hands she'll have free at dinner time! You can find her on Instagram. If you love this, check out more posts: