It's weird what can remind us to do something, isn't it? For me and menu planning, it's my husband's paycheck.
He gets paid once a month – on the last business day of the month. And, it never seems to fail, that towards the end of the month, I start to think "Hey, when does he get paid again?" and I look at the calendar and think "Oh, man, it's almost the end of the month again! Time is flying."
That's what's happened here. The end of March is sneaking up on me. It's almost April and that means….April's Monthly Menu Plan! I hope you find it useful and less stressful!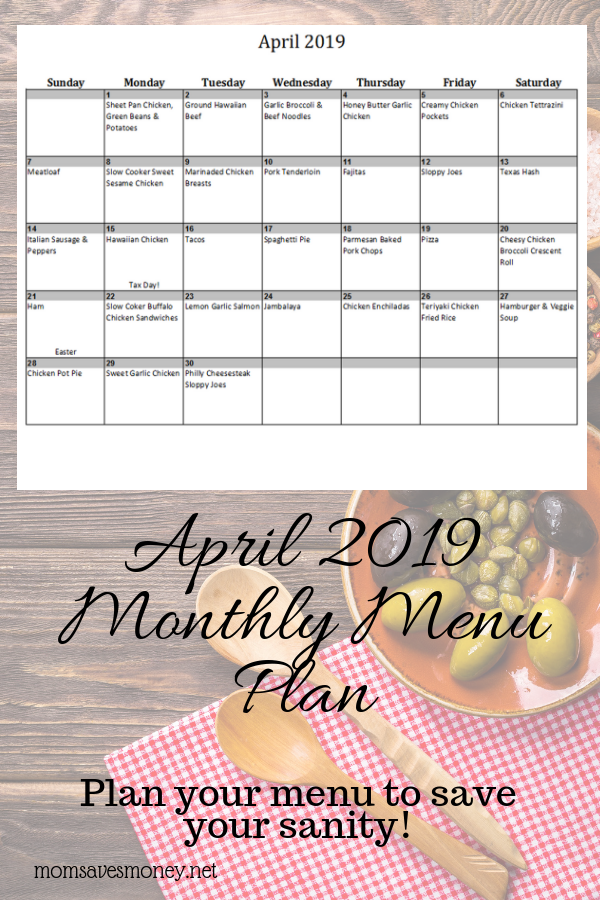 Available Formats:
Recipes in this menu plan:
Sheet Pan Chicken, Green Bean & Potatoes
Ground Hawaiian Beef
Garlic Broccoli & Beef Noodles
Honey Butter Garlic Chicken
Creamy Chicken Pockets
Chicken Tettrazini
Meatloaf
Slow Cooker Sweet Sesame Chicken
Marinaded Chicken Breasts
Pork Tenderloin
Fajitas
Sloppy Joes
Texas Hash
Italian Sausage & Peppers
Hawaiian Chicken
Tacos
Spaghetti Pie
Parmesan Baked Pork Chops
Pizza
Cheesy Chicken Broccoli Crescent Roll
Ham
Slow Cooker Buffalo Chicken Sandwiches
Lemon Garlic Salmon
Jambalaya
Chicken, Green Chile, & Cheese Enchiladas
Teriyaki Chicken Fried Rice
Hamburger & Veggie Soup
Chicken Pot Pie
Sweet Garlic Chicken
Philly Cheesesteak Sloppy Joes
Jayme is a wife to 1 and a mother to four little boys. She tries to coupon, builds a smart stockpile, and always meal plans. While she likes to cook, she's in the stage of life where simple is usually better – she never knows how many hands she'll have free at dinner time! You can find her on Instagram. If you love this, check out more posts: