In a previous series, I talked about having a "Smart Stockpile" – a stockpile that isn't ridiculous and has the right items in it. One of the advantages of that is that it can be easy to make dinner in a pinch if you have the right items on hand.
It doesn't mean that you can make ANY dinner in a pinch with just the items you have on hand. You probably aren't turning out a Lamb Chops with Balsamic Reduction sauce and a Baked Alaska. But it doesn't mean cereal for dinner again either. You can prepare dinner without having to go to the store. That can be really handy in lots of situations such as:
Needing to save money to get to the next payday.
Wanting to save money to put money towards something else.
When your schedule doesn't allow for a trip to the store.
When the weather doesn't allow for a trip to the store.
When you have "SURPRISE! We're in town!" guests show up at your door.
When the Plan A for dinner falls apart and another plan is needed.
That's where I'm usually at – I can usually get a dinner on the table quite easily. It might not be what I feel like eating, but it's still good food.
Today I want to share with you some basic staples that you want to have on hand, and some of the great meals you can make with them.
The Staples:
In the freezer:
Chicken – especially boneless, skinless chicken breasts
Frozen vegetables – especially mixed vegetables
Sausage/Kielbasa
In the fridge:
Cheese (I always try to have at least a few bags of cheddar and mozzarella in the freezer too)
Eggs
Ketchup
Mustard
Onions
Worcestershire sauce
In the pantry:
Beef broth (or bouillon)
Bread – sandwich bread or buns
Chicken broth (or bouillon)
Diced tomatoes
Enchilada Sauce
Potatoes
Rice – long-grain & Minute Rice
Salsa
Spaghetti Sauce or Alfredo Sauce
Tortillas
Tortilla chips
Tomato sauce
In the Spice Rack:
Basil
Bay leaves
Chili powder
Garlic powder
Garlic salt
Minced onions (because it's shelf-stable and can substitute for fresh onions in most soups or casseroles)
Oregano
Taco or Fajita Seasoning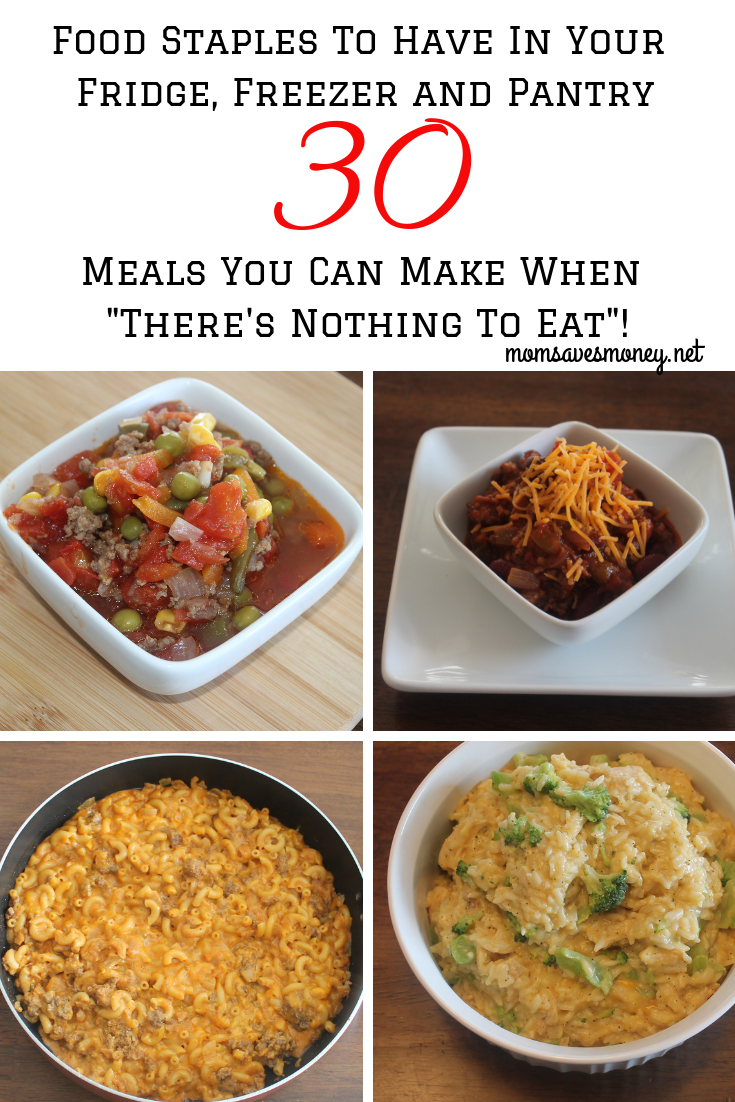 Baked Potato Buffet– Use whatever toppings you have. Especially great with leftover chili. Or steamed broccoli & cheese.
Baked Quesadillas
Beef Enchiladas
Beef Enchilada Casserole
Cheeseburger Casserole – Use regular mustard instead of Dijon as the recipe calls for.
Cheesy Beef Goulash
Chicken Broccoli & Rice Casserole
Chicken Noodle Soup – If you don't have egg noodles, any small pasta shape will do.
Chicken Tacos
Chicken Fiesta
Chili
Cowboy Spaghetti Bake
Crockpot Salsa Chicken – I usually just use chicken and salsa. Skip the rest! Great in tacos, taco salad, quesadillas.
Crockpot Taco Pasta
Eggs – Scrambled Eggs. Fried Eggs. Hard boiled eggs. Egg salad sandwiches.
Fiesta Chicken – This recipe has beans in it, which is great if you have them on hand. But if you don't, just skip them!
French Toast Sticks
Garlic Chicken
Ground Beef Stew
Hamburger Helper – If you don't have all the spices this recipe calls for, that's okay – just use what you got.
Italian Veggie Soup
Lasagna Soup – This calls for Fennel, but it's totally okay to leave it out. Swap the lasagna noodles for a small pasta like shells or elbows and you'll be fine.
Loose Meat Sandwiches
Oven Baked Tacos – Refried Bean is a great way to stretch the meat in this recipe, but, as always, you don't have to use them. Don't have taco seasoning? That's okay too!
Skillet (or Sheet Pan) Nachos
Slow Cooker Sloppy Joes
Slow Cooker Beef & Potatoes Au Gratin
Spaghetti
Taco Salad
Taco Soup (Calls for Ranch dressing mix, which is GREAT! But it's still yummy without.)
Texas Hash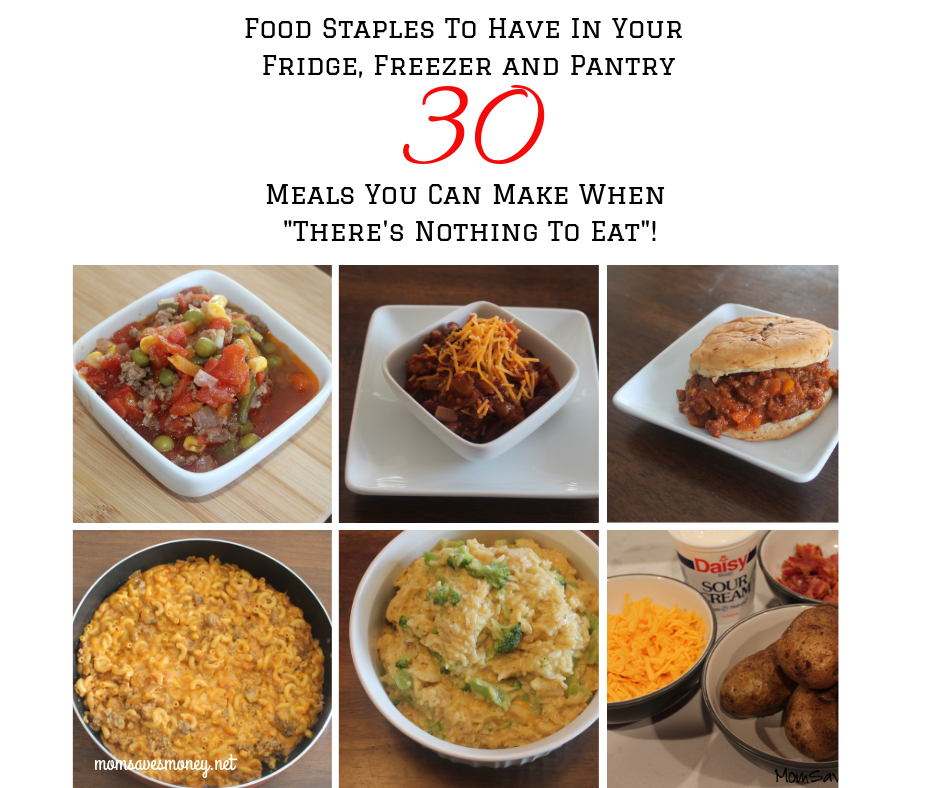 Jayme is a wife to 1 and a mother to four little boys. She tries to coupon, builds a smart stockpile, and always meal plans. While she likes to cook, she's in the stage of life where simple is usually better – she never knows how many hands she'll have free at dinner time! You can find her on Instagram.
If you love this, check out more recipes: