Do you do May Day? For us, it's the practice of making up a little gift of food, leaving it on the door step of our neighbors, ringing the doorbell and hiding. We don't do anything overly fancy – usually it's just a cup of popcorn with some other little candies mixed in. We'll make a cup for each kid in that family.
The last couple of years, we also gave 2 to our 80-something year old neighbors. A couple of hours later, we heard our doorbell ring – they had "May Day"ed us back! How cute is that? Answer: super cute!
May Day is almost here – just next week. How crazy is that? Answer: super crazy!
Here's my monthly menu plan in hopes that it makes your month of May a less stressful one!
Want more detailed information on how to meal plan? Check out 'The Extraordinary Art of Meal Planning' available on Amazon and Kindle Unlimited.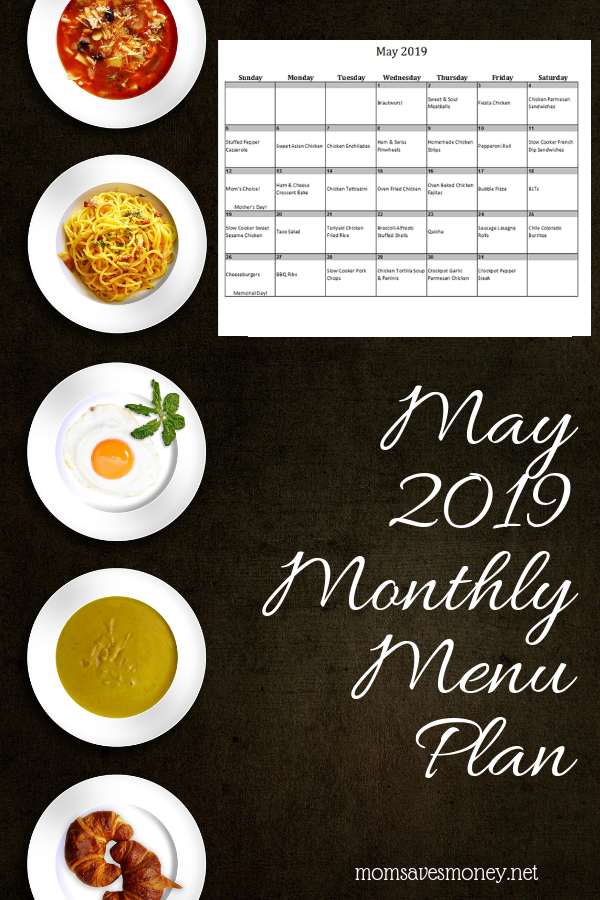 Available Formats:
Recipes in this menu plan:
Brautwurst
Sweet & Sour Meatballs
Fiesta ChickenChicken Parmesan Sandwiches
Stuffed Pepper Casserole
Sweet Asian Chicken
Chicken Enchiladas
Ham & Swiss Pinwheels
Homemade Chicken Strips
Pepperoni Roll
Slow Cooker French Dip Sandwiches
Ham & Cheese Crescent Bake
Chicken Tettrazini
Oven Fried Chicken
Oven Baked Chicken Fajitas
Bubble Pizza
BLTs
Slow Cooker Sweet Sesame Chicken
Taco Salad
Teriyaki Chicken Fried Rice
Broccoli Alfredo Stuffed Shells
Quiche
Sausage Lasagna Rolls
Chile Colorado Burritos
Cheeseburgers
BBQ Ribs
Crock Pot Pork Chops
Chicken Tortilla Soup and Paninis
Crock Pot Garlic Parmesan Chicken
Crock Pot Pepper Steak
Jayme is a wife to 1 and a mother to four little boys. She tries to coupon, builds a smart stockpile, and always meal plans. While she likes to cook, she's in the stage of life where simple is usually better – she never knows how many hands she'll have free at dinner time! You can find her on Instagram. If you love this, check out more posts: