It's almost Independence Day! June just flew by for me – how about you? But I'm excited for the 4th of July. Our boys are at the age where staying up late doesn't totally devastate them for DAYS afterwards like it used to.
We go to Columbus, Nebraska to view fireworks with family and it's about a 90-minute drive. We eat lunch together as a family. We play with cousins. We pop poppers and we chase parachutes. We eat dinner as a family. We eat homemade ice cream. We wait for it to get dark. We watch fireworks. We change the boys into their PJs. We stay as late as we can. We pray the boys fall asleep in the car! 3 out of 4 of them usually do.
It's a great time – it's a memory that we're building each year for our kids. I love that.
Anyway….a new month means a new monthly menu plan! 31 tasty and easy meals to start your July on the right foot.
Want more detailed information on how to meal plan? Check out 'The Extraordinary Art of Meal Planning' available on Amazon and Kindle Unlimited.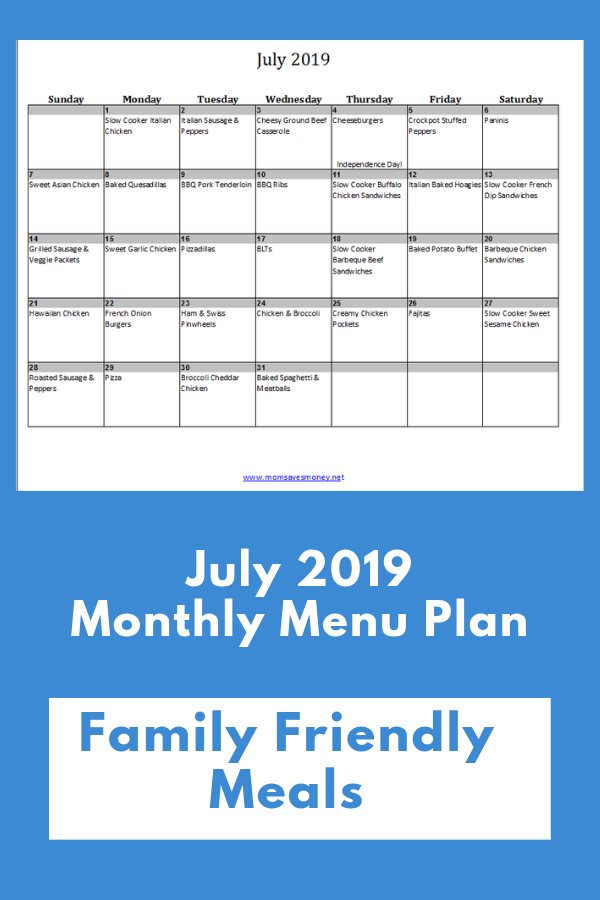 Available Formats:
Recipes in this menu plan:
Slow Cooker Italian Chicken
Italian Sausage & Peppers
Cheesy Ground Beef Casserole
Cheeseburgers
Crockpot Stuffed Peppers
Paninis
Sweet Asian Chicken
Baked Quesadillas
BBQ Pork Tenderloin
BBQ Ribs
Slow Cooker Buffalo Chicken Sandwiches
Italian Baked Hoagies
Slow Cooker French Dip Sandwiches
Grilled Sausage & Veggie Packets
Sweet Garlic Chicken
Pizzadillas
BLTs
Slow Cooker Barbeque Beef Sandwiches
Baked Potato Buffet
Barbeque Chicken Sandwiches
Hawaiian Chicken
French Onion Burgers
Ham & Swiss Pinwheels
Chicken & Broccoli
Creamy Chicken Pockets
Fajitas
Slow Cooker Sweet Sesame Chicken
Roasted Sausage & Peppers
Pizza
Broccoli Cheddar Chicken
Baked Spaghetti & Meatballs
Jayme is a wife to 1 and a mother to four little boys. She tries to coupon, builds a smart stockpile, and always meal plans. While she likes to cook, she's in the stage of life where simple is usually better – she never knows how many hands she'll have free at dinner time! You can find her on Instagram.