Got your flapper gear all ready? Ready for Jazz to make a drastic rise in popularity? Thinking about starting a new job as a bootlegger?
What? Well, the 20s are just days away! It's almost 2020 and sometimes that just blows my mind. Otherwise, I feel every single one of those years.
But I want to start the year off on the right foot. I don't have any major New Year's Resolutions, but there are some things that I want to be different and I'm going to start working towards those. Most of those things center around organization – both for me AND when it comes to my family.
One area that I'm already well practiced in being organized in is around menu planning. But it's taken years of practicing and working for me. Is your current methodology working for you? If not, try this menu plan to get you started. Use what you like from our pre-made meal planning calendar and substitute the rest! If you're looking for a menu plan WITH a shopping list and only with 5-ingredients (or less), try our newest cookbook and menu plan – 'Incredibly Easy 5-Ingredient Meal Plan and Cookbook' available on Amazon!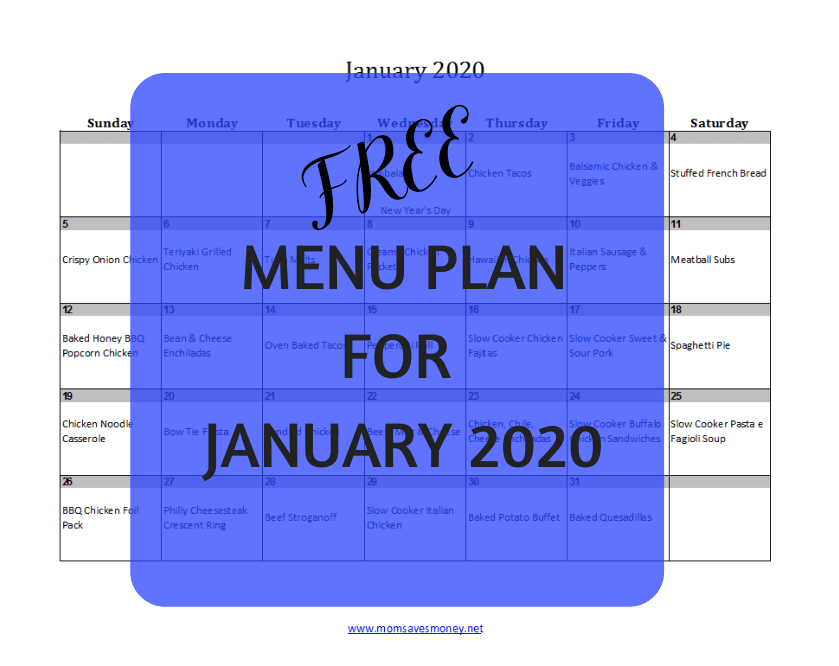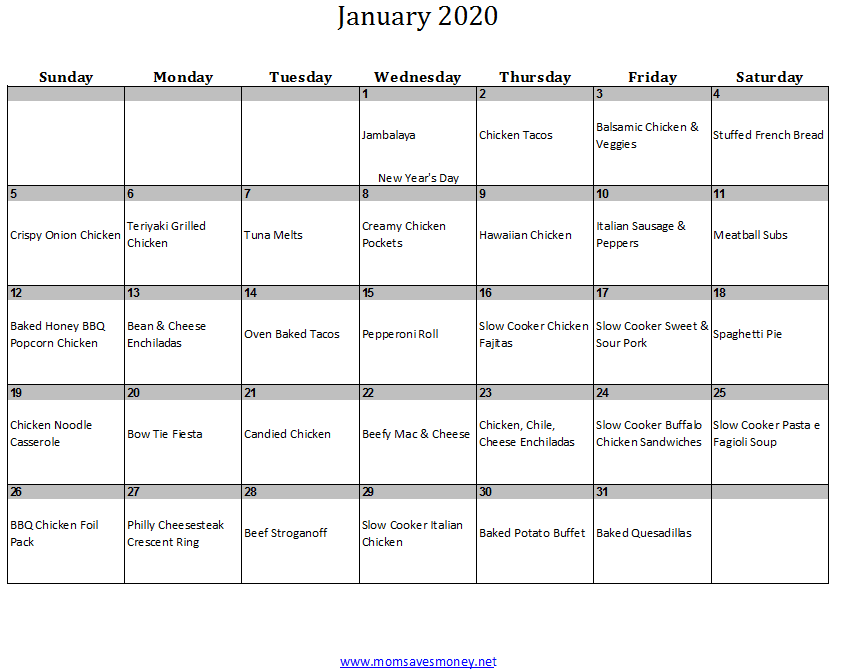 Available Formats:
Recipes in this menu plan:
Jambalaya
Chicken Tacos
Balsamic Chicken & Veggies
Stuffed French Bread
Crispy Onion Chicken
Teriyaki Grilled Chicken
Tuna Melt
Creamy Chicken Pockets
Hawaiian Chicken
Italian Sausage & Peppers
Meatball Subs
Baked Honey BBQ Popcorn Chicken
Bean & Cheese Enchiladas
Oven Baked Tacos
Pepperoni Roll
Slow Cooker Chicken FajitasSlow Cooker Sweet & Sour Pork
Spaghetti Pie
Chicken Noodle Casserole
Bow Tie Fiesta
Candied Chicken
Beefy Mac & Cheese
Chicken, Green Chile, & Cheese Enchiladas
Slow Cooker Buffalo Chicken Sandwiches
Slow Cooker Pasta e Fagioli Soup
BBQ Chicken Foil Pack
Philly Cheesesteak Crescent Ring
Beef Stroganoff
Slow Cooker Italian Chicken
Baked Potato Buffet
Baked Quesadillas
Jayme is a wife to 1 and a mother to four little boys. She tries to coupon, builds a smart stockpile, and always meal plans. While she likes to cook, she's in the stage of life where simple is usually better – she never knows how many hands she'll have free at dinner time! You can find her on Instagram.