Some months fly by. Some months crawl. This has been a flying by month. I mean: March already? The Earth must be moving faster and faster as it's going by in a blink!
The weather has been wonderfully warm lately (well, you know, for the end of February in Nebraska – it's a relative thing) and I, for one, have been loving it! Boys playing outside. Longer daylight hours. Not needing snow pants or a full face mask to be outside. It's great! While I don't love the sweltering heat that I know will be here eventually, I do love the Spring weather. Bring it on Mother Nature! Bring. It. On.
No matter what the weather does, there will be 31 days in March that will need some meals served. So, another month, another menu plan. If you don't already plan, try this one to get you started. Use what you like from our pre-made meal planning calendar and substitute the rest! If you're looking for a menu plan WITH a shopping list and only with 5-ingredients (or less), try our newest cookbook and menu plan – 'Incredibly Easy 5-Ingredient Meal Plan and Cookbook' available on Amazon!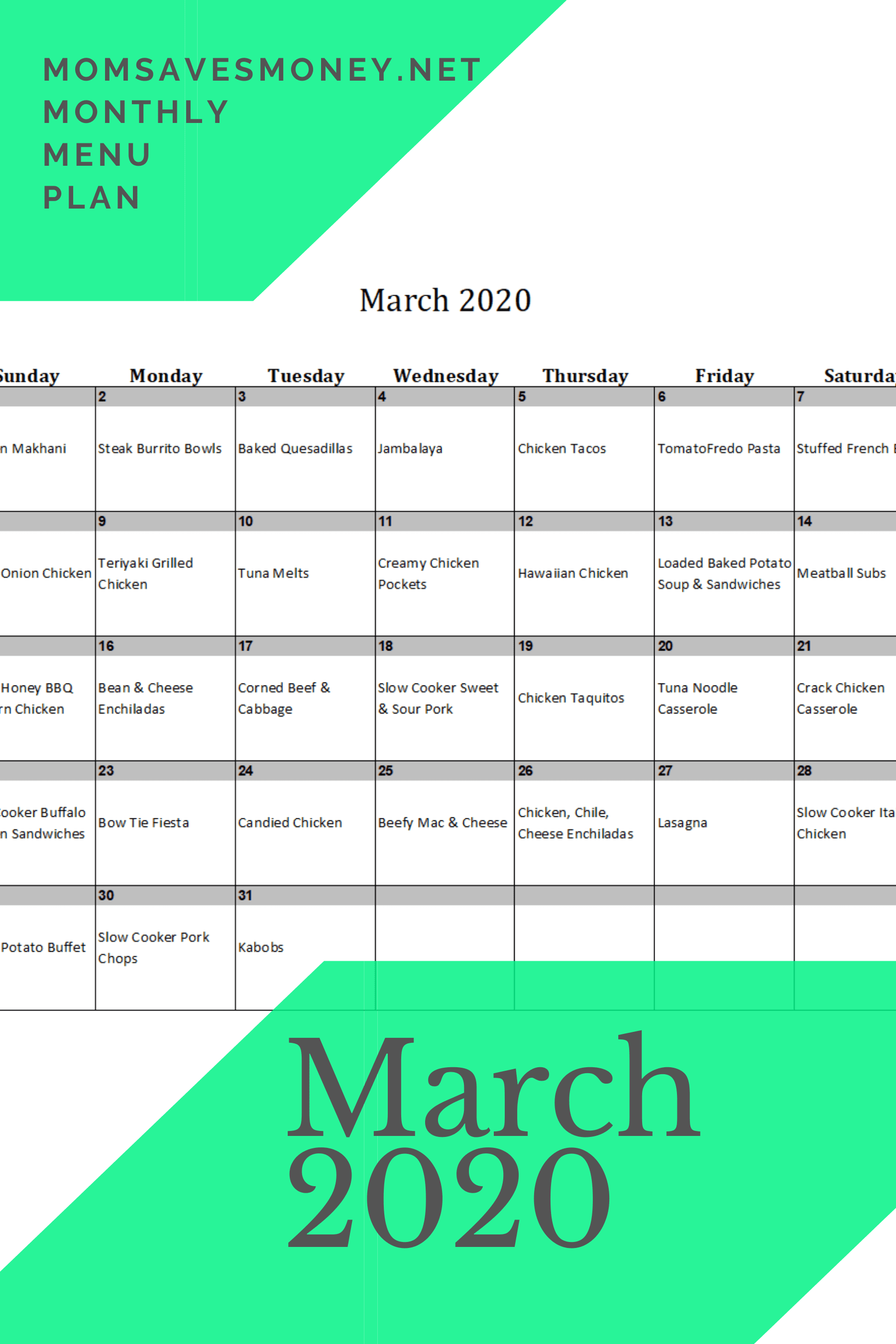 Available Formats: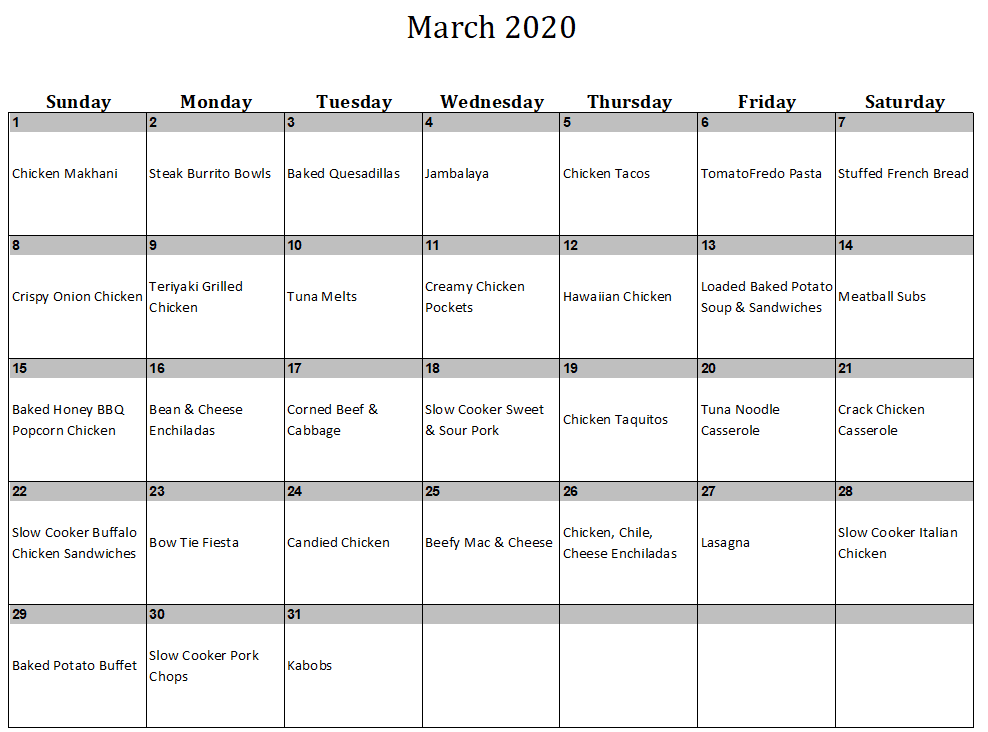 Recipes in this menu plan:
Chicken Makhani
Steak Burrito Bowls
Baked Quesadillas
Jambalaya
Chicken Tacos
TomatoFredo Pasta
Stuffed French Bread
Crispy Onion Chicken
Teriyaki Grilled Chicken
Tuna Melt
Creamy Chicken Pockets
Hawaiian Chicken
Loaded Baked Potato Soup
Meatball Subs
Baked Honey BBQ Popcorn Chicken
Bean & Cheese Enchiladas
Corned Beef & Cabbage
Slow Cooker Sweet & Sour Pork
Chicken Taquitos
Tuna Noodle Casserole
Crack Chicken Casserole
Chicken Noodle Casserole
Slow Cooker Buffalo Chicken Sandwiches
Bow Tie Fiesta
Candied Chicken
Beefy Mac & Cheese
Chicken, Green Chile, & Cheese Enchiladas
Lasagna
Slow Cooker Italian Chicken
Baked Potato Buffet
Slow Cooker Pork Chops
Kabobs
Jayme is a wife to 1 and a mother to four little boys. She tries to coupon, builds a smart stockpile, and always meal plans. While she likes to cook, she's in the stage of life where simple is usually better – she never knows how many hands she'll have free at dinner time! You can find her on Instagram.