One more month of "social distancing" done. How many more to go? It's sooo hard to say. I'm definitely feeling it this summer. With the boys at home and hardly anywhere to go, it feels much different than last summer. Last summer was lots of trips to the zoo (all the parts!), splash parks, pools, Vacation Bible Schools, camps, all kinds of fun!
It's getting hot out there! So we've had plenty of pool time, but it's been our little inflatable pool in our backyard. They're having fun with it. I guess any money we've saved on gas, we'll be spending on our water bill filling it up.
On with the next month! That means a menu plan! I included a lot of slow cooker meals to help beat the heat.
Available Formats: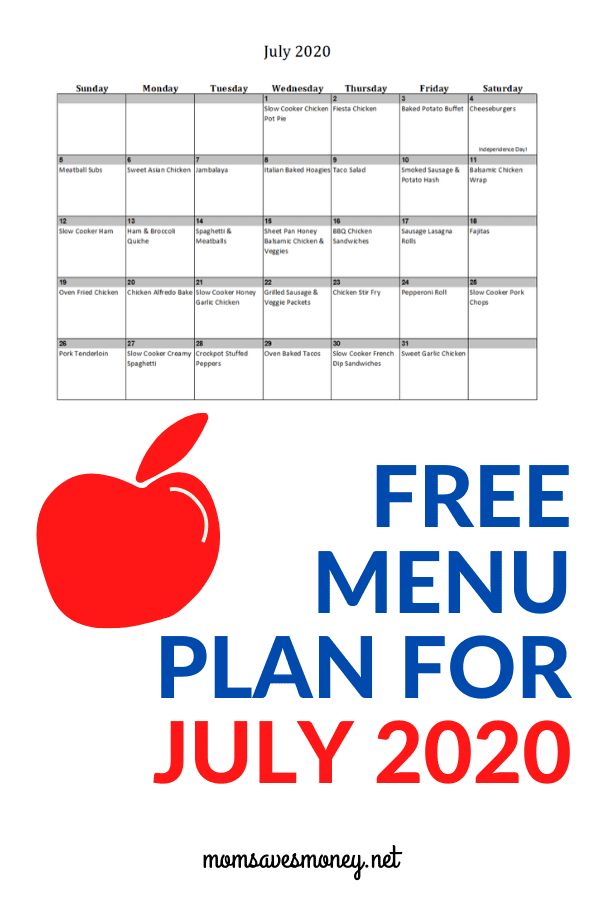 Recipes in this menu plan:
Dinner Recipes:
Slow Cooker Chicken Pot Pie
Fiesta Chicken
Baked Potato Buffet
Cheeseburgers
Meatball Subs
Sweet Asian Chicken
Jambalaya
Italian Baked Hoagies
Taco Salad
Smoked Sausage & Potato Hash
Balsamic Chicken Wrap
Slow Cooker Ham
Quiche
Spaghetti & Meatballs
Sheet Pan Honey Balsamic Chicken & Veggies
BBQ Chicken Sandwiches
Sausage Lasagna Rolls
Fajitas
Oven Fried Chicken
Chicken Alfredo Bake
Slow Cooker Honey Garlic Chicken
Grilled Sausage & Veggie Packets
Chicken Stir Fry
Pepperoni Roll
Slow Cooker Pork Chops
Pork Tenderloin
Slow Cooker Creamy Spaghetti
Crockpot Stuffed Peppers
Oven Baked Tacos
Slow Cooker French Dip Sandwiches
Sweet Garlic Chicken
Jayme is a wife to 1 and a mother to four little boys. She tries to coupon, builds a smart stockpile, and always meal plans. While she likes to cook, she's in the stage of life where simple is usually better – she never knows how many hands she'll have free at dinner time! You can find her on Instagram.
If you love this, check out more posts: