School is starting soon! And boy, do we have a lot to think about as parents. Homeschool? Remote learning? Private school? School full-time? Depending on the school district you're in, you might be in the same boat.
Whatever choice you make, just know that it's a hard one! And that you can always change it. I hope that life will look different in 2021 – this can't last forever, can it?
One thing that I find really helpful in times of transition is to keep things simple where I can. Meaning: if work is crazy, try to calm down home life. And vice versa! And right now, transitioning back to school is a little stressful. Not majorly, but a little bit.
One of the things that I can keep simple is my dinner menu. Plan it out. Keep it simple. Execute it. This month I've put in quite a bit of slow cooker meals. Since I'm still working from home, slow cooker meals are e-a-s-y for me! I can duck out into the kitchen and start it whenever the time is right. That works for me.
Whatever works for you — is what you should do. BUT if you need a place to start, try this menu plan!
Available Formats: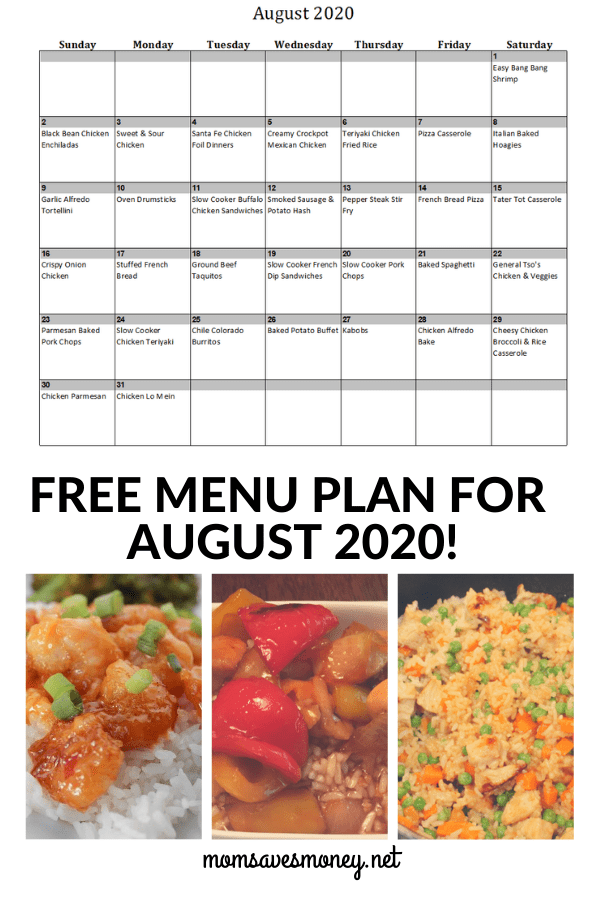 Recipes in this menu plan:
Easy Bang Bang Shrimp
Black Bean Chicken Enchiladas
Sweet & Sour Chicken
Santa Fe Chicken Foil Dinners
Creamy Crockpot Mexican Chicken
Teriyaki Chicken Fried Rice
Pizza Casserole
Italian Baked Hoagies
Garlic Alfredo Tortellini
Oven Drumsticks
Slow Cooker Buffalo Chicken Sandwiches
Smoked Sausage & Potato Hash
Pepper Steak Stir Fry
French Bread Pizza
Tater Tot Casserole
Crispy Onion Chicken
Stuffed French Bread
Ground Beef Taquitos
Slow Cooker French Dip Sandwiches
Smothered Pork Chops
Baked Spaghetti
General Tso's Chicken & Veggies
Parmesan Baked Pork Chops
Slow Cooker Chicken Teriyaki
Chile Colorado Burritos
Baked Potato Buffet
Kabobs
Chicken Alfredo Veggie Bake
Cheesy Chicken Broccoli & Rice Casserole
Chicken Parmesan
Chicken Lo Mein

Jayme is a wife to 1 and a mother to four little boys. She tries to coupon, builds a smart stockpile, and always meal plans. While she likes to cook, she's in the stage of life where simple is usually better – she never knows how many hands she'll have free at dinner time! You can find her on Instagram.