Enjoy this September meal plan with a printable calendar and easy, family-friendly recipes.
It's Fall! Or at least, almost Fall. But what a weird Fall it will be without Nebraska Cornhusker football. It'll just seem odd.
But it's just one more thing that's different about life these days, isn't? School is different. Work is different. Church is different. Sporting events are different. Everything is different.
One of the things that isn't different for me is menu planning. When everything else is chaos and different, having a plan for dinner keeps every thing grounded. Sane. Organized. I like that.
If that sounds good to you and you don't know where to start, start here! Try this menu plan!
This one doesn't have a shopping list, but I know of one that does – try our latest cookbook and menu plan – 'Incredibly Easy 5-Ingredient Meal Plan and Cookbook' available on Amazon!
Available Formats: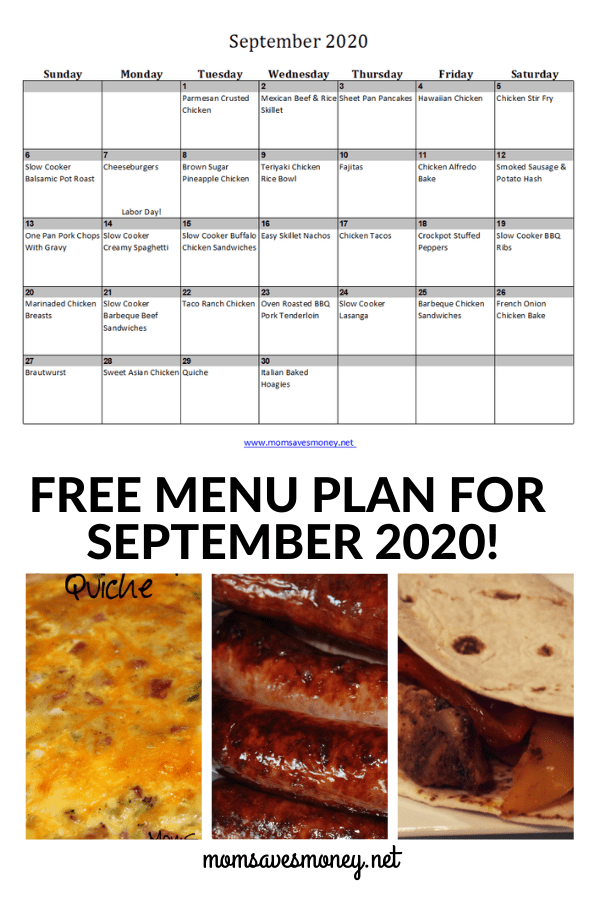 Recipes in this menu plan:
Parmesan Crusted Chicken
Mexican Beef & Rice Skillet
Sheet Pan Pancakes
Hawaiian Chicken
Chicken Stir Fry
Slow Cooker Balsamic Pot Roast
Cheeseburgers
Brown Sugar Pineapple Chicken
Teriyaki Chicken Rice Bowl
Fajitas
Chicken Alfredo Veggie Bake
Smoked Sausage & Potato Hash
One Pan Pork Chops with Gravy
Slow Cooker Creamy Spaghetti
Slow Cooker Buffalo Chicken Sandwiches
Easy Skillet Nachos
Chicken Tacos
Crockpot Stuffed Peppers
BBQ Ribs
Marinaded Chicken Breasts
Slow Cooker Barbeque Beef Sandwiches
Taco Ranch Chicken
Oven Roasted BBQ Pork Tenderloin
Slow Cooker Lasagna
Barbeque Chicken Sandwiches
French Onion Chicken Bake
Brautwurst
Sweet Asian Chicken
Quiche
Italian Baked Hoagies
Jayme is a wife to 1 and a mother to four little boys. She tries to coupon, builds a smart stockpile, and always meal plans. While she likes to cook, she's in the stage of life where simple is usually better – she never knows how many hands she'll have free at dinner time! You can find her on Instagram.