Enjoy this December meal plan with a printable calendar and easy, family-friendly recipes.
I think I speak for all of mankind that I sure am glad 2020 is almost behind us. That said, I'm not sure how different 2021 will be. I certainly didn't imagine how 2020 would go at the beginning of the year. I've been working from home now for 8 1/2 months and have at least 7 more months that way. We've had 4 ER visits in our family (none for Coronavirus; they're all injuries). We've had school struggles. We've had daycare struggles. We've had canceled vacations and Thanksgivings. Just a weird year, that's for sure.
So it feels nice to be able to turn the page on the calendar. There's a little hope in that, you know? Hope that it'll be better; hope that it'll be at least different. I'm ready for different! One thing that helps keep me sane is to keep menu planning. The last 6 weeks or so, I've really been focusing on eating the food I have. I've been majorly cleaning out the deep freeze and the pantry and making good use of leftovers. I've had to re-stock on some staples (butter, diced tomatoes and ground beef), but I've been doing really well at finally seeing what's all in there. But that's coming to an end. Only a couple more weeks of this and my freezer will need re-stocking. That's a-okay! I've saved money when I could. That's the goal.
This menu plan doesn't have a shopping list, but I know of one that does – try our latest cookbook and menu plan – 'Incredibly Easy 5-Ingredient Meal Plan and Cookbook' available on Amazon!
Available Formats: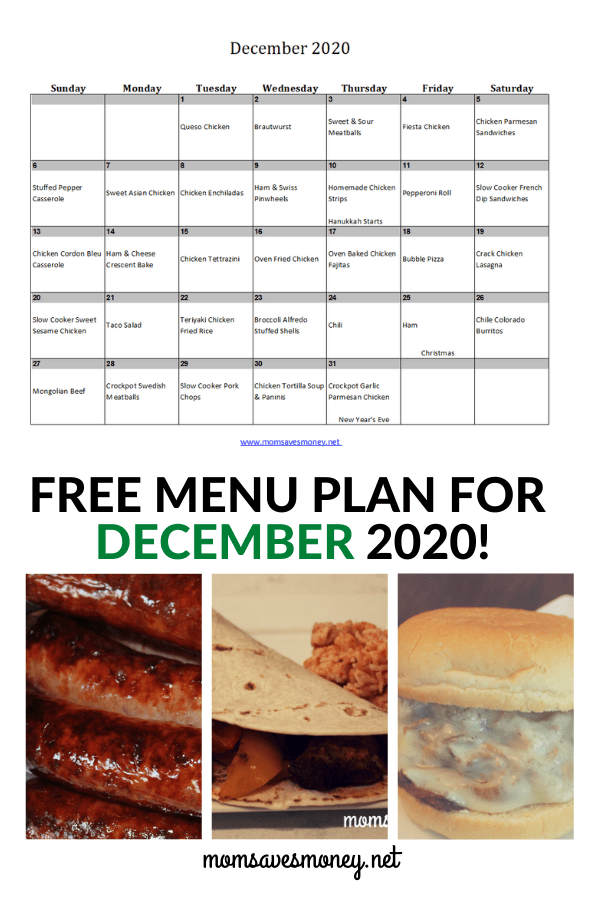 Recipes in this menu plan:
Queso Chicken
Brautwurst
Sweet & Sour Meatballs
Fiesta ChickenChicken Parmesan Sandwiches
Stuffed Pepper Casserole
Sweet Asian Chicken
Chicken Enchiladas
Ham & Swiss Pinwheels
Homemade Chicken Strips
Pepperoni Roll
Slow Cooker French Dip Sandwiches
Chicken Cordon Bleu Casserole
Ham & Cheese Crescent Bake
Chicken Tettrazini
Oven Fried Chicken
Oven Baked Chicken Fajitas
Bubble Pizza
Crack Chicken Lasagna
Slow Cooker Sweet Sesame Chicken
Taco Salad
Teriyaki Chicken Fried Rice
Broccoli Alfredo Stuffed Shells
Chili
Ham
Chile Colorado Burritos
Mongolian Beef
Crockpot Swedish Meatballs
Crock Pot Pork Chops
Chicken Tortilla Soup and Paninis
Crock Pot Garlic Parmesan Chicken
Jayme is a wife to 1 and a mother to four little boys. She tries to coupon, builds a smart stockpile, and always meal plans. While she likes to cook, she's in the stage of life where simple is usually better – she never knows how many hands she'll have free at dinner time! You can find her on Instagram.