Disclosure: Contains affiliate link.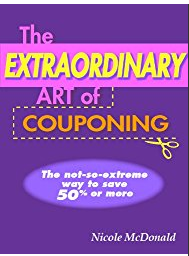 I am very excited to announce that my book, The Extraordinary Art of Couponing, is now published and available for purchase from Amazon. It is only $3.99 for the Kindle version and will save you at least that and much more in just one trip to the store!
The Extraordinary Art of Couponing is a step-by-step guide to couponing that has great time savings tips and advice. I save 50-75% off every grocery bill and you can too! All the information you need to be a successful couponer and save hundreds of dollars every month is in this book.
I was encouraged to write this book by readers and students of my coupon classes. Thank you for all your support!
No Kindle? Simply download a Kindle app to read Kindle books on your PC, Mac, iPhone, Blackberry, iPad or Android or purchase the print version of this book.