Disclosure: Contains affiliate link. All opinions are mine.
Spending a ton of money on a Halloween costume is silly! It will only be worn once and then you'll toss it to the side, only to start the process over again next year. Instead of heading to your nearest costume shop or Halloween store and paying way more than you should on your Halloween costume, check out one of these places to find cheap Halloween costumes and save a few dollars this year. Here are six places to find amazing deals on Halloween costumes.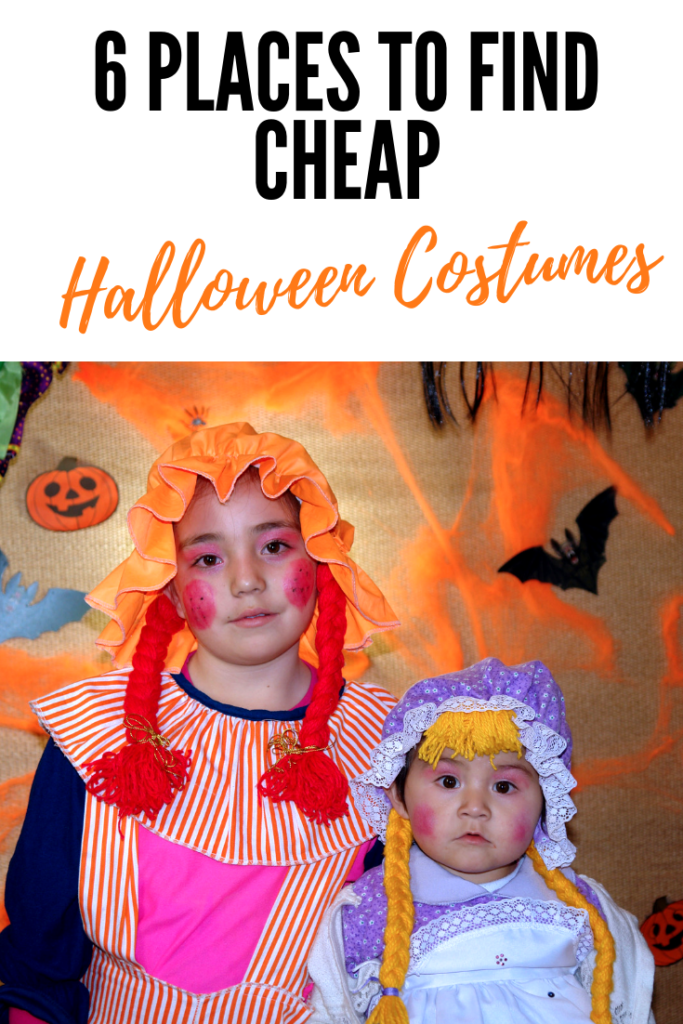 Thrift Stores or Consignment Shops
Check out your local thrift store,  consignment shop or consignment sale for a selection of lightly used Halloween costumes. If you're shopping for kids, you'll probably find a good selection of costumes to choose from. Adult costumes may be a little trickier, but if you're open to DIYing a costume, check out the clothing section of the store for your costume and get a little creative.
Ebay
If you have an idea of the costume you want to wear, search Ebay for a discounted new or lightly used version. There are hundreds of options for Halloween costumes for adults and kids on the site. You're sure to find a great costume for a fraction of the price in-store.
Facebook or Craigslist
Scan your local Facebook sales groups or Craigslist listings to find an awesome cheap Halloween costume. This is a great option if you're open to the type of costume you or your kids will be wearing this year, because the selection will probably be more limited on these platforms. Simply search "Halloween costume" or scan through the listings as the holiday draws near to see what's available in your area. And be sure to meet in a well-lit and well-trafficked area to ensure a safe transaction.
Target
If you'd rather purchase a new Halloween costume, there are a couple of great money-saving options out there. Target is a wonderful choice because they always have a wide selection of costume options at reasonable prices. And as Halloween gets closer, the store often offers additional discounts through their Cartwheel app, which can be combined with their sales each week, in addition to the Redcard discount.
Amazon
Amazon is another great place to find deals on new Halloween costumes. The best part about shopping on Amazon is the huge selection of cheap Halloween costumes to choose from. There are a wide array of awesome new Halloween costumes for adults and for kids, making it a great place to purchase your costume this year. You'll get a new costume and save a little money in the process!
DIY Costumes (from your closet)
If you are crafty, consider making your own DIY costume. Just make sure the cost of materials isn't more than the store-bought version. Here are 15 unique and fun DIY Halloween costume ideas. With a little creativity, you can create an amazing costume on a budget. You may even find clothing you can repurpose as a costume in your own closet! In the past my kids have dressed up as a radio (using a giant box), mustache (with a Dollar Store giant mustache and googly eyes – see pic below), ghost, ninja (black clothes and toys we had on hand), and a superhero with a DIY cape and printed mask glued to a paper plate. Very easy ideas that the kids loved and cost almost nothing!
Leave a comment and tell us about your cheap Halloween costume find or creation.