I am excited to announce my husband and I decided to embark on a month-long no spending challenge. I got the idea after reading Living Well, Spending Less blog post entitled '31 Days of Living Well & Spending Zero.'
My husband and I have several financial goals for the future, including paying cash for a used car, taking a vacation for our 10-year anniversary and paying off our house in the next seven years. After reviewing our budget I knew we could not make all of these goals a reality without some serious budgeting magic. This no-spending challenge is a financial reset for our budget. We are going to freeze our spending and change our finances.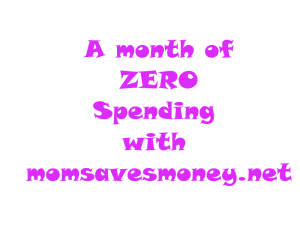 For the next 28 days of February, we will only spend money on absolute neccessities, eating food primarily from our pantry and not shopping. This means creative meal planning and making do with what we already have. As a couponer, I have a fairly well-stocked pantry, so this challenge will be good reason to use up what we have stored.  My husband and I sat down together and made a list of what is an allowable expense for our No-Spend February.
What we consider necessities:
Milk and Dairy products
Fresh Produce
Bread
Diapers
What we will NOT be spending money to buy:
Stockpile items for pantry
Eating Out
Coffee (luckily, we have enough in our house to get us through 28 days or I may not survive)
Alcohol
Clothing
Games or Toys
Entertainment
Hobbies
Household items
Toiletries
Online shopping
Since, shopping is one of my favorite hobbies, I know this will be challenging for me, but I am focused on our long term financial goals. I will update weekly about our progress throughout this challenge. I am really excited to see how money we save over the course of the month.
Is anyone else considering a month of no spending? I highly recommend you check out Living Well, Spending Less blog for details about this challenge with a day-by-day breakdown of activities and handy charts to help on this mission.
Please leave a comment if you are considering doing this challenge too. I'd love to hear about others embarking on this journey with me.