Did you check what's on sale this week?  You should!  I thought I'd try something different this week and just give a sample menu plan.  Main dishes are what I struggle with the most, so I hope this will do some of the heavy work for you!
My family tends to eat simple meals – usually a main dish, then a veggie or two. And since there's only two adults and one toddler eating at our house, I usually only have to cook 2-3 nights a week.  The rest of the week, we eat leftovers or meals made with ingredients from the other meals.  Give me a few years and more eaters in the family and that will be a different story!
Main Dishes
CrockPot Meatballs – I usually make my own meatballs, but combine some meatballs with the barbeque sauce and you'd have a tasty meal!  You can serve these alone as appetizers, but try them in a hoagie bun or on top of rice for a main meal.
Pork Chops – it's not exactly grilling weather, but you could use one of these marinades and bake the pork chops on sale at Bag N Save and No Frills.  We like her 'Favorite Easy Pork Tenderloin Chop Marinade' and 'Low Fat Herb Marinade for Pork Recipe'.
Baked Spaghetti – with the pasta on sale at Bakers, cottage cheese on sale at Hy-Vee and pasta sauce at Super Saver, this baked pasta dish would be great comfort food at a great price!
Baked Potato Bar – Hy-Vee has potatoes on sale!  Why not bake some up, set out some toppings and let your family go to town?  Chili, ham and cheese or broccoli are all popular options.
Roasted Chicken – I love Pioneer Woman's recipe for this.  Have the chicken one night and use the leftovers for just about anything — chicken noodle soup, chicken salad sandwiches, or maybe chicken nachos.
Here's a recipe similar to the Baked Spaghetti up above.  I made this a couple of weeks ago.  Last time, I made it with ½ Italian sausage and ½ ground beef since I had some hamburger to use up.  Either way, it was g-o-o-d!  It's definitely not a fancy recipe, but it's easy to prepare, warm, filling and feeds us quite well.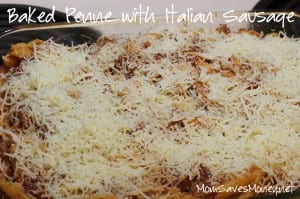 Baked Penne with Italian Sausage
Ingredients
16

oz

penne pasta

16

oz

Italian sausage (either ground sausage or the links with the casings removed)

1/2

onion, chopped (optional)

2

garlic cloves, minced

1/4

tsp

crushed red pepper flakes

1/4

tsp

each salt and pepper

1

cup

part-skim ricotta cheese

1/2

teaspoon

dried basil

50

ounces

pasta sauce , divided (about 2 cans worth, give or take)

1

cup

shredded mozzarella cheese
Instructions
Preheat oven to 350 degrees F.

Cook pasta according to directions. Drain and set aside.

Meanwhile, cook sausage with garlic, onion, salt, pepper and red pepper flakes in a big skillet, break up into small chunks. Cook until browned, 6-7 minutes. Remove from heat and drain grease, if necessary.

In the skillet, add the ricotta, basil and about 1/2 of the spaghetti sauce. Mix it together. Add in the pasta. Mix together. (If your pan isn't big enough, you can use a big bowl.

Put about 1/2 of what's left of the spaghetti sauce on the bottom of a 9x13 baking dish. Add pasta. Spoon the remaining spaghetti sauce over it. Top with mozzarella.

Bake about 30 minutes or so until the cheese is melted and golden brown.
Notes
This freezes really well too.  You can put in two 8x8 or 9x9 pans, freeze one and eat the other.  
When baking the frozen one, defrost overnight and add baking time.
Jayme is a wife to 1 and, so far, a mother to two little boys. She coupons, but isn't super extreme about it. She price matches and loves it! While she likes to cook, she's in the stage of life where simple is usually better! She never knows how many hands she'll have free at dinner time! You can find her at No Regrets Living.