Disclosure: Contains affiliate link. All opinions are mine.
How are you doing with the March Declutter for Cash Challenge? This has been a great week for me! I decluttered and cleared a whole section in my basement, made some cash and donated two big boxes to the local thrift store.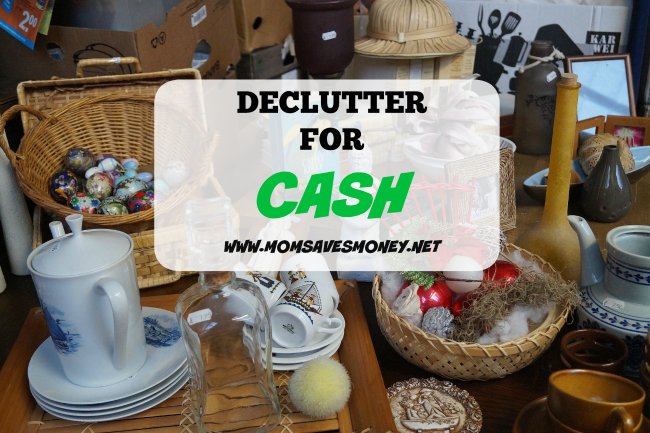 WEEK 2 RESULTS
Stamp Sets $119
Creative Memories Items $30
Kid's Toys $5
Amazon Trade-in $6.90
This week, I earned a total of $154 cash and $6.90 in Amazon credit. My total for March so far is $192! I was very excited to give my quality craft items new homes. This one tote was worth a fortune and I still haven't even tried to sell the Partylite items at the bottom of the tote.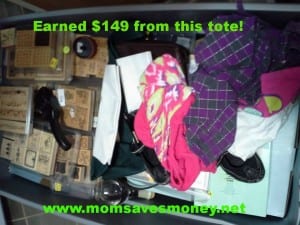 If you are interested in trading in DVDs, CDs, books, electronics or video games for Amazon credit, check out the Amazon trade-in program.
The items ship free with a pre-paid UPS shipping label and once they receive them, you will get the amount credited to your Amazon account.
WHAT I LEARNED
Get your kids involved! My seven year old daughter put together lots of her used toys to sale and I gave her the entire profit. Her face was priceless when I handed her a $5 bill for selling a few My Little Ponys and Littlest Pet Shop items. In fact, she immediately headed to her room to find more items to sell and her five year old brother also got motivated to clear out clutter. She's saving for an American Girl Doll, so earning some extra cash is highly motivating to her. I love that she is taking the initiative to go through her stuff and making the decision what she wants to sell and what she wants to keep. She is also very excited to give the local thrift shop the items that she knows are not worth selling, so that other kids can enjoy her old treasures. She even writes little happy notes on the box for the kids who recieve her items.
I also learned that for specialty items, like crafting supplies, online sale sites are a great way to connect with quality buyers. I sold my items for a fair price, 25-30% off retail prices, and the buyers got a great deal. I have tried to sell these items at garage sales and in my experience, people don't want to pay a fair price for these specialty items.
I also realized that many items I list will not sell. I've listed books, computer games, boy's clothing and shoes that did not receive any interest. I will end up donating these items if there is still no interest after two weeks of being posted online for sale.
WEEK 3 PLAN
This week I will focus on decluttering, decluttering and more decluttering. I really want to clear out some more storage totes in my basement and make more room. My goal is to tackle at least four storage totes this week. I also want to clear out my closet full of clothes this week. I will continue to post two items for sale every day, but this week I plan on making larger donations to the local thrift store so I can really focus on a less cluttered home.
HOW ARE YOU DOING WITH DECLUTTER FOR CASH CHALLENGE?
What have been your results during this challenge so far? What tips do you have for others participating in the declutter for cash challenge? Please leave a comment and share your experiences.