Based upon the sales this week, it's time to get your Irish recipes out!  Which, I only have one – Corned Beef and Cabbage. I like corned beef, but I don't like Reuben sandwiches.  I think it's the Rye bread.  And the dressing.  But, you know, other than that, I would like them.  Instead, we just make corned beef and cabbage.  Keeping it simple!
Main Dishes
Corned Beef & Cabbage – I usually buy 2 of these when they go on sale.  One for St. Patrick's Day and one for a few months later. I use Martha Stewart's recipe for the crockpot.  Start it in the morning and by dinner time, you'll have a tasty meal!
Red Potato Soup – Aldis, Bag N Save and No Frills have these on sale.  I've never tried this version of potato soup, but it looks delicious!  Gotta make some soup while it's still cold!
Cheesy Ground Beef Casserole – I made this last week and it was pretty good.  I doubled the recipe to make a 9×13 pan.  Next time, I'll use less sour cream on top and some 'spicer' spices, but it's definitely something that I'll make again.
Mozzarella & Ham Stromboli – With the Pillsbury bread on sale at Bakers, this is a new recipe that I'm going to try.  I have some ham lunch meat in the fridge that needs used up and this looks like a neat way to use it.
Saucy Broccoli Bake – Got some chicken on hand?  Pick up some broccoli on sale at Hy-Vee and make this wonderful broccoli, chicken, cheesy rice casserole.  I use extra curry powder, so my husband calls it 'Curry Chicken', but it's not.
This last week, I made Taste of Home's Firefighter's Chicken Spaghetti and I'm so glad that I did!  I finally found a chicken spaghetti recipe that I like!  I modified it a bit (basically not to include a crust topping and to include bell peppers) and simplified the instructions, but I'm sure the original would be great too.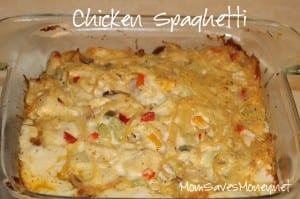 Chicken Spaghetti
Ingredients
12 ounces uncooked spaghetti, broken in half
2-3 chicken breasts (or 5 cups cubed cooked chicken)
1 medium onion, chopped
2 to 3 celery ribs, chopped
1 bell pepper (I used a mix of red, yellow and green)
1 can (4 ounces) mushroom stems and pieces, drained
1 can (10-3/4 ounces) condensed cream of chicken soup, undiluted
1 can (10-3/4 ounces) condensed cream of mushroom soup, undiluted
1 cup (8 ounces) sour cream
1/2 cup milk
2 tablespoons butter
2 tablespoons dried parsley flakes
1/2 teaspoon garlic powder
1/2 teaspoon salt
1/4 teaspoon pepper
2 cups (8 ounces) shredded part-skim mozzarella cheese
1 cup grated Parmesan cheese
Directions
Cook spaghetti according to package directions; drain.
Cut the chicken into bite-sized pieces.
Cook 2-3 large chicken breasts with the onion and seasonings in a large pan.
On medium heat, add milk, the soups, sour cream, butter, cheeses, celery, and mushrooms. Add in the spaghetti.
Transfer to a greased 3-qt. baking dish.  A 9×13 dish would also work.
Bake, uncovered, at 350° for 45-50 minutes or until bubbly.
Freezer Instructions:
Since this made a 9×13 pan, I went ahead and made 2 9×9 pan out of it.  One went into the oven for dinner and one went into the freezer for later.  When we're ready for it, I'll defrost it in the fridge overnight and then bake for a little longer.
Jayme is a wife to 1 and, so far, a mother to two little boys. She coupons, but isn't super extreme about it. She price matches and loves it! While she likes to cook, she's in the stage of life where simple is usually better! She never knows how many hands she'll have free at dinner time! You can find her at No Regrets Living.