Woo Hoo!  Cheese is on sale at Super Saver!  It's not at "the best price ever" kind of price, but it is at a good enough price for me to buy several of them for the freezer.  We're cheese fans around these parts!  Go here to see what else is on sale!
Main Dishes
Spaghetti & Meatballs – I made a big batch of semi-homemade spaghetti sauce this weekend.  I'll make some meatballs, toss it all together and have some fun!  You could also do these as meatball sandwiches.  The rest of the sauce will get frozen for later.  Fareway has their meatballs on sale, but you can also make your own.
Chicken, Cheese & Green Chile Enchiladas – now that I'll have more cheese in the freezer, time to make a batch of these too!
Nachos – I never think of these as a dinner meal, but why not?  I had taco meat the freezer, just put it on top of tortilla chips, add cheese sauce and whatever fixins you want and you have dinner.  It isn't really any different than a taco, but it seems more fun!
Tuna Noodle Casserole – This (strangely) was one of my favorites growing up.  If you'll be shopping Hy-Vee's double coupon sale, pick up some tuna.  The version my mom made was much like this one.
Broccoli & Ham Strata – Ham's on sale at SuperSaver – and I love how easy this recipe is.  You make it the night before, refrigerate it, then bake it the next day.
I also noticed the great price on raspberries at Bakers – I think I'll try this Raspberry Coffee Cake – it starts with a cake mix!
I've been looking for a really good baked spaghetti kind of recipe and think I may have found it!  I found it on Lynn's Kitchen Adventures.  I modified it only slightly (I like less "crust" and more sauce).  Her recipe makes 2 "pies" and she says it freezes great, but here are the instructions for one pie.  It's easily doubled if you want to make two.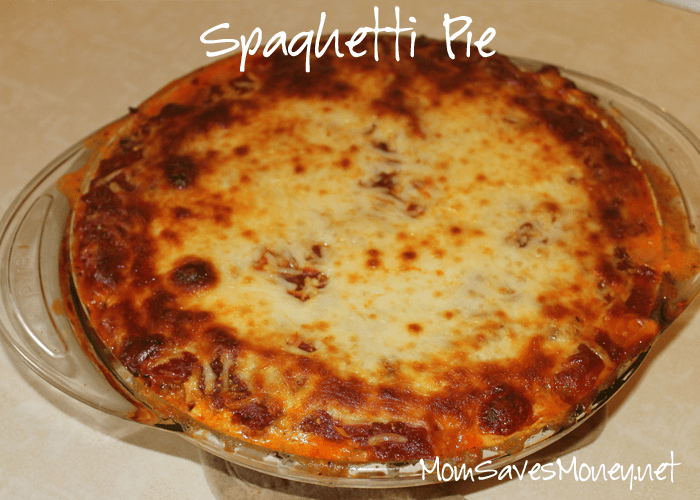 Spaghetti Pie
Ingredients
Crust:
1/3

pound

of spaghetti noodles, cooked

2

tablespoons

of butter

1/3

cup

grated Parmesan cheese

2

eggs
Filling:
1

cups

cottage cheese

1

pound

of ground beef

1 1/2

jars (about 36 ounces, give or take) spaghetti sauce

3/4

cup

shredded mozzarella cheese
Instructions
In a large bowl combine cooked noodles, butter, Parmesan cheese, and eggs. Spread into and up the sides of a 9 inch pie plates and set aside. (I just boiled my noodles, drained them, added them back to the pot and mixed in all the other stuff.)

In a pan brown ground beef until done. Drain off any fat and add spaghetti sauce to the meat. Mix well and set aside.

Spread cottage cheese over the noodle crusts. And then spread meat mixture over the crust.

Spread mozzarella cheese on top.

Bake at 350 for 25 minutes or until set and cheese is melted.

Let sit for about 10 minutes before cutting and serving. This helps it set up and will make it easier to serve.

Enjoy!
Jayme is a wife to 1 and, so far, a mother to two little boys. She coupons, but isn't super extreme about it. She price matches and loves it! While she likes to cook, she's in the stage of life where simple is usually better! She never knows how many hands she'll have free at dinner time! You can find her at No Regrets Living.