I'm guessing there's going to be lots of milk bought this week with it being on sale at lots of places!  Want to put the rest of your sale prices to good work?  Try this week's menu!
Main Dishes 
Baked Potato Soup – I'm one of those people that think soup is an all-year kind of food.  Especially this one that uses milk as a main ingredient!
English Muffin Pizzas – Hy-Vee has these on sale, but think outside of breakfast.  Put some pizza sauce, pepperoni or ground beef and cheese on English muffins.  Just bake them for 10-15 minutes and you have little pizzas!
Veggie Enchiladas – With veggies on sale just about anywhere, this would be a good time to do something a little different with enchiladas (at least, it'd be different for me!)
Cheeseburgers – Might seem kind of boring, but let's not lose sight of the fact that school is about to go back into session – let's take advantage of summer while we got it!
Grilled Pork Chops – this is the only way that I make pork chops.  This isn't the Shake N Bake that you might have had as a kid – it's even easier!
One Pot Mexican Skillet Pasta – With ground turkey on sale, maybe experiment using turkey instead of beef in some recipes.  For this recipe, she started with turkey and it looks easy and wonderful!
I said last week that I wanted to try these Sausage & Veggie Packets since smoked sausage was on sale.  I tried them.  I LOVE THEM!  I made it a little different than the original recipe, but that's simply because I chose veggies that I like more or that I had on hand.  You can mix and match as well.  We will definitely make this again!  They say that it feeds 4 people, but I think it's more like 3, so definitely double it if you're feeding a large family.
I prepped my packets in the middle of the afternoon, then grilled them a few hours later.  It made dinner prep super easy!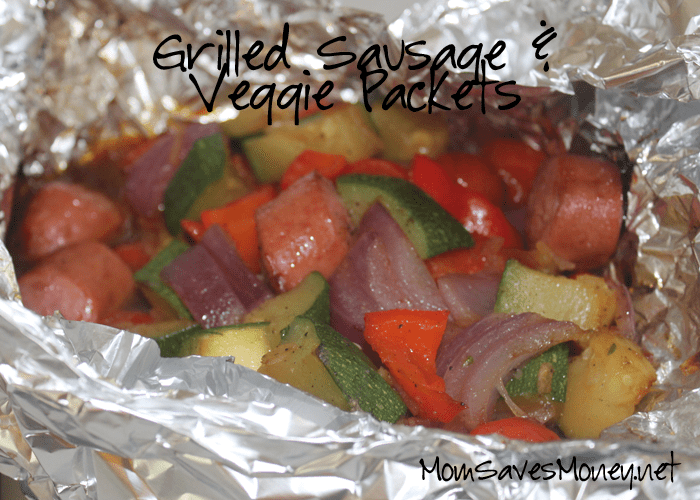 Grilled Sausage & Veggie Packets
Ingredients
1/2

pound

Smoked Sausage, cut into 1/2-inch pieces

2

medium zucchini, sliced

2

medium tomatoes, sliced (or a pint of cherry tomatoes)

1

pint

of mushrooms

1

red pepper

1/2

large onion, sliced

1/4

cup

olive oil (or melted butter)

1

envelope onion soup mix

1

tablespoon

brown sugar

1/4

teaspoon

salt

1/4

teaspoon

pepper
Instructions
In a large bowl, combine all the ingredients. Divide between two pieces of double-layered heavy-duty foil (about 12-in. square). Fold foil around sausage mixture and seal tightly.

Grill, covered, over medium heat for 25-30 minutes or until the vegetables are tender. Open foil carefully to allow steam to escape.
Jayme is a wife to 1 and, so far, a mother to two little boys. She coupons, but isn't super extreme about it. She price matches and loves it! While she likes to cook, she's in the stage of life where simple is usually better! She never knows how many hands she'll have free at dinner time! You can find her at No Regrets Living.