Disclosure: Whole Food provided compensation for this post. However, all opinions expressed are mine.
WHOLE FOODS FREE SAMPLE SATURDAYS
I had a wonderful experience at Whole Food's Saturday Food Sampling event, 'Taste What We're All About'. Every Saturday in Omaha from noon to 3pm, stop by Whole Foods and sample FREE food and drink at stations throughout the store. There were about a dozen stations with everything from blue cheese chicken sausage, gourmet cheeses, cookie gelato sandwich, fresh coconut milk, dry shampoo samples and even alcohol. Bring a designated driver because there were samples of 11 wines & sangria, three beers and even vodka! Plus, the special that day was $5 build your own Bloody Mary and they were delicious!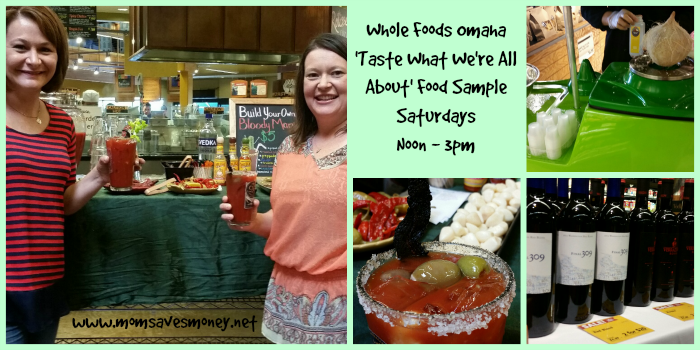 (pictured in photo with me: Kathy from Kissing the Frog)
MORE EVENTS AT WHOLE FOODS
Did you know Whole Foods has a calendar of fun events each month? They have kid's cooking classes, wine & cheese tasting, DIY beauty make'n takes, store tours and cooking classes. The great thing is some of these classes are completely FREE of charge. You just need to pre-register to reserve your spot since there are limited spaces available.
You can even have your kid's birthday party at Whole Foods and pick from a variety of fun themes, like make your own pizza or 'gross out' foods. My boys would LOVE the gross out food party. The cost is competitive at $175 for 10 kids and $15 for each additional kid. It's worth the money since they take care of the fun activities, the food and, most importantly, all the mess!
SAVE MONEY & COUPON AT WHOLE FOODS
I've heard many people refer to Whole Foods as 'Whole Paycheck' and that is definitely NOT the case if you shop smart! Any store can break the bank if you shop without a plan and Whole Foods is no exception. However, if you shop Whole Food's sales and stack coupons you can save BIG at Whole Foods and eat a more natural diet. When I teach my coupon classes, people are always shocked when they find out I cook mostly from scratch and eat lots of fresh foods and still average more than 50% savings off my grocery bill. It is possible to eat well and save money! Here's how to do that at Whole Foods: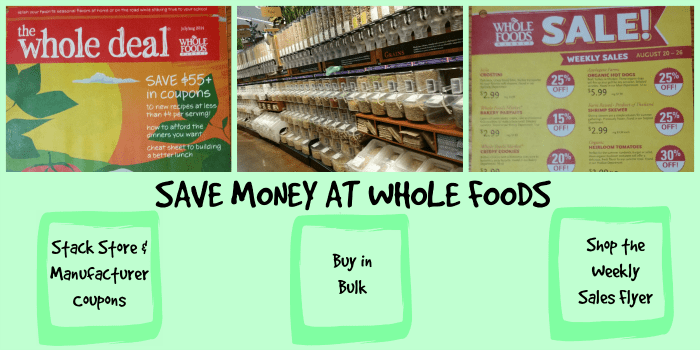 Every Wednesday, the Omaha Whole Foods has a new sales flyer that can be up to 50% off select products (sales flyer is online at Whole Foods Omaha website or find more specials on their Facebook page ) Also, Whole Foods releases a Whole Deals magazine once a month FULL of store coupons. The August 2014 issue alone had $55 in savings. Did you know you can use one of Whole Food store coupons and one manufacturer coupon PER item? That's basically saving double on your groceries! I've seen shoppers save 30-50% off their groceries at Whole Foods by shopping sales and stacking coupons! You can easily locate any available manufacturer savings using a coupon database. It's all about shopping smart to save at Whole Foods.
What is your favorite item to purchase at Whole Foods? How do you save money shopping at Whole Foods? Are you excited to attend a Saturday 'Taste What We're All About' Food & Drink sampling? Leave a comment.