Disclosure: Compensation provided. However, all opinions expressed are mine.

I received a behind the scenes tour at a local Bellevue Papa Murphy's restaurant with another blogger, Robyn, from Coolestmommy's Coolest Thoughts and was very impressed with the quality and prices.
FRESH INGREDIENTS
Papa Murphy's uses many fresh ingredients for their pizzas. They chop bell peppers, mushrooms and tomatoes daily. They even grate their own fresh cheese which makes for a very tasty pizza. Their dough is made in-house daily and is carefully measured and set in the coolers to raise for the best quality. They do carry gluten-free pizza crusts that are made in another facility that is an option for families with gluten intolerances.
My personal favorite pizza is the thin-crust herb chicken Mediterranean, which is what I chose to make during the tour. All the ingredients are carefully measured, so every pizza is guaranteed to have the same quality every time. I did learn that thin-crust pizzas will cook better on a lower rack of your oven, and traditional crust cooks best in the middle of the oven. You can also cook your pizza outside on a grill during the hot summer months. If you haven't cooked a pizza on a grill yet, I highly recommend trying it, the taste is amazing.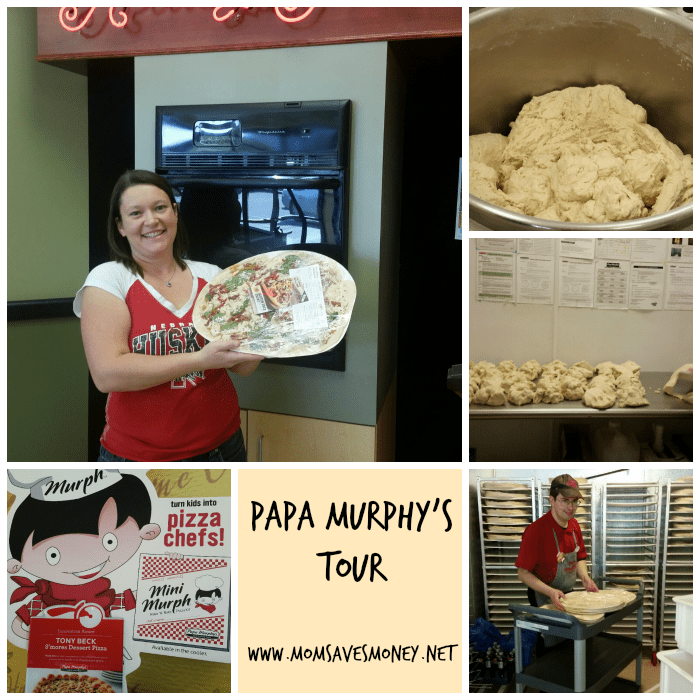 GREAT PRICES
The local Omaha area Papa Murphy's stores offer a $5 FAVE pizza every day of the week! The FAVE pizzas are large 1-topping pepperoni, cheese or sausage and there are usually several already pre-made, so you can just stop in, grab a few pizzas and go. It's great to know there are reasonably priced pizza options to feed a hungry family on a cook's night off.
If you are looking for a fun experience for kids, check out their Mini Murph's pizzas for only $4.00. The kit includes crust, sauce, cheese and pepperoni that you take home and let the kids make themselves. My kids made fun designs with their pepperoni and loved the process of making their very own pizza!
If you love deals like I do, join their text club (Text 'FRESH' to 90421). When you sign up for the text club, you will get a mobile coupon for a FREE Faves pizza with regular pizza purchase. Note: This coupon is good ONLY on the day you sign up via text. I love the text club, because they send a few texts a month when they have special promotions and deals.
FUNDRAISERS
Papa Murphy's stores have lucrative fundraiser options for your group. They provide discount cards for Papa Murphy's pizza and food that your organization can sell at a cost you find most suitable and raise lots of money for your group.
They can also accomodate group tours for your Scout, church or other kid's activity group. Just call your local store for more information on fundraising and tours.
Check out CoolestMommy's Coolest Thoughts for her behind-the-scenes tour of Papa Murphy's.

GIVEAWAY
One lucky local reader will win a Papa Murphy's Meal Deal – 1 family size pizza, 1 side item and a 2 liter of soda redeemable at any of these 10 locations:
1702 W Broadway, Council Bluffs, IA
1751 Madison Avenue, Council Bluffs, IA
5104 L St, Omaha, NE
15330 Weir St, Omaha, NE
2701 N 156th St, Omaha, NE
701 Galvin Road, Bellevue, NE
2903 Samson Way, Bellevue, NE
1740 Bell St, Fremont, NE
206 Wilmar Ave, Grand Island, NE
30 W 42nd St, Kearney, NE
Enter using the Rafflecopter form below. NOTE: You must be able to pick up the Papa Murphy's Meal Deal at above locations if you win. Good luck!