My office is having a tailgate-themed potluck party next week and I'm torn on what to bring.  Salty?  Sweet?  Main dish?  Appetizer?  The "problem" with potlucks is that if everyone makes a big batch of something, you end up with gigantic amounts of food!  I guess that's a good problem to have.  Once I figure out what to bring though, it's off to the store, using Nicole's full list of what's on sale this week!
Main Dishes
Pizza – Aldi's is just daring you to make a pizza with the yummy stuff they have on sale – mushrooms, tomatoes, tomato sauce.  Don't mind if I do!
Chili & Baked Potatoes – Fareway has both potatoes and chili on sale – a super easy meal is to bake the potatoes, add chili and cheese!  Got a vegetarian?  Skip the chili and do broccoli!
Roasted Chicken – I don't often (okay, like once a year, maybe) roast a whole chicken, but when I do, I love the results.  Depending on your family size, you can have the chicken for 1 meal, pull off any leftover chicken meat and use it again in a soup or maybe chicken salad.  I've had great luck with Pioneer Woman's recipe.
Baked Penne – Hy-Vee has their pasta on sale.  You can make this casserole with either Italian sausage or regular ground beef.
Chicken, Cheddar & Broccoli Braid – I haven't made this yet, but it's on my "MUST MAKE SOON" list because it looks easy to make, but impressive to serve.
One of my favorite things to order at restaurants is potato skins.  Which is strange because they aren't hard to make, but they do take some time – mostly time waiting for the potatoes to bake.  Want to make some yourself?  Do this!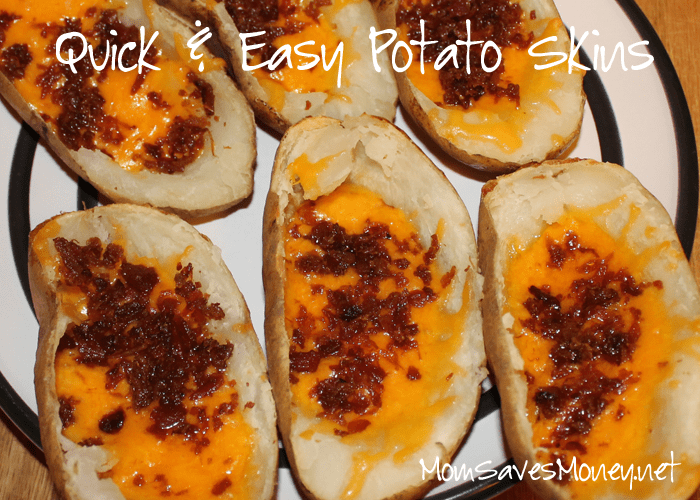 Quick & Easy Baked (Not Fried!) Potato Skins
Ingredients
Potatoes

(like russet)

Cheese

(like cheddar)

Bacon

(either fried yourself or cheat and use bacon bits)

Green onions

(optional)

Sour cream

(optional for some people; required for me)
Instructions
Using a fork, poke holes in clean, but dry potatoes. Do as many as you want. If you want to get fancy, lightly cover the potatoes with olive oil and sea salt before baking. But that's a fancy step.

Bake potatoes. Bake for about an hour at 400 degrees.

Take the potatoes out of the oven and cut in half horizontally (so they look like a boat). They'll be HOT, so I usually hold them with a towel as I slice them.

Scoop out the potato pulp. Leave some in, but take most of it out. You can use the "leftover" potato for other purposes – mashed potatoes, potato soup, skinless baked potatoes, whatever you want.

Put some cheese in the potato boat.

Put some bacon and green onions (if using) in potato boat.

Place on a cookie sheet.

Bake for another 5-10 minutes until cheese is melted.

Take out of the oven. Put on a plate. Smother with sour cream and moan over how good it tastes.
Jayme is a wife to 1 and, so far, a mother to two little boys. She coupons, but isn't super extreme about it. She price matches and loves it! While she likes to cook, she's in the stage of life where simple is usually better! She never knows how many hands she'll have free at dinner time! You can find her at No Regrets Living.