I am so excited to share my favorite rewards program – Swagbucks! I've earned over $1,200 worth of gift cards since becoming a member in 2009. Now, that I started using the Swagbucks TV apps and other bonus offers, I'm earning $75-$100 in gift cards EVERY month with very little effort! I will share my Swagbucks tips!
EASY WAYS TO EARN WITH SWAGBUCKS
What I love about Swagbucks is there are TONS of ways to earn FREE gift cards. You can do some or all of these daily for easy points called SB!
1. Daily Goals – When you join make sure to 'start your daily goal meter'. Each day you reach your customized goal, you get free SB and bonus SB for 7, 14, 21 day and 1 month winning streaks.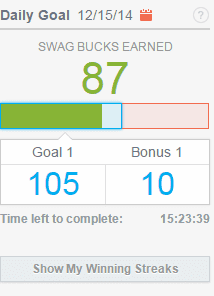 2. NOSO – Each day scroll through your No obligation to sign up offers to earn 2 SB
3. Daily Poll – Answer a quick question daily to earn SB
4. Swagbutton – Earn 2 SB a day when you download the Swagbucks tool bar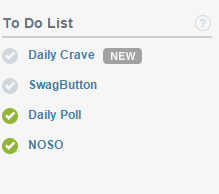 5. Search – Set your default search engine to Swagbucks and download the Swagbucks search widget on your phone to earn SB for searching the web.
6. Swagbucks TV – I run the Swagbucks TV app for 36 SB every day. Just running this one app daily, you earn $11 worth of gift card credit every month!
7. Coupons – EVERY coupons.com coupon your print through Swagbucks & use earns you 10 SB!
8. Refer friends – Earn 10% of what your friends earn
9. Swagbucks codes – If you download the Swagbucks app, you will get alerts when there is a new Swagcode for free SB! There is at least one free Swagcode every day.
MORE WAYS TO EARN
The blue toolbar across the top of the page shows many more ways to earn SB, including:


1. Shop – Earn SB for shopping online
2. Watch – Watch short video clips
3. Play – Earn up to 10 SB a day playing fun games online
4. Answer – Complete Surveys or daily tasks for SB
5. Discover – Complete offers, print coupons and enjoy encrave (short videos or articles)
There is NO limit to how many SB you can earn and there are so many easy ways to earn. You can choose your prizes, from $5-$50 value, including Paypal cash or gift cards, like Amazon, Barnes & Noble, Best Buy, Starbucks, ebay, Target, Game Stop, Domino's, Papa Johns, The Children's Place, Omaha Steaks and much more! What are you waiting for? Sign up for Swagbucks now!
GIVEAWAY
ANY Swagbucks member, new or current, can enter win a $50 gift card of your choice from the Swagstore (awarded as 5,000 SB)! Note: You MUST be a Swagbucks member to win!
a Rafflecopter giveaway