My deep freezer is ridiculous.  Filled to the brim with stuff.  My husband and I considered buying ¼ cow last fall in order, but we took one look at our freezer and just couldn't do it.  We would've had to buy another freezer just to fit the new meat!  It wasn't the right time, obviously.
Since then, I made it a goal to get the freezer to a more empty state – ready for a big order of beef.  And yet, I've failed.  All you have to do is to open the door and it's apparent that each week, I'm putting more INTO the freezer than I'm taking OUT of the freezer.  That's okay occasionally, but this is probably happening most weeks.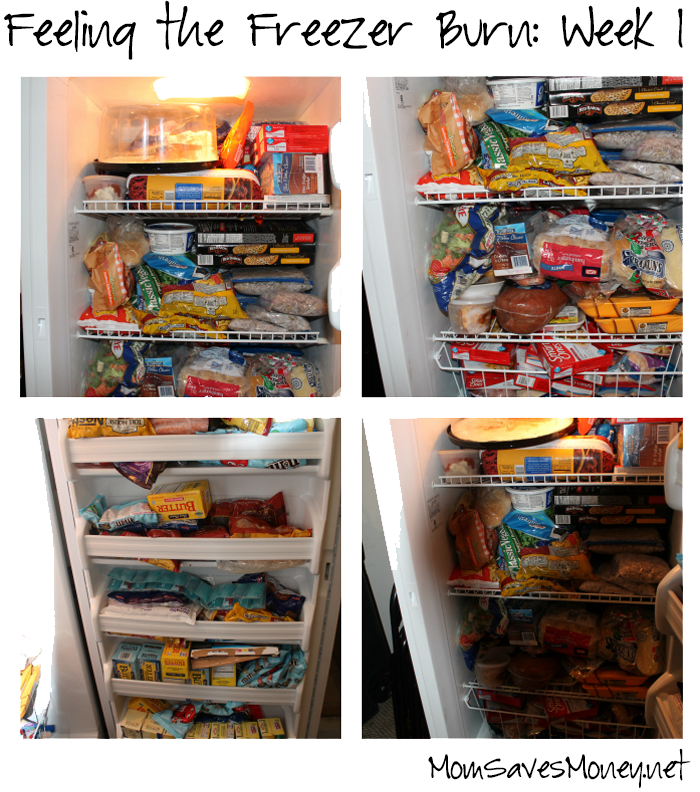 Why is this a problem?
Besides not having room for the ¼ cow (should we choose to do that), it's a problem because I don't know what's in there!  And if you don't know what's in there, that means you're not eating it.  And if you're not eating it, then that means it's probably going to be wasted.  Wasted food = wasted money.  And that's no good!
What's my solution?
Eat my food!!!!!  While some of you might be doing a "No Spend" Month where you're intentionally spending as little as you can, that's not where I'm at.  Where I'm at is: EAT YOUR FOOD JAYME!  Where I'm at is: CLEAN OUT THE FREEZER JAYME!  Where I'm at is: KNOW WHAT YOU OWN JAYME!
For me, this means intentionally planning meals that use things in the freezer.  It means not buying anything for the freezer unless I have to.  (I'm not going to be legalistic about it – if I discover that I'm out of veggies, I'm gonna buy me some veggies.  This isn't a time to serve steak with sides of chicken and hamburger just because I'm out of broccoli.)  It'll mean making goodies for work with the chocolate chips & M&Ms that I have in there.  About not going out to eat after church on Sunday and instead eating the frozen pizzas that I have.  It might mean taking some of the cuts of meat that we just don't eat anymore and giving them to a friend or family member.
What do I want the end result to be?
A lower grocery bill will be nice, but likely I'll spend more in February and March to replenish what we've eaten.  The goal isn't to get an empty freezer – I like full freezers for a reason (cheaper eating!), but I have gotten too much!  What I'm mostly looking forward to is:
Less items in the freezer making it easier to organize.
Having a better picture of what my family actually eats in a given week or month.  Am I buying too much chicken and not enough cheese?  This will help me do better at shopping sales when they happen.
Having more room to buy things (when needed) that save me the most money.  As an example, there's been some cases where a great deal on chicken is going on, but I couldn't buy more because I had too much room taken up by frozen pizzas.  We don't eat frozen pizzas often, so I'm better off using the freezer space for the chicken.
To help keep my accountable, I'm blogging about it here.  Each week, I'll update you on my progress – complete with a picture of what the freezer currently looks like.  That's what you see here – the mess that I have to start with!
Here I go!
Jayme is a wife to 1 and a mother to two little boys and a third boy due in April 2015. She coupons, but isn't super extreme about it. She price matches and loves it! While she likes to cook, she's in the stage of life where simple is usually better! She never knows how many hands she'll have free at dinner time! You can find her at No Regrets Living.