In an effort to save money, I cancelled my expensive gym membership at the beginning of this year and decided to do the P90X videos. I found a great deal on Amazon a few months and thought 'why not?' I'm in decent shape after completing the 5K challenge this summer and needed a workout I could do inside, because it's too cold and snowy here in Nebraska for me to run outside. (I'm a wimp when it comes to the cold.)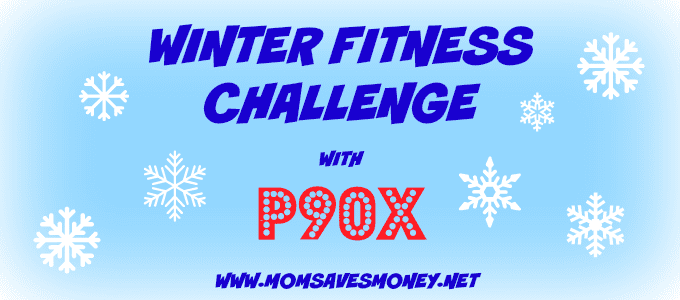 I'll be honest, I'm a little freaked out about the intensity of P90X. I did the Insanity program a few years with my husband, so I know this is going to be a huge committment and a challenge for me. For the P90X challenge, I will not have my workout buddy (my husband) and am doing the videos alone. However, I am committed and ready to take the next step in fitnes to acheive the results I want.
MY GOALS
I enjoy being active and staying fit. I was in the military for seven years and fitness was something I learned I really enjoy and love, but not in a competitive environment. I would love to lose a few pounds, but my main goal is to be more toned and active. Over the years, I've found if I don't have a schedule or set routine, I will skip days or do the same workouts each day. Between Thanksgiving and Christmas, I slacked on my gym time and put on a few pounds that I worked so hard to lose this summer. I created this Winter Fitnes Challenge to keep myself accountable. I know that if I write about and share my P90X journey, I will stick with it and hopefully inspire others to join me!
I am going to follow the recommended 12 week fitness schedule included with the DVD set and blog weekly about my progress. I will also post pictures and updates on Facebook, Twitter and Instagram. At the completion of this challenge I will update with my before and after pictures! I've heard others have excellent results with P90X, so I'm excited to actually see some changes. My starting weight for this challenge is 160 pounds.
My Challenge to You
I know that some of you may be beginning your fitness journey and P90X is not for beginners, so my challenge to you is to follow the fitness routine of your choice. There are so many great DVD options. If you are a beginner, Hip Hop Abs is a great and fun program that is low cost. If you are short on time, try T25 (25 minutes a day) or P90X3 (30 minutes a day). Other options that I've heard great things about, but haven't personally tried, include Jillian Michael's Body Revolution and The Firm.
Honestly, it doesn't matter what fitness routine you do. The important thing is you are active and pick a program that fits your current fitness level so you don't injure yourself and can actually do the routines.
Are you going to join me in this journey? What DVD set will you be using?
Disclosure: This post is not sponsored or endorsed by Beachbody or P90X, but does contain affiliate links. I am not a trainer or doctor and recommend you always follow your doctor's advice. This is just me sharing my fitness journey and I hope you join me.