The cooler weather of the last couple of days has me craving soup again! Since it's still March, I think I have time to sneak in a couple of soup days still. It just seems like the right thing to do.
The other right thing to do is to check Nicole's list of weekly sales to know what to buy this week. For me, it's looking like a good week of produce! My boys love cucumbers and I'm always happy when they're on sale! Here are some recipes that work well with the things on sale this week.
Main Dishes
Slow Cooker French Dip – Super simple recipe and she bumps up the "yum" factor by using a great bread – I'm thinking this one is a must try!
Oven Fried Drumsticks – I admit that making fried chicken isn't something that I've mastered. My mom does it well, but I haven't had much practice at it. But with drumsticks on sale this week, plus with that being my favorite part of the chicken, maybe I'll try this simple way of making oven fried drumsticks this week.
Potato Soup – I haven't made this in a while and I think it's time. I have a half bag of potatoes sitting on my counter and some deli ham in my fridge. Soup & panini time!
Bow Tie Fiesta – Pasta is on sale. Tomato sauce is on sale. Green peppers are on sale. Sour cream is on sale. That's most of what is needed for this Mexican pasta dish (except the beef). Make a big batch and put some in the freezer for another day!
Italian Sausage Soup with Cheese Tortellini – Another soup recipe, yes! You don't have to include the tortellini, but it adds some great fun to the soup. I love the flavor of this soup, especially if you have time to let it simmer for a bit on the stove. Makes even better leftovers.
Every other week, my co-workers and I have a planning meeting that can last a couple of hours. To keep things harmonious, I bring treats. This is my "go to" recipe for when I forget to plan – mostly because I always have the ingredients on hand.
Now, this does make A LOT – a big jelly roll (10×15) pan size. But just cut the recipe in half to make a 9×13 pan size! I use canned chocolate frosting and it doesn't use the whole can – which is great because I use the leftovers to make graham cracker-and-frosting sandwiches. Stick them in the freezer and yummy! They don't last long at all!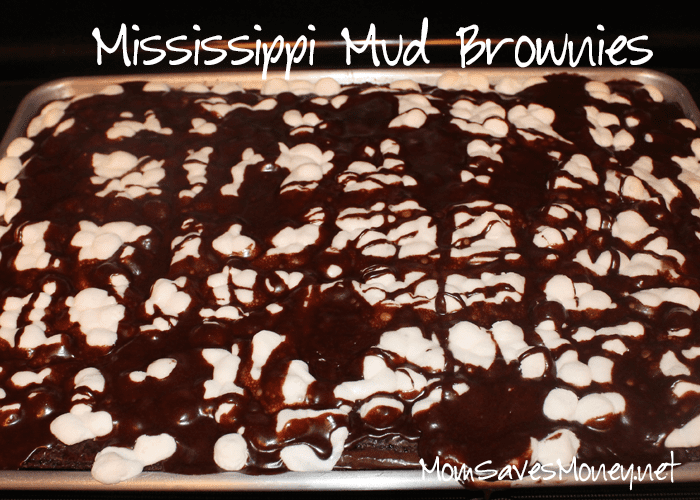 Mississippi Mud Brownies
Ingredients
2

packages brownie mix – and the things to make them with (eggs, oil & water usually)

1 1/2

cups

coarsely chopped pecans , toasted (optional – I usually skip these)

1

(10.5-ounce) bag miniature marshmallows

Chocolate Frosting – I use about 3/4 of a container of store-bought frosting cause that's how I roll
Instructions
Make the 2 packages of brownie mix according to directions.

Stir in chopped pecans.

Pour batter into a greased and floured 15- x 10-inch jellyroll pan.

Bake at 350° for 20 to 25 minutes until mostly done.

Remove from oven; top with marshmallows while still warm.

Return to oven, and bake another 5 minutes – just long enough to start "browning" the marshmallows. Remove from oven.

Microwave frosting for 45 seconds or so until pretty melted. Drizzle chocolate frosting over warm cake. Cool completely.
Jayme is a wife to 1 and a mother to two little boys and a third boy due in April 2015. She coupons, but isn't super extreme about it. She price matches and loves it! While she likes to cook, she's in the stage of life where simple is usually better! She never knows how many hands she'll have free at dinner time! You can find her at No Regrets Living.