All the rain we had in the last week or so does not have me thinking "Summer's almost here!". It's making me think "I wanna make some Chicken Noodle Soup!" So I might just do that, even though it's May and starting to get warm again. Did you check out Nicole's weekly sales list yet? That might inspire some different meals for your family. If not, consider these menu suggestions:
Main Dishes
Texas Hash – Don't let the ingredients list of this recipe scare you off. It's all common things and it would come together really quickly and it's a great way of using some of the hamburger that's on sale this week.
Beef & Noodle Casserole – Some serious comfort food! And since it was originally a Pioneer Woman's recipe, you know it's excellent!
Chili Dogs – Hot dogs are on sale! Hot dog buns are on sale! Add some chili and you have chili dogs. I haven't found my favorite chili recipe yet, so if you have one that you just love, please share!
Oven Baked Leg Quarters – Leg quarters often go on sale and if you're a fan of bone-in chicken, it's a great cut of meat for a family! Try this baked barbeque recipe.
One Pot Chicken & Potatoes – Chicken. Carrots. Potatoes. Put them in the oven. Bake 'em. Bake 'em. Bake 'em. (Sounds like a cheerleading cheer or something). While this recipe takes a while to bake, it takes practically no time at all to prep. Sounds like a great weekend meal to me!
I hosted a wedding shower for my cousin this weekend and instead of ordering a cake, I made a bunch of smaller desserts just to be fun! This was one of them. I really liked it and I'm not a huge fan of lemon desserts, but it had just enough lemon flavor without being too much. And I consider the glaze to be optional – next time I make it, I think I'll leave it off as it's just an extra step that doesn't really make the bread that much more wonderful. It's already great as it is.
I also like it because it uses ingredients that I usually always have on hand – except for the lemon pudding mix. But everything else is usually already in my pantry or my refrigerator. Makes it even easier! And it's a great summer time dessert.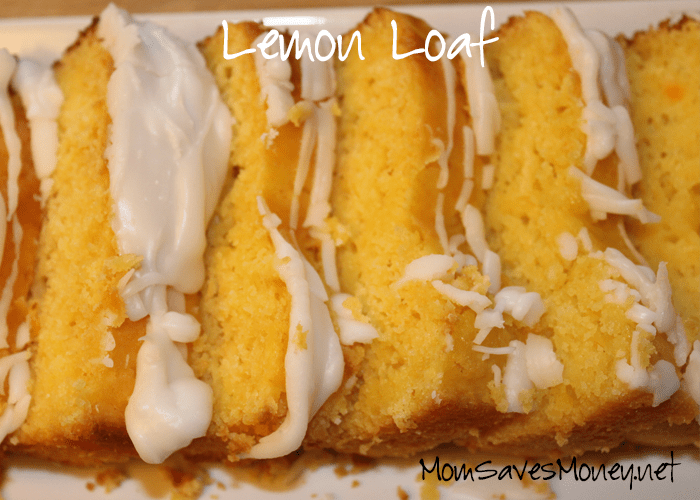 Lemon Loaf
Ingredients
CAKE:
1

box Yellow Cake Mix

4

Eggs

1/2

cup

Milk

1

box (3.4 oz) Instant Lemon Pudding Mix

1/2

cup

Vegetable Oil

8

oz

Sour Cream

6

tbsp

Lemon Juice
GLAZE:
3

cups

Powdered Sugar

4

tbsp

Lemon Juice

Milk (maybe)
Instructions
Preheat oven to 350 and spray two loaf pans with non-stick spray. I swear by Pam with Flour to make baked goods come out easily.

Beat all of the cake ingredients until well combined.

Put ½ of the batter into each loaf pan.

Bake for 50 minutes or until golden brown.

Allow to cool for at least 15 minutes before removing from pans.

Combine glaze ingredients and stir until well blended. If it's too thick, add milk little by little to thin it out. If it's too thin, add more powdered sugar.

Drizzle over loaves and allow to set before slicing.
Jayme is a wife to 1 and a mother to three little boys. She coupons, but isn't super extreme about it. She price matches and loves it! While she likes to cook, she's in the stage of life where simple is usually better! She never knows how many hands she'll have free at dinner time! You can find her at No Regrets Living.