You can tell that grilling season is here! This is a good time to look at Nicole's list of what's on sale and make a menu plan for the week or check the May Monthly meal plan. Here are some of my suggestions for this week's menu:
Main Dishes
Stuffed Cabbage Rolls – I actually like cabbage, but really only make it once a year: St. Patrick's Day with corned beef. That might need to change after seeing this recipe! It's not my typical type of recipe, but that's what intrigues me. It'd be a way of adding some variety into my menu rotation. That's never a bad thing!
Chile Colorado Burritos – This is an easy Mexican-inspired dish. Pair it with a cheesy bean dip for a real treat!
Brautwurst – I really like brautwurst and they're so simple. Use the link provided if you want to make them in the oven rather than on the grill. My favorite way to eat Brautwurst? With a little bit of sauerkraut (very popular combination), but also with ranch dip! Not ranch dressing, but ranch dip. Oh so tasty – try it!
Crockpot Chicken Tacos – Another super easy dish! If you don't want to make tacos with this meat, you can also try the chicken in enchiladas, quesadillas or nachos. Yummy any way you eat it!
Hot Dog Buffet – Hot dogs are sale this week, so why not do a hot dog buffet? Boil or grill some hot dogs, then let your family pick their topping – maybe chili or maybe just ketchup & mustard? I like my hot dogs just slightly burnt on the grill with ketchup!
There are a couple of stir fry recipes that I make and this one is one of my favorites. I make a homemade teriyaki sauce simply because I haven't found a store bought one that I actually like. Have you? If so, use it! If not, use this one. This is about as exotic as I get since it calls for rice vinegar, which I wouldn't normally have in my pantry. But for this recipe? Oh yeah! I make it often enough that it justifies the expense. When I make the sauce, I make 3 times more than 1 need and simply freeze the rest, ready for the next time that I make stir fry. That makes the recipe pull together really quickly! And since it has meat, veggies and rice, it's pretty much a complete meal. At least, it is in our house!
For veggies, I buy those big mega stir fry veggie packs at Walmart and just don't use their sauce. I haven't yet found a better (or easier) way to get the veggies for this dish. I did adapt this recipe from Real Mom Kitchen, but not majorly. I just like more veggies, less chicken and more sauce. But play around with the proportions that you like!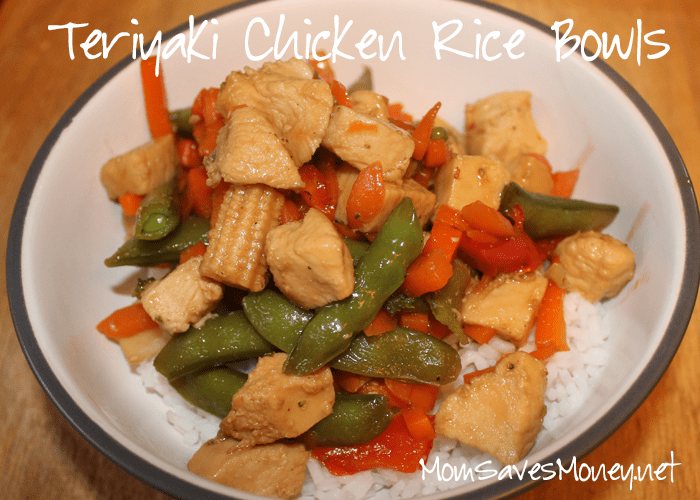 Teriyaki Chicken Rice Bowls
Ingredients
Teriyaki Sauce Ingredients:
1

tablespoon

cornstarch

1

tablespoon

cold water

1/2

cup

white sugar

1/2

cup

soy sauce

1/4

cup

rice vinegar

2

cloves

garlic, minced

black pepper to taste
Stir Fry Ingredients:
1-2

Tbsp

Vegetable or Canola oil

3/4

lb

boneless skinless chicken breasts or thighs, cut up into bite sized pieces

5

cups

frozen stir-fry vegetables (about ½ of a big bag of those stir fry veggie packets from Walmart)

1/3

of the teriyaki sauce (see recipe above or use a store bought one)

3

cups

of steamed rice
Instructions
Teriyaki Sauce Directions:
In a small saucepan, whisk together the cornstarch and cold water until smooth and no lumps. Then, whisk in the sugar, soy sauce, vinegar, garlic, and ground black pepper.

Bring to a boil over medium heat then reduce it and simmer until thickens. You will end up with about 1 cup of sauce.

To freeze it, wait until room temperature (or cooled in frig), then place in storage container. I usually make a batch, use one immediately and freeze the rest in 2 different portions.
Stir Fry Directions:
Place a little oil in the bottom of a wok or non-stick skillet over medium heat. Give the oil and pan a minute or two to get hot.

Then add your chicken to the pan and cook for a few minutes.

Add about 1/2 of your teriyaki sauce.

Add the frozen veggies to the pan. Cover and cook for 7 to 10 minute mores, stirring every couple of minutes, until veggies are heated through and at your desired "crunchiness" level.

Add the remaining teriyaki sauce to the mixture and serve over the rice. Serve with additional teriyaki sauce if desired.
Jayme is a wife to 1 and a mother to three little boys. She coupons, but isn't super extreme about it. She price matches and loves it! While she likes to cook, she's in the stage of life where simple is usually better! She never knows how many hands she'll have free at dinner time! You can find her at No Regrets Living.