Disclosure: Contains affiliate link
I have three kids and we have packed lunches since day 1 of school over four years ago. As a couponer, it's more economical for us to pack their lunches daily versus paying for school lunches. Here are my top lunch box essentials.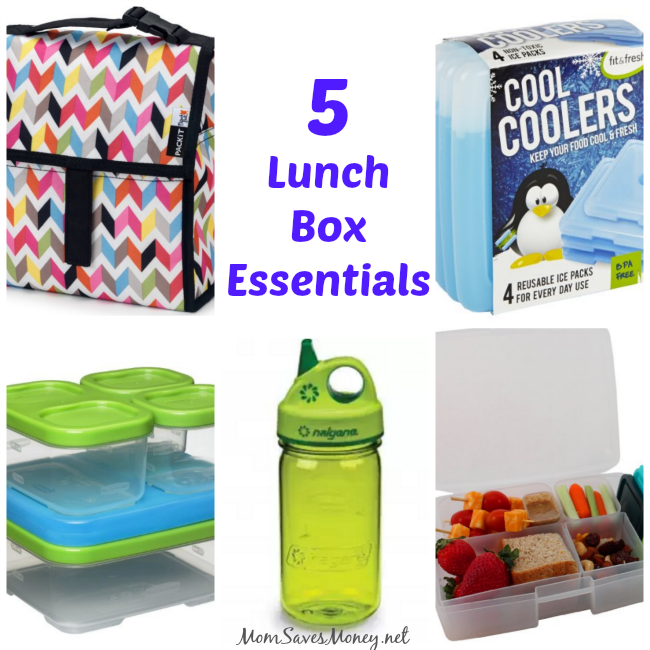 1. Quality lunch box – A sturdy lunch box is very important since it's a heavily used item. I look for good insulation, a quality zipper and sturdy handle. Also, make sure the lunch box is big enough to hold enough food, an ice pack and a thermos! There are lots of cute ones that just aren't big enough for a kid's lunch.
2. Rubbermaid Lunchblox Sandwich Kit – I bought three of these sets last year and I love them! One container is big enough to hold a sandwich, a medium sized container for a side dish and two small containers for fruit/veggies or a treat. PLUS, this set comes with an ice pack that clicks onto the containers.

3. A Thin Ice Pack – A good ice pack is an absolute essential for packing school lunches. The lunches sit for up to four hours before lunch, so it's important to keep food cold. Make sure the ice pack you choose is slim enough to fit in kid's sized lunch boxes.

4. Drink Thermos – If you want to save money long term and avoid buying pricey juice boxes or school milks, consider a thermos for your child's drink. Look for one that is leak proof and high quality. If you plan to pack hot liquids or soups, purchase a thermos like this that is also insulated and designed for food.
5. Consider Bento box lunches – Bento boxes are super handy, compartmented containers that keep food separate and encourage a variety of foods in the lunch. Bento box lunches have gained popularity the last few years. Just make sure you get a large enough lunch box for one of these neat boxes.
When you have all the lunch box essentials, it makes creating a balanced school lunch for your kids quick and easy! What tips do you have for packing school lunches?