Are you considering a job in direct sales? Do you wonder if you will have what it takes to be successful? Answer these seven questions to see if a direct sales business is right for you.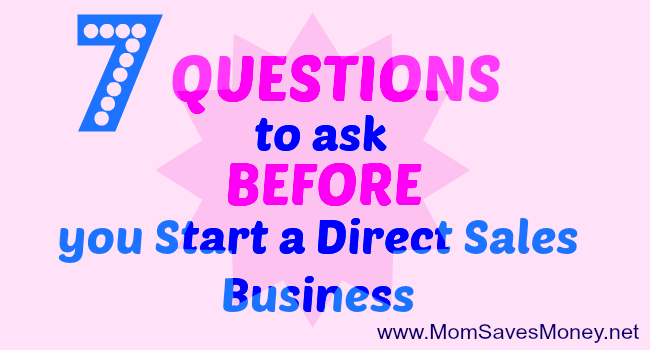 I owned a succesful direct sales business for five years, attended three national conferences, monthly trainings and hit bonus sales levels most months ($1,700+ in monthly sales). I also recruited alot of new consultants and moved up in leadership. However, I found that many of my new recruits would work for a few months and then quit. At first I didn't understand why they didn't continue with the business, but slowly learned that they just weren't prepared for a home business. In retrospect I should have asked them basic questions to see if they were ready to start their own direct sales business.
Can you actually make money with direct sales and is it legit? YES and YES. I made real cash, but I worked hard for my income. Do you wonder if you will be successful and if direct sales is right for you? Do you worry that you are not a natural salesperson and can't be successful? Are you a consultant now and want to recruit quality consultants? Here are some things to ask yourself or your new recruits before signing up:
1. Am I passionate about the product?
I truly believe you need to be able to 100% stand behind and love the product you sell. If you are passionate about the product you sell, it is very easy to talk about and share your love for the company and their products. If you are excited, other people will be excited too, which means more sales and income.
2. Does the company have a good reputation?
Do some research on the company before you join. Is it a solid company with a proven financial record? Does the company provide incentives for top sellers, invest in their consultants with national trainings and support business owners at every level? You can do a quick search to find information on the actual company. Make sure to look at financial reports (if a public corporation), analyze the commission structure and bonuses and determine what trainings they provide consultants.
3. Am I willing to step outside my comfort zone?
Being in direct sales means you are your own marketing team. If people don't know you sell, no one will buy from you. You need to step outside your comfort zone and be okay talking to people about your product or asking them to host a party. You will quickly exhaust your friends and family contacts and will need to promote to people outside your circles which can be very uncomfortable. Many companies also require sales presentations at home parties. Are you able to stand up in front of people and talk? Even if you have a fear of public speaking, I can tell you it does get easier the more you do it. But, if public speaking is seriously scary to you, direct sales may not be right for you. That doesn't mean you have to be an extrovert to be successful, it just means you have to feel the fear and do it anyway.

4. Can I accept rejection?
I learned in my years of direct sales that you have to ask, ask, ask lots of people to host parties or purchase products. About 1 in 10 people will actually say 'yes'. The other 9 people are going to tell you 'no'. It's important to understand that they are saying 'no' to the product and not to you as a person. If you take rejection of your offer personally, it is going to be very stressful for you to do direct sales or you may give up all together. 'No' is part of the business, but a very important part. Because, the more people you ask, the more 'yes' answers you will get and the more money you will make. Is 'no' something you can handle?
5. Do I have the time to commit to a business?
I have heard consultants say that the time investment for direct sales is only a few hours a week to host a party. That is false! Direct sales is a business and with any business there is behind the scenes work. You will need time to enter orders, attend trainings, follow up with future and current customers, manage email lists, track financial records and provide support for consultants who sign up to be part of your team. To keep business steady, you will need to spend time on the phone, at booths or interacting with people you meet to continuously promote your products. I typically sold $1,700 – $2,500 in product every month and to keep my sales at that level, I had to continuously meet new people and actively promote my business. Take a hard look at your current schedule and commitments before you agree to start a business. What's the point of signing up if you have no time to actually work and make it a successful business venture?
6. Will I treat this like a business?
Direct sales is a legitimate business with real money to be made, but you have to treat it like a business. Direct sales is NOT a hobby. When you sign up to sell, you become a business owner and need to treat that seriously and act like a business owner. You are in charge of marketing, sales, recruiting, customer support and more. You will see the results based on the time and efforts you commit to your business, but you need to run it and treat it like a business, not just a fun hobby.

7. Is my recruiter and team successful and provide regular trainings?
I cannot stress enough that you need to sign up for your business under an amazing consultant and/or team. They are your support system and should provide regular trainings, awards and encouragement. Even though you are starting your own independent business, a solid team can show you the ropes and provide you the tools you need to be successful. I know it's tempting to sign up under your friend who just started. But, unless that friend is business minded and treats direct sales like a business or has a stellar upline, I would reccommend signing up under a more seasoned leader/consultant. You will need the support and a leader with experience who can answer your questions when you have them. In the same token, if you plan to recruit people and build a team, you need to be able to provide them guidance and support so they can also be successful.
Direct sales provides an amazing opportunity to learn, grow and support your family with extra income. But, it is not for everyone. If you've been considering direct sales, I hope these questions from my experience have helped you make the decision. If you are currently a consultant and actively recruiting a team, use these questions to find quality people for your downline.
Have you had a direct sales business? Any other tips for deciding if direct sales is right for you?